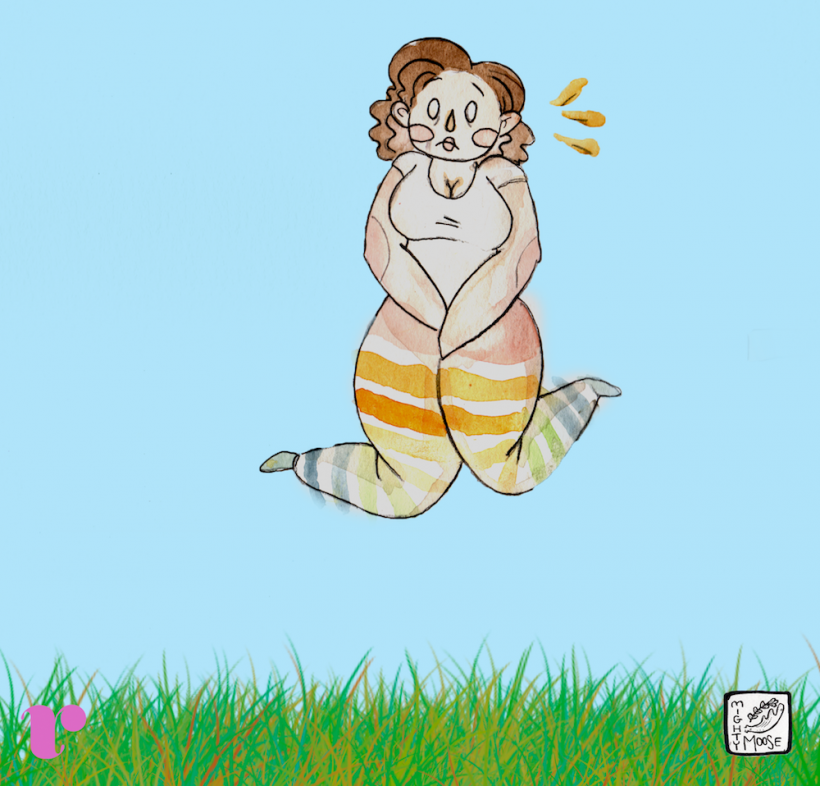 image credit: Mariah Aro Sharp @mightymooseart
A bipolar, body-positive bread enthusiast with a fucked-up pretty much healed ankle and a history of disordered eating chronicles health, weight-loss, and gardening. No diets allowed.
---
Not everyone pees their pants after they've had a couple of kids. I mean, not the people with penises; they don't pee their pants. There are literally zero reported cases of a person with a penis losing bladder control after childbirth.
The person who pushed the watermelon out of their va-jim-jam may not be so lucky.
#miracleoflife
The post-baby body holds for you many wonders: saggy breasts, stretch marks, vag farts, and pee —  or, the leaking of pee.
Not just "drip drip" pee, but Pee. Actual Pee. The kind of pee that eventually leaves you lingering with the sweet, sweet smell of a two-day old cloth diaper or the kind of nursing home you never want to live in.
I know people say we've "normalized" urinary incontinence when it isn't necessarily a given, but I'm here to tell you, I've done 200,000 Kegels, and a good joke will still make my panties wet (and not in a sexy time way). Sure, there are ways to correct the pitter patter of pee pee in your pants, but until I have surgery, here I am.
And here are 5 Ways To Cope With Bladder Leakage/Urinary Incontinence/ Pee Pee Pants.
1. Avoid trampolines.
And jumping jacks, cartwheels, overzealous pillow fights, pretty much anything with any kind of jumping. Risk of peeing pants significantly reduced.
How do you do Kegels? Well, just imagine that one of your small children is standing on the edge of a very large suspension bridge. That thing where your entire pelvic floor goes into your diaphragm? That's a Kegel.
I call it "sucking up your butt." It sounds more fun that way.
In case my very thorough description didn't give you enough information, OR you don't have a fear of heights so paralytic that your vagina takes up residence in your throat, here's a video:
Do The Butt Suck-Up at every stoplight, during every commercial, every time you still down to pee intentionally, in bed, on the phone (if you still talk on the phone).
Here's the ultimate pelvic floor fitness video. It's from Canada, so it's probably the best one because A. she has just a touch of a Canadian accent (or just the voice of a Canadian, for those of you to whom she just sounds like a regular person) and B. Canadians didn't elect Trump.
Mostly B.
Also, she uses the word "bum" and she has an aqua yoga mat.
Case closed.
3. Never get an upper respiratory infection.
This one is going to be hard because your kids are tiny vectors of disease. You'll want to either get a hazmat suit or a Costco-size pump of hand sanitizer.
Or homeschool and just spend winter indoors.
I'm ok with one or two sneezes, after that, all bets are off. If I have a coughing fit, I'm changing my pants, there's just no way around it. 
Tip: Wash. 30 seconds. Use soap. Don't forget to scrub the tops.
4. Avoid people who are funny.
Declare a no-joke zone.
Don't watch this.
5. Get some back up.
For example, these pee pee panties from Icon Undies:
These are the hiphugger in XL (I'm about a size 14, for your reference). Also I do 175 squats a day to keep my ass that perky.
JK My butt is genetic. Which is a good thing, because I hate squats. (They are good for your pelvic floor though.)
The ladies at Icon sent me these pee pee panties because they A. understand the plight of the mother of five and B. are nice. They are super comfy and not at all like a diaper (which I was considering).
I've worn and washed these twice a week since I got them a couple of months ago. I'm happy to report that they still 1. absorb pee and 2. do not smell like a filthy alley after a three-day weekend.
They fit the bill (and my butt) for sure.
Thank goodness I don't have to worry about poop.
#spreadtheword 
---
Want to follow my journey? Join in? Cheer me on? Cry with me?
Follow me on Instagram and Twitter. And Beyond Before & After here.
Drink your water, boos.