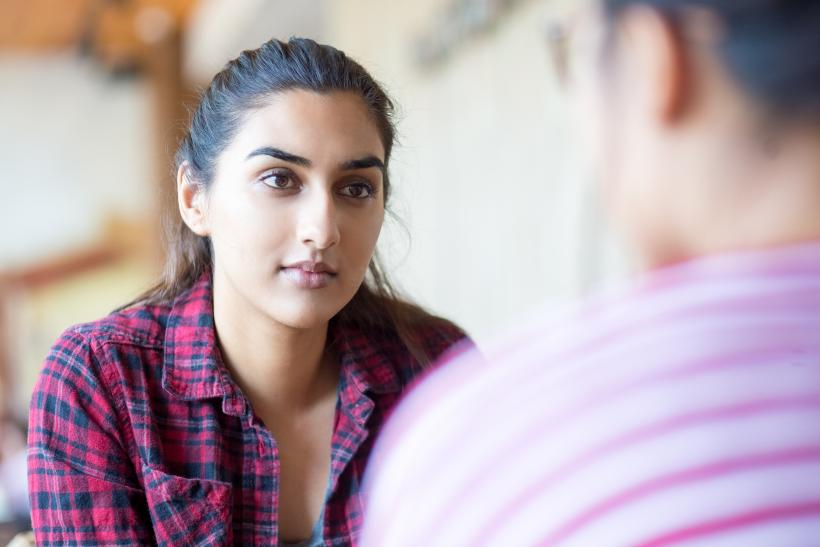 There are a few important conversations to have with your partner.
Tis the season where budgets abound, cocktails swirl and plenty of chaos ensues. As you wrap up the final projects and deadlines for the last quarter of the year, micro-manage your social calendar, and prepare for holiday travel, it's enough to put pressure on even the healthiest of relationships. But if you and your partner have decided to make this season the one where you introduce one another to each other's families, psychologists stress the importance of having frank conversations before you print your boarding pass. Not only is this a way to level-set your shared expectations but it prepares you for any awkward family encounters that could be tricky to navigate.
"When meeting a partner's family for the first time, it naturally can be a stressful, sometimes overwhelming experience which is why is it critical that you and your partner are in agreement about important aspects of your relationship," explains Los Angeles-based psychologist, Yvonne Thomas, Ph.D. 
"Meeting the family often means that the partner sees the relationship as a serious one, in which he or she feels in love and may see a future together. Meeting the family can be the first step the partner takes in starting to formally integrate you into his or her family."

Here, how to talk to your mate and what topics you should add to your over-wine agenda: 
First, choose a safe place and be direct.
Maybe you really don't want to see that new release your boyfriend or girlfriend keeps harping about this weekend, or you have differing opinions about the best sushi joint in town. There are times when beating around the bush is a smart solution to avoid unnecessary disagreements. But when it comes to setting the tone for your family holiday getaway, Dr. Thomas suggests finding a neutral, beloved location where you both feel safe. Get to the point and be honest. 
"Both of you need to be direct and clear in the communication, as well as respectful of and honest with each other. This is important so that there are no misunderstandings or incorrect assumptions about your relationship," she explains. "Approach your partner with plenty of time in advance before meeting his or her family. Let him or her know that you think it is in the best interest of you as a couple to verify how you each are seeing the relationship and what you each feel about each other, along with candidly discussing other important topics related to the relationship."
Sure, it might be the type of banter that forms sweat bullets, but if you're serious about the longevity of your couplehood, investing in these discussions will make you more comfortable dissecting the issues, transitions, and changes life will inevitably throw in your court. 
Talk about what you envision for your future.
If you've started to hint to the fact you'd like your partner of six months to meet your family, but he or she is dodging the invitation, Dr. Thomas says it might be time to rethink your offer. Or, more specifically: get into the nitty-gritty of why they're avoiding booking their plane ticket or really committing to the next logical step in your relationship. It could be that they're losing momentum or not aligned with the pace of your twosome. Or, you might have differing viewpoints on values and what you imagine out of your next few years — or decades.  
"If you both don't envision the same or similar kind of future together, the relationship may be unable to continue. Thus, there would be no reason to meet your partner's family," she adds. 
Answer the touchy subjects.
Chances are, you already covered the biggies — children, religious beliefs, political viewpoints, geographical preferences — when you were courting, since many individuals will find deal breakers in those topics. But when was the last time you had a refresher? 
As Dr. Thomas explains, in many family gatherings someone — your mother, your uncle, your little sister — may bring up a point of debate that could get dicey. Especially if you and your partner have agreed to disagree (but your loved ones might not quite understand your tactic), talking through what they could expect is essential. This will help you put your four best feet forward, as you present yourself as a unified front at the Thanksgiving table.
Fill them in on need-to-know quirks.
So, your dad has a habit of walking around in his underwear while whipping up breakfast. Or your mom can be a bit of a hugger — and a crier. Perhaps your cousins are very loud and invasive with their interrogation of new people at the family dining table. 
Dr. Thomas says this can be a fun conversation to have before you pack your bags, as you give a little glimpse into family dynamics, traditions, and routines that your partner will witness first-hand. Apart from the raised eyebrows and the laughter you'll share, she also notes this chat will decrease the likelihood of either of you taking things personally since you gave them the inside scoop.
Where you'll sleep.
How conservative or open your family is may dictate where your partner will sleep when you're home for the holidays. Even if your mom and dad are cool with pre-marital cohabitation, your partner's parents might be less than keen to see a locked door at bedtime. That's why being frank about sleeping arrangements will help set the expectation of etiquette. "You need to talk about this upfront so you aren't caught off-guard and can amicably figure out a good alternate solution together," she says.
---
Related: