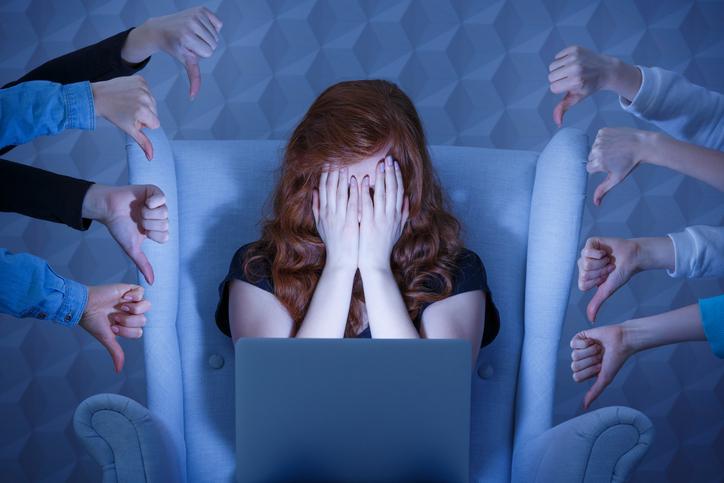 Facebook needs to change its policy on banning users because of cyberbullies. Now.
Julia Busato is a photographer. When her friend gifted her a mannequin, she decided to use it for the basis of a series of photographs of women interacting with the stereotype of beauty, and "remind the world that beauty should not be defined by a strict set of standards applied to everyone." She added the tagline "They Don't Fit In The Mold!! … and thank god for that." The results were stunning and The Mannequin Project (some pictures may be NSFW) quickly went viral across social media, including Facebook.

Then, apparently, the herd of misogynist, sizeist cyberbullies who have a lot of issues and seemingly endless free time were spurred to action, abusing the tool that Facebook has for users to report images that violate their community standards. Facebook rewarded them by banning Julia for 30 days with no explanation — she can log in and see what's written, but she can't post or reply to anything there. This isn't the first time it's happened, and last time she posted this about malicious reporting: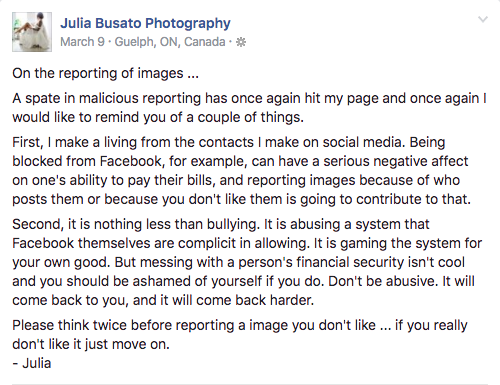 Sadly, Julia's experience is not an isolated incident and, as she mentions, these attacks are neither harmless nor random — they are used to harm people's reputations, brand development, and livelihoods. Substantia Jones created The Adipositivity Project (some pictures NSFW) "to promote the acceptance of benign human size variation and encourage discussion of body politics, not by listing the merits of big people, or detailing examples of excellence (these things are easily seen all around us), but rather through a visual display of fat physicality. The sort that's normally unseen. The hope is to broaden definitions of physical beauty. Literally."
The subject matter on her site includes pictures that would break Facebook's community standards due to nudity, which is why she is careful to post photos that meet the standards. Unfortunately, that doesn't stop her from being constantly harassed by cyberbullies. Substantia told me:
I get banned from Facebook on the regular. I get banned for posting the same photos which appear all over the platform. I've gotten deleted for posting sculpture. Facebook once deleted a link I posted to a BUST Magazine article on my photo-activism, then they deleted all links to the article throughout their user's posts and private messages.
For more than a year now, every time I've been banned or deleted it's been for a photo which does not, in fact, violate Facebook's nudity policy.
I can count on being banned during periods where it's important that I have access to social media. Last year I launched a crowdfunding campaign to help pay for a South Pacific lecture/shooting tour. During which I got banned. Last month saw the Adipositivity Project's biggest ever Valentine Series. During which I got banned.
Occasionally the person doing the reporting (or someone who knows them) will write and tell me what they did and why. Sometimes it's sizeist bigotry. Sometimes it's personal. There are people who spend a fair amount of time in their efforts to halt the Adipositivity Project.
In February I was banned for an image which shows no lady nipple, no buttcrack, neither genitalia nor pelvic mound. The only possible reason I can surmise is that the photo showed a married couple of mixed race, embracing. This report/banning happened to come shortly after I began getting threats from a few of the Nazi news sites (actual David Duke-loving/Pepe the Frog Nazis). So some have suggested a connection. That one resulted in a permanent ban. Two weeks into it, I was contacted privately by a Facebook employee who was familiar with my work and had heard about the ban. They offered to look into it. Without the assistance of this wonderful person, I'd still be banned.
Aside from the happenstance of a Facebook employee hearing about your situation and wanting to help, the only thing I've found helpful is blocking everyone I discover is engaging in smear tactics. If I'm shown proof of dishonesty, rumor, or slander against me or anyone else, I block the perpetrator. This may account for a small percentage of those reporting me, but the instances of my being banned have slowed, as a result. AND I no longer run across their hateful bullshit on Facebook. So that's a bonus.  
Needless to say, I look forward to the day when Facebook is replaced with a platform more in touch with justice and humanity. One which operates efficiently and fairly. It would also be helpful if they weren't afraid of lady nipples.
Worse, it's not just that Facebook has created a system that is easy to misuse, and has shown no interest in fixing it. They also commit staggering hypocrisy when it comes to what's banned. Substania explained:
"Meanwhile, twice I've helped to organize reporting campaigns against Facebook groups devoted to child rape, and in both cases it took days and days and hundreds of us reporting the group fairly constantly before Facebook stopped telling us the group didn't violate their community standards. Both were finally removed, but we'll never know how much harm was done during the time they were allowed to thrive. While Facebook's reporting, deletion, and banning policies provide tools for bigots to hinder the work of artists and activists, the platform is complicit in facilitating the sexual violation of children."
It's not just women working for Size Acceptance. In another incident, Facebook failed to protect anti-Islamophobia activist Mariam Veiszadeh from abusive messages, but when she published the messages on her page so that people could see what she was being subjected to, Facebook banned her. She said:
"I wouldn't feel compelled to share these posts publicly if Facebook had better regulations and processes in place to actually tackle these kinds of threats in a prompt and efficient manner."
Facebook apologized and ended her ban after 23 hours, saying that "When put into context, her post was clearly within community guidelines"
We live in a world where groups exist with the specific goal of silencing women, including women who are fighting against oppressive stereotypes of beauty. Overall, Facebook is on the wrong side of this and has shown no interest in fixing the problem, preferring to delete images and ban users who have done nothing to violate their community standards, based on reports from cyberbullies. Facebook needs to fix this now, and stop being just another cyberbully.