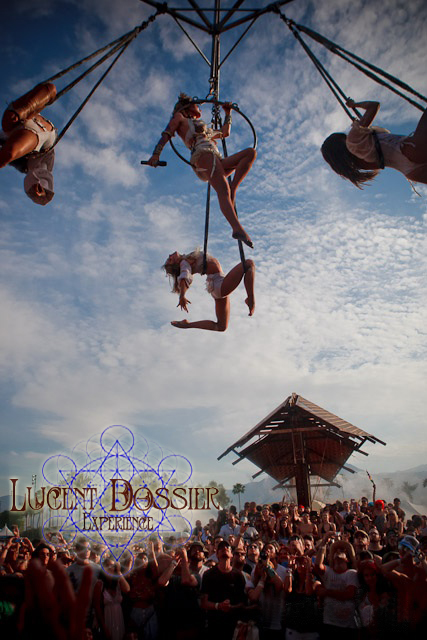 If you've ever wondered what life in an alternate reality would be like, look no further than The Lucent Dossier Experience, an immersive performance troupe that attempts to take audiences into a whole new dimension. Founder Dream Rockwell started the group after seeing the dark side of the traditional dance world (i.e. having her pay docked if she gained a handful of pounds). She wanted to create a space for her talented friends who didn't fit into the cookie-cutter model of beauty perpetuated by the entertainment industry. The Lucent Dossier Experience soon become a wonderfully wacky family filled with those dedicated to a life less ordinary.
Fast forward a few years, and The Lucent Dossier Experience now tours globally and features burlesque dancers, aerial artists, contortionists, jugglers, stilt-walkers, jesters and clowns. We recently sat down with three of Lucent's leading ladies: Dream, Sarah Llewellyn (singer and dancer) and Alicia Marie (lead aerialist) to learn about life inside the experience. 
What's the best part of being a Lucent Dossier performer? Is there anything you miss about "normal" life?
Dream: The wild times are the best! Also, the freedom of expression and working and traveling with the people I love. Sometimes I miss the white picket fence lifestyle that I've never had, but honestly I have the life I was meant to live. It suits me perfectly. I do wish I had my nights and weekends free sometimes. But then I'd maybe be spending my day doing something other than what I truly love.
Alicia: The most amazing part about what we do is touching hearts with the alchemy of our spirits. We take all of it, the joy of our existence, our fears, our inter-personal relationships, our love lives, our dreams realized and forgotten, and turn them into art. The things that happen on our stage happen in our lives—that's why so many people relate to our message. We get to give others permission to have a cathartic experience by having one ourselves live on stage together. To say normal life, well I only know this life as I live it and Lucent is normal for me. I guess I'm lucky!
What's the scariest moment you've experienced as a performer? How did you get through it?
Dream: Alicia, our head aerialist likes to take me up in the air when I'm singing. At Coachella a few years ago she had me on a hoop 25 feet in the air. When I saw the picture of it after the show I realized I was balancing 25 feet in the air on one butt cheek. That's when I got scared and my stomach dropped. Amazingly at the time, under Alicia's guidance, I felt super confident.
Alicia: I love you Dream and as long as I'm there you are safe! Being an aerialist, I have had many scary moments. It's hard to say if my scariest performance experience was performing 50 and 60 feet off the ground with no safety or if it was the first time I performed for over 10,000 people. Both times I remember landing back on the ground thinking that I had no idea what just happened. It was like something else took over.
What's your craziest tour story?
Alicia: That's a hard one—I could write a book. If I had to choose one I think it would be the time we were performing for New Year's at a casino and at the end of the night they were putting cases of wine outside and we thought "wow, these casinos really waste a lot. How can they throw out all that wine?" So, we being the Robin Hoods that we are, took the wine and proceeded to give it away to all the people that helped us that night. Later that evening while hanging out at the casino we got escorted out. I don't think any of us knew at that point what was really going on, but later the client informed us that we were caught on camera stealing cases of wine. Oops, I guess we misjudged that one!
Sarah: Being on tour and living on a tour bus was a pretty crazy and beautiful experience in itself, and we definitely had several moments throughout the month where we all looked at each other and thought "Is this real life?!" We performed at a gigantic venue in Milwaukee (including three huge stages, bars, a speakeasy, basement shower room and tons of rooms that hadn't been entered for years) and as soon as we walked in we all sensed that it was completely haunted. We started asking around, and all the stage hands started sharing stories about different ghost/spirit encounters they all had in this venue. We all were spooked (whether we admitted it or not) and for the rest of the evening we arranged a buddy system. It was an awesome show with an great audience turn out, and perhaps the house was even more full than we could see. Milwaukee: where Lucent Dossier meets "Ghost Busters"!
If you could perform anywhere, with no restrictions on time and space, where would it be?
Dream: On the moon of course! We have a saying, "To the moon!" The moon is the perfect place for us—no gravity. It'll make all our gravity defying tricks look truly easy.
Alicia: I believe a space odyssey would be my highest vision. I love the thought of the cosmos as a backdrop and like Dream said, actually defying gravity.
What is the message you ultimately hope to share through your work? What mark on the world do you hope to leave behind?
Dream: I have always wanted to free humanity from the shackles of judgment—the idea that we have to be this way or that way or anything other than our true essence. We are all so unique and different. I can't wait until the world stands up to celebrate that. We're just getting the party started early—as per usual. Join us whenever you're ready!
Alicia: I want the audience to know that the light you see in me is you. That no matter what anybody has ever told you, you can do anything you want in this life and the most important thing to do is love. Love with all you got. Love like there's no tomorrow. We get these space suits for a short time and without them we are a part of everything and exist as one. Only with this space suit can I touch you, feel you, see you. It's quite magically amazing if you think about it. I hope that when our audience walks away they feel reminded of the God in them.
What's next for Lucent Dossier? What can we look forward to in 2014 and beyond?
Dream: We've got something very big up our sleeves. We're not permitted to discuss quite yet, but it's going to make a lot of dreams come true. It's going to be the sweetest magic man-created earth has to offer. And we'll invite you if you join our secret list.