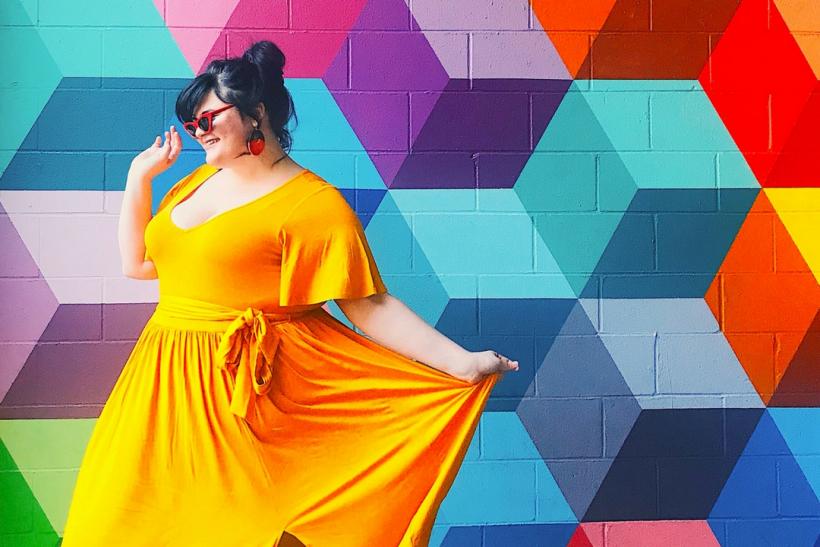 Rosey Blair || Image By Meredith McAllister
If you live in the Northern Hemisphere, you are likely rejoicing that spring is finally here! It may not quite feel like it in many parts of the country, but the blooms say otherwise.
With a change in season comes a change in fashion — finally! A whole seasonal palette is in front of us as well as an array of new textures, patterns, and silhouettes. There are still a few holdovers, though. You can look forward to sequins, plastics, plaids, fringe, and bold colors being used in new, creative ways. Ultra violet looks shift into lavender. Accessories become more bold, and glitter and sparkles continue to push through from the glamour of the holiday season in fun new ways. Spring fashions are playful and sweet, but with some of these bold elements, they do not lack power.
The joy of plotting out new ways to express ourselves and celebrate our bodies by playing with new trends can truly be something to look forward to, but it can also be really daunting. Remember: fashion is just fashion. It's not a rule that you must live by. Style is what is inside you. Show off your personal style by playing with some of Spring 2018's new trends, but don't ditch what makes you happy. There's only one you and we like that a lot more than something fleeting and intangible.
Check out these fresh Spring trends to get psyched up with style inspo, plus some great ideas on how to incorporate them into your seasonal wardrobe.
1. Lalaa Misaki (@lalaamisaki)
"Delicacy can be strong," declared Victoria Beckham at last Fall's S/S18 NYFW. Bold silhouettes in gorgeous pastels, like the one shown on gorgeous New Yorker-turned-French-model and fashion consultant Lalaa Misaki as she shows just how strong lavender can really look paired with the right silhouette and accessories.
2. Valerie Eguavoen (@onacurve)
How do you keep polka dots fresh? Play with different sizes to keep things interesting and new. Polka dots may have an instant retro feel, but with updates on the classic, you look fresh instead of overplayed. Valerie Eguavoen skips the often used 50s retro and goes straight for 90s Miami realness, keeping it playful but not going kitschy.
3. Rosey Beeme (@roseybeeme)
Need a dose of sunshine in your life? This amazing yellow maxi is the definition of happiness in a dress. Make yellow your new power color and own the room with a piece like this.
4. Kellie Brown (itsmekellieb)
Leather? Check. Boho embroidery? Check. Sheer top? Stylish shades? Uh huh. Check. Trendy color? You got it. What sounds like something that could end in a train wreck of overly ambitious fashion choices has been curated to Peak Coolness by blogger Kellie Brown. Brown shows us how to rock millennial pink without it being too precious in this gorgeous rock'n'roll spring look.
5. Corissa Enneking (@fatgirlflow)
Who says spring has to be vivid or pastels? This gorgeous muted brown is perfect for any season and a great solution if you're ever feeling a bit of color overload. Corissa Enneking shows us how this simple, "raw" fabric is perfect for Spring/Summer. You'll be seeing a lot of this trend, especially in boho closets.\
6. Callie Thorpe  (@calliethorpe)
Keeping with boho neutrals, this super easy-to-wear fringe look is a fabulous way to incorporate the continuing fringe obsession into your spring wardrobe. Plus-size model Callie Thorpe shows this favorite timeless rocker chic in a #TBT.
7. Yasmine Owoolabi (@darkerberrie)
Yasmine absolutely slays this late 80s look with a coordinating crop top and pencil skirt combo. A great way to channel the 80s vibe is to look for volume in the shoulders and sleeves. To really go with gusto, pair it with an acid bright like this pink that Yasmine radiates in.
8. Briana Hernandez (@mamafierceblog)
A recurring favorite and Ravishly contributor, Briana Hernandez of Mamafierce knows how to serve a million looks. One of her greatest? Making white pants so accessible — just stay away from the Flamin' Hot Cheetos if you're going to wear them! Spring is all about the white jean and white wide leg palazzos, and she makes this trend look effortlessly cool with a playful graphic tee.
9. Alex Michael May (@alexmichaelmay)
You'll be seeing sparkly opalecence, glittery lurex, and straight-up sequins well into summer this year. Stylist Alex Michael May rocks a stunning layered jumpsuit look to take this jumpsuit across all seasons while she strikes a pose in the Vegas desert. 
10. Gisella Francisca (@gisellafrancisca)
Brazilian-Norwegian blogger and influencer Gisella Francisca plays with scale in this chic windowpane suit. Open plaids, heritage plaids, checks, and gingham will all be popping up in this season's trends. Incorporate them within workwear, casual attire, and even slip bits into your cocktail looks.
---
Related: