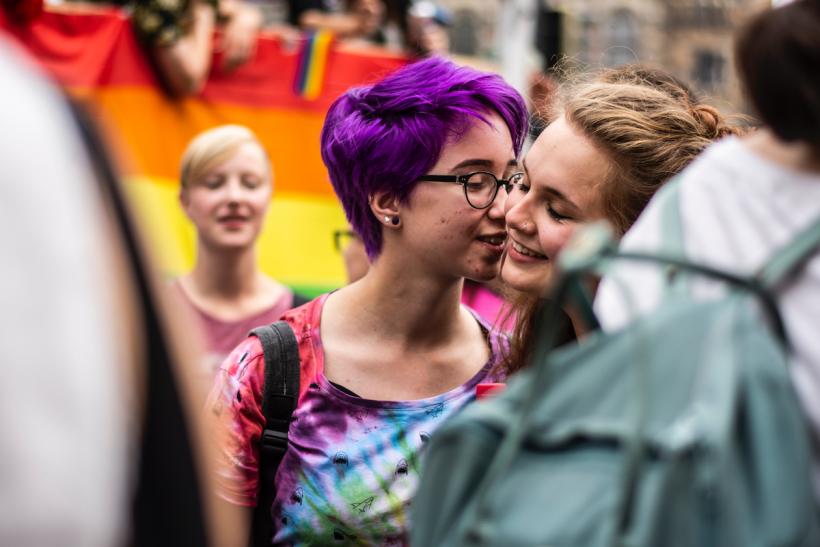 Photo by Jana Sabeth Schultz on Unsplash
My first ever Pride was one that I was coordinating for a small town LGBTQ community center. I had been working there for about six months and wasn't entirely out to my family and friends yet. But clipboard in hand, I was stepping in and coordinating a Pride march and festival. Pride Month is a time filled with queer and trans resistance, a time for honoring those who have passed, and a celebration of our resilient community. But for newly out queers, it can feel a little bit overwhelming to dive in head first. 
Where are all the good parties happening? Which rallies and marches are important to attend? What should you be wearing? How do you meet new people if you're single? There are so many questions, I know, I've been there. 
Where To Go
Depending on where you live, Pride may have a very different feel. In a city, there will likely be overwhelming amounts of parties and events to attend — which can be hard to navigate as a newly out queer. I'd recommend looking up the parties you feel called to and finding a photo album of last year's event. This will help you feel out the vibe of the party and if it's aligned with what you're looking for. 
If you're living in a more rural area, there might be less quantity of events, but that doesn't mean the quality will be lacking. My first Pride was in rural upstate New York, and it was such an affirming experience. If you're unsure about the Pride events near where you live, I recommend looking up the closest LGBTQ community center and giving them a call. 
If you're not much of a nightlife person, there's no pressure to go to events that push you too far out of your comfort zone. Pride comes not only with celebration but resistance. Our history is filled with hot rage, unbreakable love, bold resilience, and unabashed defiance — the continuation of rallies and marches upholds that legacy. There might be events like the Dyke March or Trans Day of Action rally that allow you to feel involved without having to jump into nightlife. 

What To Wear
There is no dress code for Pride, and that's the most beautiful part of it all! How queer and trans people adorn ourselves with makeup, glitter, leather, and clothing is an act of fierce revolution. To be out and proud is an act of boldness and vulnerability in a world that tells us we're not welcome. Queer communities have always found ways to embrace pleasure, even when we're told our bodies are weapons. During Pride, we dance in glitter and leather for revolution, because we have paved the way for existence where there wasn't one before. We honor our history and elders by continuing the legacies they started by throwing a brick in the face of institutionalized violence. And one way we do this is thru visual expression. So wear rainbow everything and never let yourself think an outfit might be "too much" — there is no such thing for us gays! 
Meeting New People At Pride
You want to make all the new queer friends, connect with the community, and most importantly meet some cuties to make out with — that's one of the most exciting parts of coming out. Pride is the perfect opportunity for this. Don't be afraid to put yourself out there — embrace the fact that Pride is a time when every queer is out and about. Pride is literally a celebration of gender expression and sexuality, so let it all hang out! Make out with the new cutie you met at the bar. Go get the number of the person you made eyes with across the Dyke March. Let your sexual expression feel liberated at Pride — be outwardly kinky, wear nipple pasties to the parade, fall in lust or love with all the hot babes around you. (Always remember to be consensual.)
If you're doing Pride solo and feeling nervous about that, it's possible you could get involved as a volunteer. I always find that when I'm involved in behind the scenes, I feel much more confident in meeting new people. Volunteering puts you in a space where you're automatically putting yourself out there and meeting all the queers by necessity. After your volunteer shift finishes, you can join your new friends in the festivities! 
Call In Gay
Pride is exhilarating and beautiful, and you'll likely get wholly wrapped up in the fun of it all without much rest. Plan to take the day off (if you can) after Pride. Call in gay! I mean, straight people do this after the Superbowl, so why can't we have a day to recuperate after Pride? 
---
Related: