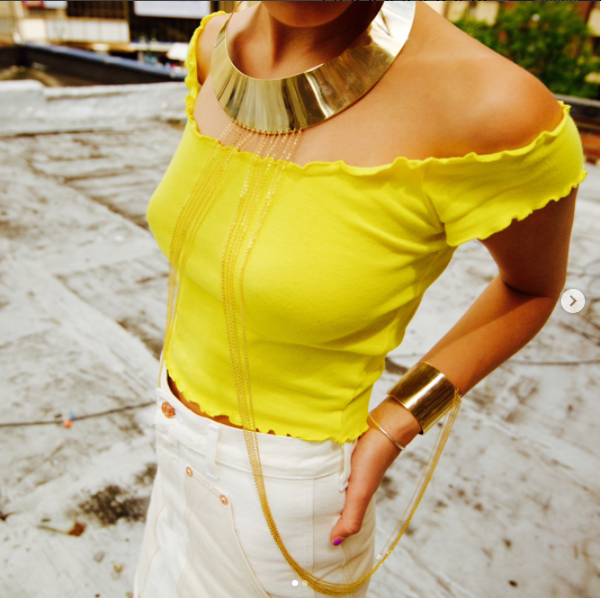 If you're shopping for some new bling, why not go with a piece of jewelry that's designed to double as a sex toy? (Image Credit: Instagram/unboundbox)
Jewelry trends come and go — but orgasms never go out of style. So if you're shopping for some new bling, why not go with a piece of jewelry that's designed to double as a sex toy?
Yes, you read that right. There's a whole world of sex toy wearables out there that can be used to amp up your outfit — and also take your love making to the next level. One minute, you've got a stylish accessory. Behind closed doors? Those seemingly normal earrings can be used as nipple clamps. What a time to be alive, am I right?
Whether you're into dangly earrings, chokers, pieces that are a bit more understated or have a funky flair, there's something on the market that's bound to fit with your style — and help unleash your inner freak. Ready to start shopping? Here are a few new pieces to consider adding to your collection.
Amelia Nipple Whip Necklace, $49, Unboundbox.com
"There's nothing more tedious than digging around in your already too big purse for your go-to BDSM whip," says Polly Rodriguez, CEO of Unbound, the company behind this creation. "That's why this supple leather choker from our original collection is the ideal dual-use toy — for when you're seeking a little action on the go. The whip delicately encircles your neck to meet in an eye-catching sterling silver pendant. When unhooked, this piece serves as a functional whip suited to light BDSM play."
Cleo Nipple Clamp Earrings, $54, Unboundbox.com
This pair of exquisite earrings are a conversation starter, for sure — a conversation that curious admirers won't likely forget having. "These 24-k plated exotic peacock feather earrings, inspired by the powerhouse Cleopatra, evoke the mysteries of the Nile," says Rodriguez. "Most importantly, they conceal a set of adjustable nipple clamps that can be used to deliver equally exotic and exquisite sensations." 
Vesper Vibrating Necklace, $69, LoveCrave.com
Don't let its thin, sleek design fool you — all four vibration settings on the Vesper get the job done. Its shape is ideal for clitoral stimulation, especially when you just need a little bit extra during P in the V sex to push you over the edge. It's also engraveable, which makes it an excellent gift for any badass lady in your life. Wondering how the heck you'd recharge this thing? The Vesper comes with a USB charger that you can plug right into your laptop to give it some more juice.
Because you have to take your pants off anyway, why not have the belt you're undoing in the process also come in handy to heat up your BDSM play? This belt is adjustable, super trendy, and can also be used to spank your partner (or vice versa). Plus, it looks completely legit. What more could you really ask for?
Leather Cuff Bracelet, $62, LoveCrave.com
This leather statement cuff goes with virtually everything — including the bondage sex you're planning on having later on tonight. Stack both cuffs on your wrist while you're wearing them during the day, then separate them and use them as bondage cuffs when you're ready to play. Plus, there's no key involved. When you're done having fun, just undo each cuff as you would a normal bracelet.
This Italian-based company is on a mission to incite more lady orgasms everywhere by designing a set of four rings engineered for clitoral stimulation. Though not yet available for purchase, the folks behind the rings have gone as far as to create a nifty infographic on why discreet sex toy rings are so needed. (Spark Notes version: because men still think vaginal orgasms are easily achieved.) Keep your eye out for the launch of this one, ladies.
Twiggy Cock Ring Bracelet, $37, Unbound.com
If your style is a bit more whimsical (and your partner is into extended shag sessions), this cock ring bracelet will make you both pretty happy. It easily adjusts around your wrist or cock, depending on what you're using it for. The best part? The charm you use to change the length on this bracelet has a picture of a hot dog on it. Because life imitates art.