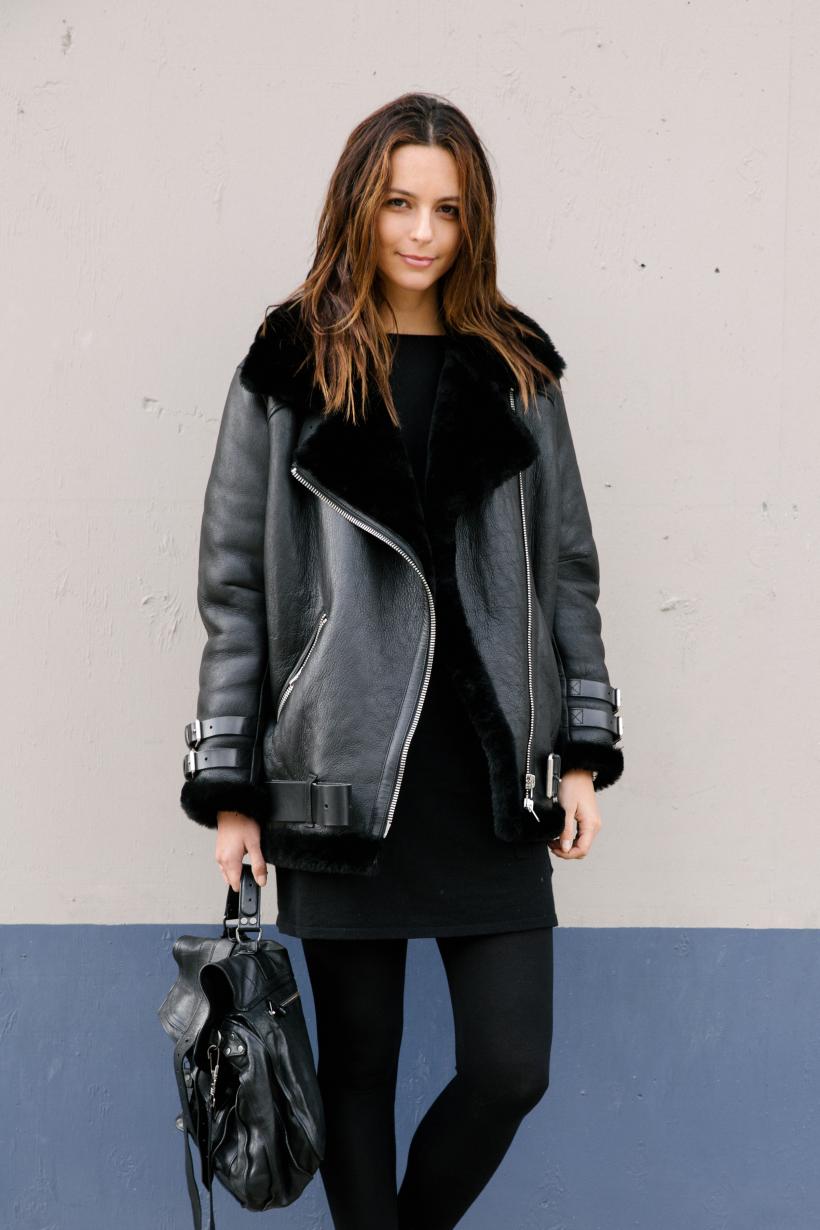 Spotted in: The Mission, SF
Occupation: Model
What's your occupation?
I'm a model.
How long have you been doing that?
I've been doing it now for about seven years.
How did you know that was what you wanted to do?
When I was really little, everyone was telling me that I was going to be a model because my mom was a model. I've always been very rebellious, so I pushed back against the idea until I was probably about 17 or 18. But then I remember seeing my mom's modeling pictures and being like, oh, that's kind of cool! Looking through her photos, she looked like a supermodel—it reminded me of something I would see in Vogue, or Elle—magazines I respected. I remember thinking, I want to do that if I can!
What kinds of things was she modeling?
She was beauty and swimsuit. I remember this one photo in particular she's wearing this very hippy, boheme, to-the-floor white dress and it was a close-up of her next to a horse. It was just very bohemian. It was weird to see my mom like that. I was like, that's my mom?!
So that was the thing that changed your mind?
Yeah. And I always loved fashion. It's always been something I've loved since I was a little girl, but I don't know. I was just very awkward and very shy, so I didn't really think that modeling was going to be my forte.
You were awkward and shy?
Yes. [laughs] Still to this day.
What is something about your profession that people would be surprised to know?
I think my profession isn't extremely difficult in the way that being a mathematician would be or someone whose job is shoveling coal or something like that. But people don't realize that modeling can be a little bit strenuous on you—sometimes you have to change into upwards of 200 outfits a day. So you're literally on your feet, moving, for 8 or 9 hours. And you don't have one boss, you have several. You have the photographer, the stylist, the makeup artist—everyone's depending on you to make everything look good. So it can be a stressful job. But I'm very lucky to be able to do it.
What's a challenge that you've overcome recently?
This is going to sound so cliché, but I feel like I only recently started to acquire my own sense of style. Before, I'd be very swayed by what everyone else was wearing and try to figure out how that would fit into my style. But now I have the confidence of just wearing what I want, when I want. Without being like, oh, I'm not supposed to wear white past this time, or one of the magazines said I'm not supposed to be wearing patent leather this season. Maybe that just falls back into me be being a rebel and a rule-breaker, I don't know! [laughs] Also, when you're modeling you're traveling to so many different cities, and each city has its own style happening there. So with all the traveling I do, it's almost impossible to keep on top of what each city is doing at all times! [laughs]
So how would you describe your personal style?
I'm definitely a mix of rocker and boheme, but it always has to be comfortable. I've regretted buying so many pieces of clothing where I love the way they look but they're just not comfortable. And then they just sit in my closet and look nice there and that's all they do. I like natural fibers. I like cotton, cashmere, leather. I also like mixing old pieces with new pieces. I live in LA mostly so a lot of the times I'm wearing shorts—I love wearing the vintage Levi's with a really nice structured Balmain jacket. Just mixing highs and lows. I don't ever want to be in designer from head to toe, I don't ever want to be in vintage from head to toe. I like mixing the $10 jeans that you found at the thrift store with the Balmain jacket.
So what city have you been to recently where you've really liked the style?
I just got back from Art Basel in Miami and every single time I'm out there the fashion is just—it's fun. People love to wear bright colors, they like to experiment. You know, you'll see those shoes in Vogue that you think, wow those are sick, but where am I going to wear those? The girls in Miami are just rocking it. It's very sexy and sophisticated.
What is some good advice you've gotten lately?
I heard a really good quote recently. It was: "Aim for the moon, if you miss you may hit a star." I thought that was really cute and inspirational. Because lots of times I'll set these goals and then I don't even get halfway through them because I'll think, I'm on the wrong course for finishing this. I guess it's not really about finishing it, it's just more about getting something done! [laughs] Maybe I'm always forced to be looking ahead because of the fashion industry; it's always like, we're on the next year, the next season, the next trend.
I also wanted to ask you about what you're wearing today!
The coat is by Acne Studios, a purchase I've wanted for a long time that I just got recently. The dress is Isda & Co—just a cashmere, easy throw-on. They're a San Francisco-based company I've worked for. The boots are Vince Camuto, and the bag is Proenza Schouler—I got this from Forward by Elyse Walker.
Where do you get most of your style inspiration?
I'm a crazy online shopper! I would say I find most of my things that I want in my closet online. I like shopping on websites that have a variety of styles, because my style isn't just one direction. So I really love shopping on NET-A-PORTER, Revolve, Forward by Elyse Walker, Shopbop. Just kind of the main ones and
—
I'm not even kidding you
—
in the morning, with my coffee I sit there and I go through everything I like in my wish lists. So I have very large wish lists on all of those companies! Then when I finally make a piggy bank of my fashion fund, at the end of the week I decide what to buy.
How do you decide? What sticks and what doesn't?
You'd be surprised. It's something that, if I've just stared at it for a week and I'm just kind of "eh" it goes. Some things you just look at every day and you're like oh, I can't wait until I have that one! [sighs] Confessions of a shopaholic. [laughs]