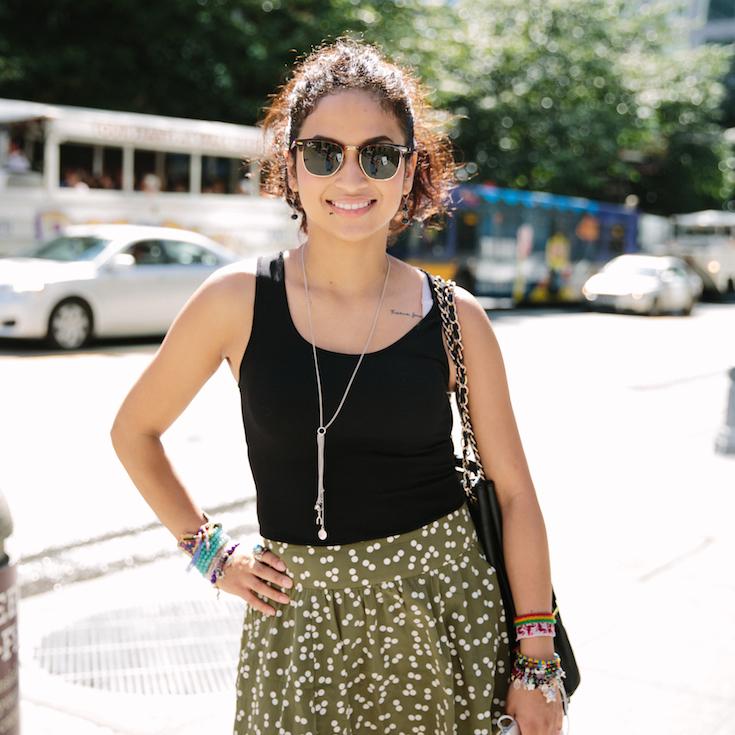 Spotted: Downtown Seattle
What are you up to today?
I'm on my way to work. 

Where do you work?
I'm an intern at NARAL Pro-Choice. It's down a few blocks. It's an organization that works to promote reproductive freedom, justice and health for women, and everyone actually. 

What drew you to that job?
I'm very interested in defending women's rights. I'm a feminist and an activist too. I wanted to work to ensure that women have access to safe abortion. NARAL does political work, and I wanted to get more involved in the political work too.

What do you like most about what you do?
I feel like a superwoman every day! I feel like we're the voice of women who don't have a voice — especially lower-income women. We also work with the LGBT community, and men as well.

In what ways have you worked with men?
The organization has Men for Choice, which are men who support women's right to choose. Also, we support the fact that men want to be involved in reproductive birth control. I wouldn't say that I know much about it because I'm fairly new; I'm just getting the hang of it, too. Before I came here, I worked at other places for reproductive rights. It's my passion — being a woman and all.

Have you always been in the States?
No, actually! I'm from Bolivia, and moved to the United States two years ago because I was on a scholarship for my master's in Ohio. I just moved here to Seattle, like, a month ago! I'm quite new here in Seattle, and I'm really enjoying the weather here in comparison to Ohio. Ohio's summer is quite warm, but it's also very humid. In the summer I would go to see my family, but most of the year was winter and a lot of snow. So it's been a change, and I'm really enjoying the city.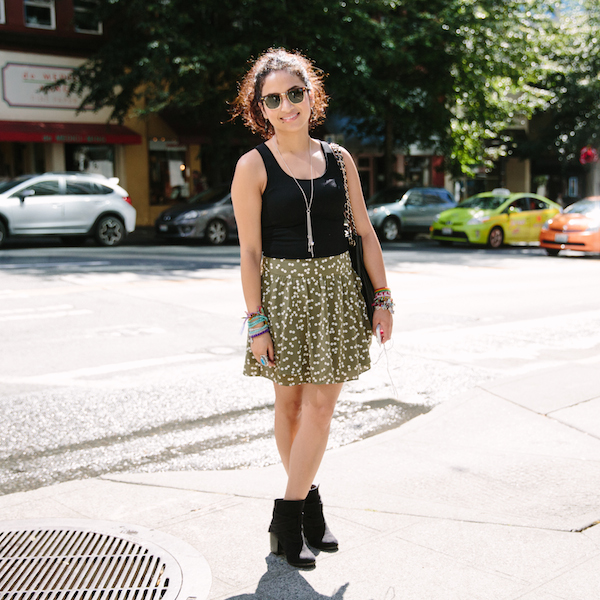 Have you found any favorite places to hang out in Seattle?
Not yet! I'm busy from Monday through Friday, and I only really have time for exploring on the weekends. Recently my parents were in town, so I showed them around doing tourist stuff. So, we were like OK, we might as well get to know Seattle with them! We went to places like the Space Needle. We also did an Argosy cruise. It was pretty cool because you can see the whole city. 

What are some things you do for fun in your spare time?
I guess my personal project is cooking — I really love food. 

Are there any Bolivian specialties you miss from home?
Oh yeah — for sure, always! One thing is chairo. It's a soup that has a lot of grains and meat — it's delicious! My mom sent me a small packet because they do one now for people that are outside the country, but there aren't too many Bolivians outside the country to be honest. But, she sent me one and I was like, Oh my God! I was so happy! I gave some to my boyfriend, who's Ukrainian, and he was like, Oh this is pretty cool! He also does some Ukrainian stuff, so we share.

How would you describe your personal style?
I don't think I have a particular style — I would say like I'm bohemian, you know? I like more of the bohemian-style stuff. For work I try to dress up a bit. Sometimes, honestly, I just look at my closet and I'm like, What am I going to wear today? And I'll try to match some stuff.

I noticed you have a lot of bracelets. Have you collected these over time?
Yes. These are definitely my signature. Some of them my mom made; most of them are Bolivian. All the woven ones are Bolivian, and they're indigenous too — 75% of the population in Bolivia is indigenous. I feel very empowered with our indigenous roots. Some of these I have for meditation because I love to meditate, and I recently became a Buddhist too. This bracelet is Ukrainian because of my boyfriend, some of these my best friend gave to me, so yeah I have a lot of things that hold meaning to me. 
Note: All interviews are edited and condensed for clarity.