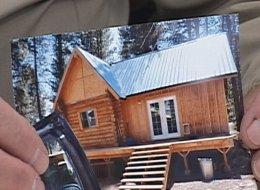 You've probably worried about someone stealing your car. Or snatching your laptop. Or running off with your iPhone. But have you ever wondered if someone could steal your house?
Like literally UPROOT YOUR ENTIRE HOUSE AND MOVE IT SOMEWHERE ELSE?
Well, start worrying, because this is apparently something that can 100% happen in real life.
In Klamath Falls, Oregon, a man was quite reasonably shocked to discover that his cabin was missing. After contacting the police (wonder what that phone call was like), it was discovered that a thief had, according to the local sheriff, "busted out the foundation, jacked [the house] up, put a lowboy [trailer] underneath it and lowered it down on the lowboy and took it."
We imagine it all looked a little like this: