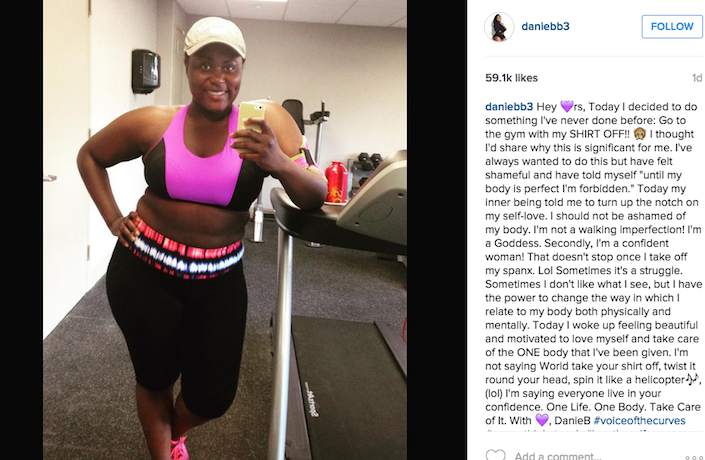 Image: Instagram
Quick! What clothing item do you admire on others, but are afraid to wear yourself? 
Orange Is The New Black star Danielle Brooks (who plays Taystee) made a common fashion choice, and turned it into a bold statement. 
"Hey lovers, Today I decided to do something I've never done before: Go to the gym with my SHIRT OFF!!" Brooks wrote on Instagram. "I thought I'd share why this is significant for me. I've always wanted to do this but have felt shameful and have told myself 'until my body is perfect I'm forbidden.'"
Her message — shared with her 1 million followers — explained that she's not ashamed of her body, and she's a confident woman (which doesn't stop once she takes off the Spanx). 
"Lol Sometimes it's a struggle. Sometimes I don't like what I see, but I have the power to change the way in which I relate to my body both physically and mentally," she continued. "Today I woke up feeling beautiful and motivated to love myself and take care of the ONE body that I've been given. I'm not saying World take your shirt off, twist it round your head, spin it like a helicopter, (lol) I'm saying everyone live in your confidence. One Life. One Body. Take Care of It. With Love."
Very vocal about the importance of self-love, she wrote an essay to Glamour on the topic and recently joined People Style Watch for a #LoveYourShape campaign. 
OK, do you remember that clothing item? In honor of Brooks and her boldness, we dare you to rock that one item! Borrow a tip from Brooks, and live in your confidence.