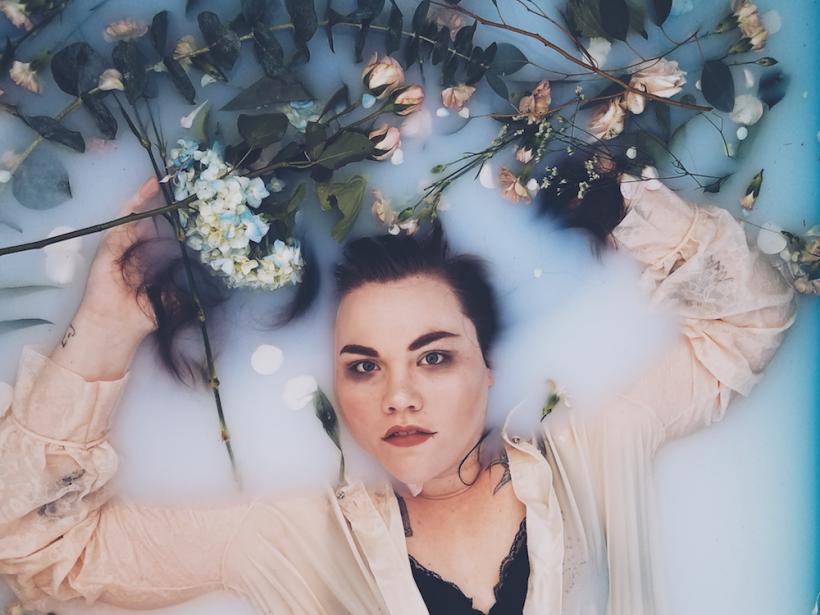 Photos by Brittni Hebert | Model: Arika Shaffett (@weird.and.wonderful)
Fashion is ever-changing and fickle. Style is deeply personal and fluid. Who we are, how we experience the world around us, and the way we feel influences everything about our style. One really fun thing to think about is how the zodiac influences it and how each sign manifests itself and is reflected in our clothing.
As we move into Pisces season, hold on to your feels! You don't have to be a Pisces to feel the effects through mid February on into mid March. Our deep feeling friends will especially be experiencing the effects, for better or worse, as we all push through the tail end of winter together.
A great time for introspection, Pisces season can be intense but beautiful as winter melts away and gives way to beautiful spring blooms like cherry and plum blossoms. Anyone who has a Pisces in their lives understands the ebb and flow of emotions — much like water, the element ruling over the late winter sign.
Beautiful watery colors and flowing fabrics move like rivers. Clouds of seafoam and bits of lavender, pink, and white float through styles like lotuses sitting upon still waters. Vivid locks of hair spill over shoulders to reflect the fashionistas' moods and perfect style. While these stylish fashion bloggers and Instagrammers may not be Pisces themselves, these fabulous styles are spot on for the look.
Check out these fabulous looks for this Pisces season.
1. Nakitende Esther (@nakitende_esther)
What better color to turn to when you need to dive deep into your feelings? This gorgeous deep purple convertible gown is perfect for shifting emotions, suiting just about whatever mood or occasion that may arise.
2. Cora (@vintageortacky)
Plus-size beauty blogger Cora's hair is like a gorgeous mosaic of cool, vibrant tones. While grass green is associated with Taurus, this green sparkles like a beautiful lily pad floating on the water.
3. Ana Stomosis (@missanastomosis)
Perfect for Aquarius/Pisces cusp babies, this gorgeous dress hugs the body of fashion blogger and powerlifter Ana Stomosis's body like a beautiful midnight blue glove.
4. Kelly (@be.brave.live)
Dutch blogger Kelly shows off a gorgeous color melt hair style with soft, watery Piscean colors. Paired with a pink pastel sweatshirt, forgo the pants and spend the day in with a book and a hot mug of tea. Remember: sometimes self-care looks like taking care of shit: working, paying bills, taking care of the dishes, cleaning your house, and going places. Other times you need to spend a solo day not engaging with the rest of the world, or at least not face to face. Whatever it is, you do you.
5. Saucye West (@saucyewest)
Gorgeous plus-size pinup queen Saucye West channels a delicate retro Pisces look with this soft blue, light green, and white floral.
6. Nekiah (@reztothecity)
Hopi-Tewah fashion blogger Kiah channels a gorgeous mermaid-inspired makeup look for the eyes, complete with a gorgeous glow and nude lip.
7. Sarah Anne (@tonsablush)
Be one with the new blooms! Sarah Anne models the quintessential Pisces color, somewhere between seafoam green and a light aqua blue. These gorgeous pink hydrangeas only add to be beautiful, dreamy vibe of this look.
8. Ikuto90 (@ikuto90)
This adorable Cuban cosplayer takes the day off with this super easy-to-wear look featuring stylish boots, a comfy flannel, a killer pair of jeans, and your favorite band tee. Her look is made complete with gorgeous blue locks, reminiscent of a flowing river.
9. Lisa (@mustangsallytwo)
Canadian fashion blogger Lisa shows off a beautiful beachside boho look in waterlily white. Let everything wash over you as easily as the flow of this gorgeous gauze dress.
10. Chaela P. (@chubbie_babe)
Birthday girl Chaela P. celebrates her birthday in style with a gorgeous new hairstyle and goth babe look.
11. Jezra M. (@jezra_m)
Not all Pisces seasons are chilly! Island babe Jezra M. shows off a gorgeous pair of flowing, watery tie-dyed palazzo pants in this breezy look.
12. Lily Fernandez (@lilyannslife)
Florida blogger Lily poses waterside in a beautiful blue and white maxi romper. Channel your emotional flow with a piece like this, which has the impact of a maxi dress with the functionality of shorts. 
---
Related: