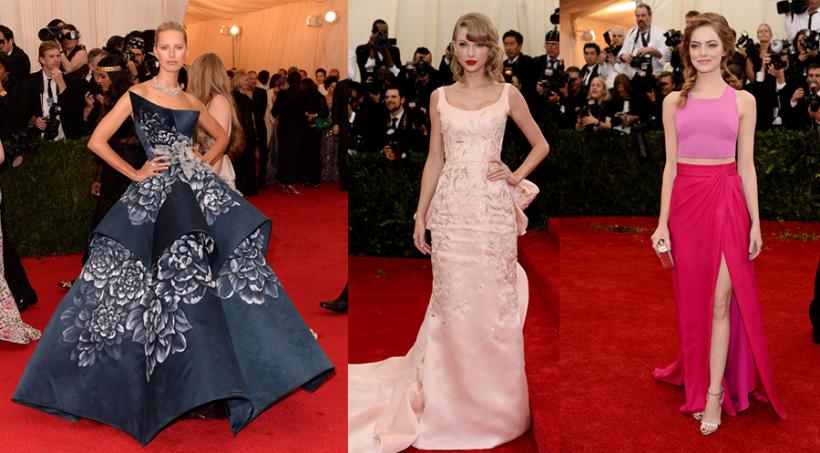 The Oscars of fashion happened last night in New York City, and everyone who's anyone in the world of fashion, plus some stragglers (we're looking at you, Lily Allen) attended. Considering this year's Met Gala had a dress code—white tie for men, gloves for the ladies—we're surprised by the diversity of the looks. From crop tops to sculptural ball gowns to whatever the hell it was Lopita Nyong'o was wearing, here are some of the most talked-about fashion statements from the evening.
Models Dressed The Part
"Charles James: Beyond Fashion," the Costume Institute exhibit that bowed last night, highlights the life and times of America's first couturier, Charles James. Known for his epic, architectural gowns made out of heavy satin and tulle, James dressed some of the richest, most beautiful women of the mid-20th century. Last night, Zac Posen paid homage to James with two striking, voluminous dresses done in signature James style, worn by models Liu Wen and Arizona Muse. They were stunning, but we're not sure how Wen and Muse moved at all. Those dresses were massive!
Karolina Kurkova's Marchesa gown was also a really big deal. The navy gown featured a gorgeous hand-painted flower motif and lace appliques, along with an exaggerated pleated peplum and asymmetrical bodice. It sounds like a lot of look, and it was, but it was a major moment that really echoed James' aesthetic.
Pink Satin Was The Thing
I guess when Hollywood stylists think of Charles James, they think of blush satin. Karen Elson, Dita Von Teese and Kendall Jenner all wore heavily tailored, paneled satin dresses in the color. But it was Taylor Swift who won the (unofficial) pink satin contest in her custom Oscar de la Renta. The gown had floral embroidery, pastel beading and a giant, sculptural bow in back. It was like a prom dress, if your prom dress cost approximately $15K.
Crop Tops Are Not White Tie…
…but Anna Wintour did not seam to mind. Rihanna, in an 80s-inspired Stella McCartney two-piece, looked like a cross between a character from the soap opera Dynasty and an extra from Olivia Newton-John's Let's Get Physical video—but in a good way! Cara Delevigne, also in Stella McCartney, wore pants (daring!) and a top made of luxury ace bandages. Our favorite crop of the night went to Emma Stone in Thakoon, because there is no better color combination than pink and pink.
Odds and Ends
- Lopita Nyong'o: We don't really get the fringed Prada thing you rocked, but you definitely rocked it.
- Ashley Olsen: You are our fashion spirit animal. You make a vintage Ferre nun's outfit look so fresh.
- SJP: Never stop being the diva that you are. Everyone learned everything they know from you.
- Katie Holmes: You look like Belle in the off, off, off-Broadway version of Beauty and The Beast. 
- Victoria Beckham: Always icy, always slightly bored, but always best-dressed. 
As for Kim K? Actually, she looked great. Her softly tailored Lanvin dress was reminiscent of the Lanvin wedding gown she wore on the cover of Vogue, which reminded everyone that she was on the cover of Vogue, so the dress did what it was supposed to do. 
Image: Marchesa, Oscar de la Renta, Thakoon