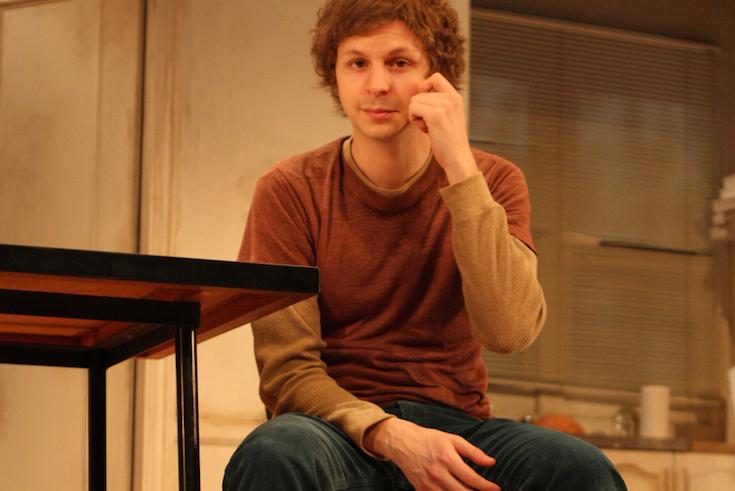 George Michael Bluth by day, indie musician by night. Courtesy of Wikimedia
Newsflash: Michael Cera is a good musician! Apparently his biggest fans already knew this, but the rest of us have long toiled under the delusion that he was but a mere actor.
Yes, he did a sweet duo at the end of Juno. And yes, Arcade Fire fans likely noticed Cera's signature style in the band's NBC concert special. But I was still pretty surprised by how much I enjoyed Cera's album. 

True to his aw-shucks, don't-notice-me on-screen personality, Cera dropped his album rather quietly, unlike every other non-Beyonce celebrity. The album is called true that and it contains 18 songs. Serving as de factor promoter, Jonah Hill plugged Cera's album via Twitter:
My great friend Michael Cera not only is a brilliant actor, he also makes great music. Check it out: http://t.co/lbc8sDcSco

— Jonah Hill (@JonahHill) August 13, 2014
Aw, they're real-life besties too? Rolling Stone describes his aural vibe thusly:
[It's] an eclectic, lo-fi album filled mainly with vignette-like instrumentals—blending acoustic guitars with pianos, synths and left-field samples.
Well done, Cera! Press play below and bask in the enjoyment while we simultaneously lament—and gently lambast—the very worst of celebrity music. Trust us—you'd rather listen to true that.
. 

1. Kim Kardashian


Yeah, this happened. The song is pretty terrible, but the accompanying video is what truly gets me. If you've ever craved Kim close-ups, now is your only chance ever to see them. Not!

Choice review:
But Kim's vocals—described by various members of the Vulture staff as sounding as if they are emanating from a baby that is either very bored or very drugged—don't quite sell the package on "Turn It Up. —Vulture
2. Paris Hilton

I'll be the first to admit that I really kind of liked "

" target="_blank">Stars Are Blind

." I like it the same way I like Reese's peanut butter ice cream cups. Logically, I recognize it's terrible—yet there's some delicious pull there. The same can't be said for about 90% of her other stuff, including her newest single (see above), "Come Alive." 

Choice review:
Is Paris Hilton a good singer? Of course not. It's the same fried baby voice we've come to expect, and it's so auto-tuned that it sounds like she's singing into a box fan. —Salon
3. Kobe Bryant
It brings me great joy to announce that Kobe Bryant once tried to be a rapper. And yeah, the NBA has had a connection with hip-hop for some time. There's a limit though—and said limit involves asking Tyra Banks to be your backup singer. 

Choice review:
Kobe Bryant's rap dreams go back almost as far as his hoop dreams . . . Then 'K.O.B.E.' happened. 'What I live for basketball, beats and broads from Italy to the U.S. / Yes, it is raw.' But it wasn't raw. With Tyra Banks joining on the hook and Bryant mushily mumbling his lyrics it was, in fact, quite soft. —Rolling Stone 
4. Tyra Banks 

America's Next Top Model fans (guilty) will remember that one season when Tyra decided to make a music video and have the girls star in it as a "challenge." And by "challenge," I mean "free labor." Tyra is one fierce female, but all sense of ferocity is 145% absent in this song. Except, of course, when she smizes at the camera. 

Choice review:
Must've been a J. Lo throwaway. —Jezebel 
5. Brian Austin Green
General rule: Caucasian teen stars should consult at least 12 publicists before attempting a rap career. Brian Austin Green (of 90210 fame) decided to ignore my words of wisdom 18 years before I said them and try his luck at rap. When the one-time heartthrob dropped Austin, no one was fooled. 
Choice review:
Vanilla Ice sounds better. —Amazon customer review