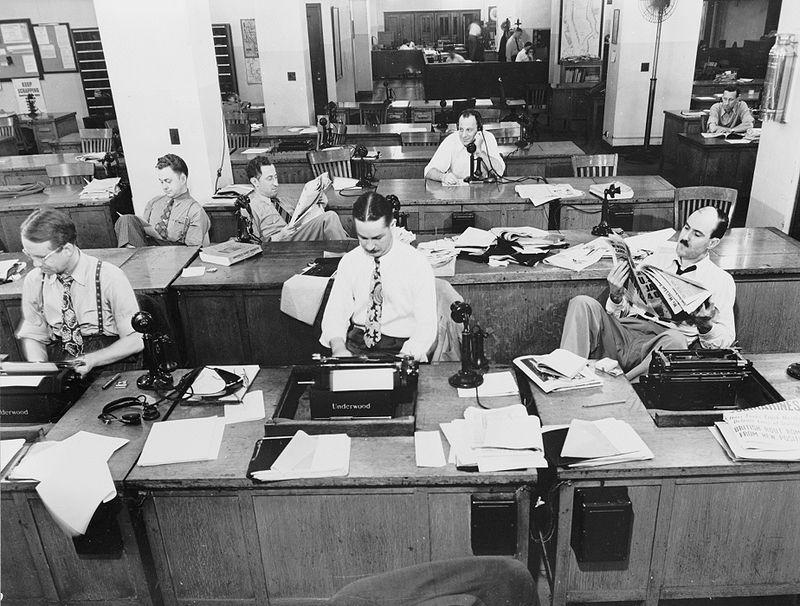 Male reporters at the New York Times office circa 1942. Has much changed since then? (Credit: Wikimedia Commons)
It may be nicknamed The Grey Lady, but as of late, The New York Times has been getting called out for treating women poorly—both on their staff and in their articles. The latest brouhaha? The remarkably tone-deaf and offensive piece the paper recently ran on Grey's Anatomy and Scandal scribe Shonda Rhimes (which mind-boggingly was, per the Times' public editor Margaret Sullivan, "intended to be in praise of Ms. Rhimes"). The story—penned by a female reporter, no less—opens with a line so sexist and racist, it hurts:
"When Shonda Rhimes writes her autobiography, it should be called, 'How to Get Away With Being an Angry Black Woman.'"
Acknowledging that the Angry Black Woman stereotype is one of the oldest, most persistent and virulently racist ones in the book, the review somehow gets worse. Not only does does it misidentify Rhimes as the creator of How to Get Away with Murder (when in reality, it is a white man—Pete Nowalk), but it also continues to reduce her work and characters to an endless stream of one-dimensional racist and sexist stereotypes (Melissa Harris-Perry, for her brilliant addition, mocks the lunacy of the piece with her take on what it would be like if "Angry White Man" were a caricature). And Rhimes, for all the incredible revolutionizing she's done both for women and people of color in the television industry, is referred to merely as a "romance writer."
And as The Daily Beast reports, this isn't the first time the story's writer, Alessandra Stanley, has dragged high-profile women through the written-word mud, with pieces on Katie Couric and Farrah Fawcett relying on similarly damaging sexist tropes.
The controversy raises a valid question: Why does the Times publish Stanley's loaded stories in the first place? And this in turn raises another, more troubling question still: Does the New York Times have a woman problem?
This is hardly the first incident at the paper to raise eyebrows in feminist circles. Earlier this year, when Jill Abramson was unceremoniously dumped from her post as  executive editor, many raised the sexism red flag. There have also been critiques of recent New York Times Magazine cover stories featuring strangely unflattering photos of political powerhouses Hillary Clinton and Wendy Davis. Davis' story was also framed with the reductive headline "Can She Have It All?" with the cover line singling out her "ambition" and "motherhood."
Another example? Last year, the paper actually changed an obituary it ran about rocket scientist Yvonne Brill, after it led not with her accomplishments as an actual rocket scientist, but with how she was such a great mom, wife and beef stroganoff chef.
Of course, the Times runs a host of stories every day, and it's inevitable—to a certain extent—that some controversy will arise from a few of them. What's perhaps more problematic is the troubling evidence that sexism seems built into the very fabric of the paper's pages.
The Stats Don't Lie
According to a 2014 Women's Media Center study, the Times had the biggest gender gap of any of the top 10 most widely circulated newspapers last year, with a robust 69% of bylines belonging to men. It also revealed that women were far more likely to cover lighter health and lifestyle topics, while men predominantly took on heavy-lifting beats like crime, justice and world politics.
This male domination is even evident in the Times' famed crossword puzzle section. It's been estimated that just 20% to 30% of the paper's puzzles are crafted by females, down from about half in the '60s and '70s. Last year, while 31 men debuted a puzzle for Times, just six women did the same. (This gender gap is in part what led us to interview the glass-breaking Elizabeth Gorski, one of a handful of female constructors who've been featured in the paper.)
So what's the Times' problem? It seems it may lie in the paper's very venerability. The so-called "paper of record" is so powerful, successful and widely revered—and in many ways, justly so—that breaking free from the entrenched status quo has proven difficult. The paper also operates under the auspices of both a board of directors and an executive team that skew 80% male—which can't help matters.
The Times, They Are A-Changin'?
That said, there is some indication that the tide could be turning. Each year, VIDA, a women's literary organization, assesses the gender gap in leading literary publications, accounting both for those reviewed and those doing the reviewing. Last year, the New York Times Book Review improved in this arena, boasting near-equal overall representation for the genders. The change was attributed in part to a female editor, Pamela Paul, taking over the reigns. Said Paul of making the shift:
"It is not hard work at all. That's the big secret—it's not hard. There are so many good books out there by women, and there are so many incredibly good book critics out there who are women. So I actually have to say that I didn't find it to be an incredible strain. I don't think any of our editors at the Book Review felt that we were unduly burdened."
That message—that seeking out gender diversity and balance is both easy and important—is one the Times would do well to heed more. The same, obviously, goes for racial diversity. So let us hope that Dean Baquet, executive editor of the paper, means it when he says that he has "an obligation to diversify the staff." On The Grey Lady's total lack of black culture critics on staff he said yesterday:
"I would criticize us for that. I would love to diversify that area . . . It's an issue and we need to work on it."
Yes, they do. After all, if the nation's leading paper can't fight the good fight for women and people of color in the media . . . who can?