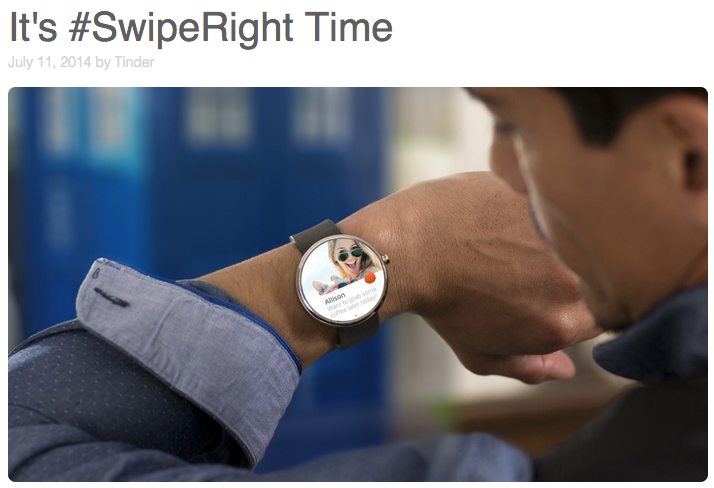 Courtesy of Tinder
If you want to hookup, Tinder says you might have to pay up. The "swipe right on your soul-mate" start-up announced yesterday that they'll be launching a paid premium option starting in early November. Before you get your knickers in a twist, however, fret not. The current app as it is will still be free because Tinder doesn't want to upset any of their current account holders, which are said to be in the billions. Each day, Tinder boasts 15 million "matches"—that's a whole lot of match-makin', especially for a company that has only been around for two years.
While exact details haven't been given as to what the premium upgrades were going to manifest themselves—or what they were going to cost—the buzz is that they'll allow you to lift location restrictions. Currently, Tinder only allows users to see matches that are within a few miles of their location.
CEO and Co-Founder of Tinder, Sean Rad, told Forbes at the 30 Under 30 Summit:
"We are adding features users have been begging us for. They will offer so much value we think users are willing to pay for them."
OK, first off? Begging is a strong word choice. It sounds so sexual—so Tinder-esque. The other interesting thing is the supposed desirability of lifting location restrictions. My personal experience with Tinder was that the location area was large enough already. Some of the matches they gave me were nearly an hour and a half drive from where I live in Los Angeles, which could be the equivalent of three in traffic, which I can tell you right now, is so not sexy. I guess if you don't live in a major metropolitan area—or in a very rural location—expanding the geographical radar might be a useful tool. But even then, why not try FarmersOnly?
Anyway, Rad is of the belief that people will fork over a little moola to start up a barrage of sexts before they start traveling to a new locale and trying to wheedle a few smooches.
Rad also said that currently, there are several Tinder "hacks" people are using, which might be incorporated into part of the premium service, such as getting local recommendations in a strange new city, for making friends (imagine that!) and even conducting business. (Although I must admit the only business I've ever heard about on Tinder is web-cam girls who make accounts to lure customers. It's hard to imagine more legitimate businesses networking on a hookup app.)
Strange but true, one major hack is actually a separate entity called the "Autoliker App," which automatically likes all the other profiles. While this is an obvious time-saver as you only have to sort through the people who like you back, it's gaming the system and renders an already rather unromantic process a glorified algorithm. (And what if like 50% of people are using said app and all auto-liking each other? Back to square one.) I'm gonna go ahead and say, this won't be part of the new premium service. 
While it's totally OK for Tinder to monetize their app (it's a business providing a free service after all) let's take a look at the big picture here. I think it's ultimately going to make—or allow—users to be way more picky; in my opinion, there are way too many choices as it is. Other than mutual Facebook friends and Facebook shared interests (and does anyone even like actually update or use those?), you can't really see what else you have in common. Maybe a better feature to add is an extended profile option so we have more information on who they are.
It's also safe to say maybe great matches are missed because, between frantic swiping and a barrage of incoming and outgoing messages, we can't concentrate on any one person enough. The grass always seems greener.
How can we get some quality up in this quantity?