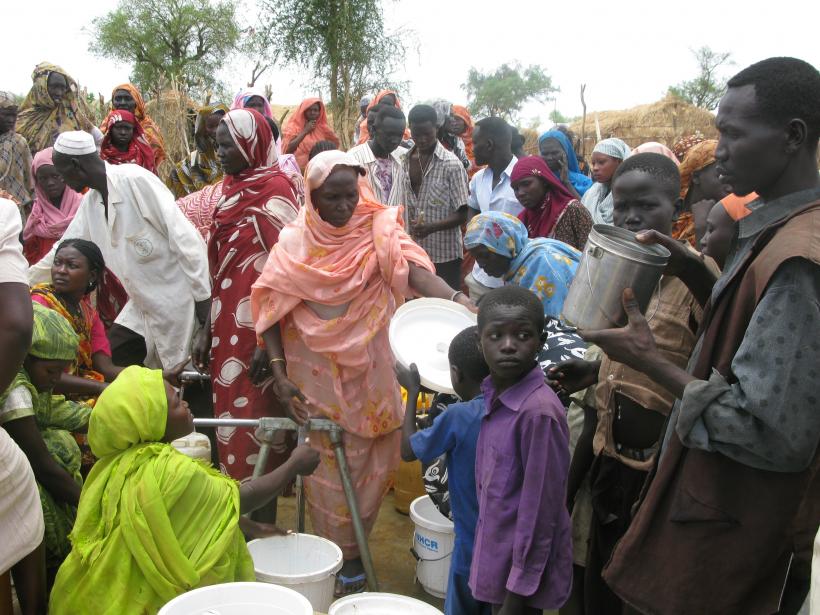 Credit: Wikimedia Commons
The world's youngest country—South Sudan, born just three years ago—has been ravaged by war for 13 months. Since December 2013, South Sudan's fledgling government has fought rebel forces, forcing hundreds of thousands of residents to flee and displacing 1.4 million within the country. The conflict was kicked off when current president Salva Kiir, of the ethnic Dinka group, fired then-prime minister Riek Machar, of the Nuer ethnic group, accusing him of plotting a coup. Machar denounced these claims and accused Kiir of carrying out violent purges.
The governmental turmoil catalyzed violence between the two ethnic groups, which has so far claimed more than 10,000 lives. All peacemaking efforts have failed—any slowing of the violence has simply been due to the poor fighting climate of the rainy season.
Desperate for an end to all the violence, female peace activists recently hatched a new strategy to quell the civil war: a nationwide sex strike.
More than 90 activists, including some parliamentarians, convened a meeting last week in the capital city of Juba. According to Priscila Nyanyang, the gathering was held as a platform for women to come up with ideas on ways "to advance the cause of peace, healing and reconciliation."
And one of those ways involves the withholding of sex. The activists announced in a statement after their meeting that they seek to "mobilize all women in South Sudan to deny their husbands conjugal rights until they ensure that peace returns."
Another proposal involved meeting with the wives of president Salva Kiir and now-rebel leader Riek Machar in order to urge them "to join the search for peace and reconciliation by impressing upon their husbands to stop the war."
Tobias Atari Okori of the government-backed South Sudan Peace and Reconciliation Commission, claims the sex strike suggestion demonstrates that:
"People [are] desperate for the war to end. People are experiencing great suffering, and it is the women, children and the aged who are suffering the worst."
Such desperation is certainly more than understandable, given how the deadly violence has continued to rage through all previous attempts at peace. But there's also a precedent for a sex strike working—even when other measures have failed.
The Liberian Sex Strike
Liberia, now making headlines for its devastating Ebola outbreak, suffered its own brutal 14-year civil war, which finally came to a close in 2003—in large part through the efforts of peace and women's rights activist Leymah Gbowee.
Realizing that women often bear the brunt of the burden during deadly, prolonged conflicts, Gbowee began organizing all women—bringing together Christians and Muslims in demonstration—and founding the Liberian Mass Action for Peace. In addition to general protests, she also launched a nationwide sex strike.
For her campaign, she was awarded the Nobel Peace Prize in 2011.
In an interview in 2012, when asked whether sex strikes are an effective strategy for ending wars, the Nobel laureate replied:
"It's effective in the sense that it gets people's attention. Sex is an exotic thing, and many people would say it's a taboo subject. But when someone dares to bring it to the attention of the public, it has two results. People start saying, 'who's this person doing this?' and they start asking why the person is using sex to highlight an issue. And it gets men thinking. There are a lot of good men out there! The percentage of men who wage war is very small. Good men outnumber evil men, but why are they silent? Our strategy helps the good men because it gives them a reason to take action. They start talking to their colleagues and beer buddies, saying 'this war is wrong.'"
According to Gbowee, "Every man is interested in the act of sex." Thus when the Liberian women withheld sex, their husbands "obviously noticed what we were doing. We said, 'we need you to take a stand.' And they did."
Can it work in South Sudan? As recruitment continues unabated headed into the beginning of the country's dry season, we sure hope so.