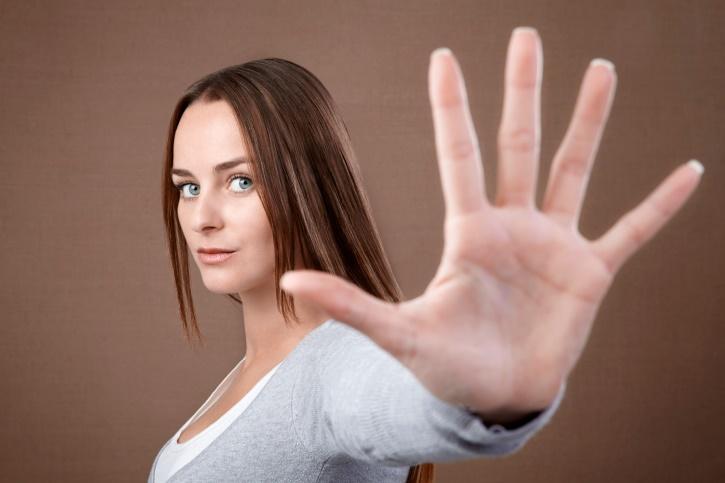 Credit: Thinkstock
The sheer prevalence of rape and sexual assault can engender feelings of helplessness, if not outright apathy. Why even bother with fighting back, when it all feels so deeply entrenched and systemic?
This reaction is, considering the numbers and harrowing stories behind them, understandable. According to the CDC's National Intimate Partner and Sexual Violence Survey (NISVS), nearly 1 in 5 women and 1 in 71 men in the United States have been raped at some time in their lives, and nearly 1 in 2 women and 1 in 5 men have experienced other forms of sexual violence victimization in their lifetime (including being made to penetrate someone, sexual coercion, unwanted sexual contact and nonconsensual sexual experiences lacking physical contact).
But for many, fortunately, this societal epidemic doesn't manifest as hopelessness—but as an opportunity to fight for a solution.
One such force creating tangible change is the Rape Prevention and Education (RPE) Program. An initiative of the CDC—described as "the only federal agency working to advance the primary prevention of sexual violence"—RPE's goal is to prevent sexual violence before it even begins. In all 50 states, the District of Columbia, Puerto Rico and four U.S. territories, the program leverages partnerships, professional training and educational seminars to curb an issue that all too often seems impossibly complex and ubiqitous.
As part of the UN's #16Days of Activism Against Gender-Based Violence, we reached out to coordinators from three RPE states—California, Connecticut and Colorado—to learn what's being done to make an impact. Sexual violence may feel like an overwhelming issue, but these efforts prove change is, if not easy, entirely possible.
California
Shrewdly, the Golden State has focused its efforts on the state's most impressionable citizens: teens and youth. The RPE Program "provides funding, training and technical assistance to 34 rape crisis centers so they may implement local projects that focus primarily on youth, to shift social norms, engage bystanders and mobilize communities," says Stacy Alamo Mixson, a chief with the Safe and Active Communities Branch of the California Department of Public Health.
Mixson says a lot can be done when you focus on that elusive "teachable window of opportunity when young people are learning to perform socially-influenced gender roles." One of the program's most successful initiatives to date is the MyStrength Social Norms Campaign. Launched in 2005 and based on a program developed by Men Can Stop Rape in Washington, D.C., the campaign cultivates high school clubs to address the forces that contribute to negative behaviors toward women. In 2009, student surveys revealed that the clubs successfully helped members challenge stereotypes about what it meant to "be a man" and empowered boys to feel confident about preventing sexual violence.
A dozen California high schools maintain clubs supported by RPE, while a Facebook page fosters community and provides updates.

Mixson admits it hasn't always been easy to keep support for the program strong—and that it's been difficult to forge a new approach to the sexual assault crisis.
"Historically, sexual violence prevention has been predominantly funded and framed through a criminal justice lens. Local agencies committed to this work in California are rape crisis centers, whose early missions were to provide critical direct services to victims of sexual assault. The implementation of the RPE Program using a public health approach, and concepts such as 'primary prevention,' requires new skills and approaches."
But, she notes, systemic change has occurred, with efforts leading to an "increase in momentum to support the utilization of the public health approach to end sexual violence."
Connecticut
Last year, Connecticut's RPE Program focused on a group that's come under frequent fire for sexual abuses: the military. With support from the RPE Program, one of the local rape crisis centers provided bystander intervention to the naval academy—an initiative Regina Owusu, RPE's Connecticut program manager, says was "a huge success." The naval academy subsequently requested that it sustain the training by providing it to all incoming officers every year.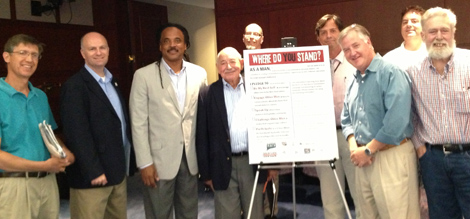 Bystander intervention is a central tenet of the state's program. As part of a campaign called Where Do You Stand? Connecticut, men are empowered to respond to and prevent sexual violence by learning techniques including being direct and creating a distraction. According to the campaign's website:
"Men perpetrate the bulk of sexual violence in our society. In many cases, it is a small population of men committing multiple sexual assaults; however, while only a small percentage of men commit rape, many more men are likely to participate in cultures that support, glorify, and justify violence against women and girls. In order to end sexual violence, all men need to be actively engaged in addressing cultural norms that support sexual violence. If every man worked to hold other men accountable, our society could be free from sexual violence."
The RPE Program also encourages men to sign a pledge to prevent sexual violence on college campuses and in other communities (pledge-signing from men is, incidentally, also a central feature of the UN's HeForShe campaign to fight gender violence).
Owusu acknowledges it can be a challenge to recruit men to volunteer for the campaign—and to measure the impact of training initiatives—but says the efforts are well worth it to engage men so they become "effective agents in involving their fellow men in preventing violence."
Colorado
As in California, Colorado has a youth-focused approach, working within schools, in after-school programs, and through organizing programs to shift attitudes about sexuality during the formative years of adolescence. Supported curriculums include Expect Respect, Safe Dates and Mentors in Violence Prevention, and parents and teachers, too, are trained to become "askable adults." The program also focuses on supporting the implementation and enforcement of fully enumerated anti-discrimination, bullying and harassment policies.
By all accounts, the efforts are working. Findings from the past year show changes in youth attitudes about gender roles, consent for sexual activity, sexual harassment and sexual abuse; a better understanding of behaviors that lead to a healthy dating relationship; and a decrease in the acceptance of anti-social, delinquent and violent behavior related to making physical and sexual threats.
Tomei Kuehl, coordinator with the Injury, Suicide and Violence Prevention division of the Colorado Department of Public Health and Environment, reflects the attitudes of all RPE program participants when she says:
"The primary prevention of sexual violence programming is incredibly important because strategies employed work to eradicate norms, policies and practices that support a culture of violence. These strategies go beyond individual behavior change to broader cultural change to create a context in which violence, rape myths and victim blaming are no longer the norm."