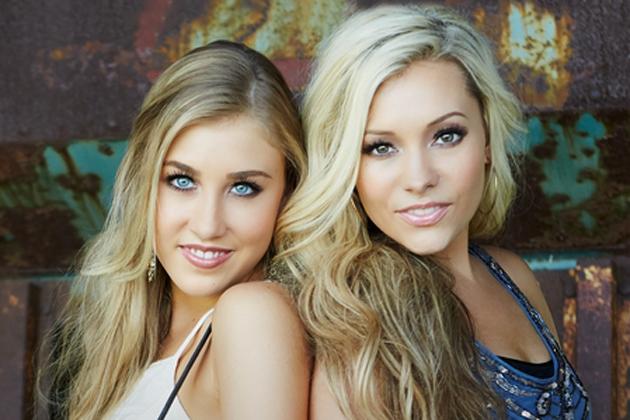 The female country duo Maddie & Tae hit number 1 on the Mediabase and Billboard country charts this week with "Girl in a Country Song," a tune that acidly mocks their male bro-country peers. "Well I wish I had some shoes on my two bare feet/And it's gettin' kinda cold in these painted-on cut-off jeans," Maddie sings in the opening. After this, the video quickly segues into a gleeful role reversal a la the Hawkeye Initiative, with country dudes decked out in tied-off half shirts and cut-offs, and a chunky Bubba pouring water seductively down his front.

"Girl in a Country Song" is a refreshingly witty, and refreshingly pointed, chart topper in a country landscape currently dominated by the likes of Florida Georgia Line and all their vacuously partying bros. But Maddie & Tae are also in a familiar country tradition—and not just because their witty lyrics are set to pleasant enough but ultimately unoriginal country-radio slick twang.
There's a long tradition of feminist and proto-feminist country songs that respond to male country tropes, and often even directly to male country singers. The most famous of these is probably Kitty Wells' 1952 smash, "It Wasn't God Who Made Honky Tonk Angels," recorded as an answer to Hank Thompson's "The Wild Side of Life." Thompson's song blames his ex for giving up her domestic chores to go haunt the honky-tonks and enjoy the wild side of life with its booze, its thrills and its (not quite stated) sex. Wells, for her part, responds that Hank's Madonna/whore bullshit is, well, bullshit. "Too many times married men think they're still single/That has caused many a good girl to go wrong."
Wells was a trailblazer, but there were distaff perspective songs in country even before her. In response to country guys warbling sentimental songs about the awesomeness of mothers in the 1930s and '40s,  performers like Sara Carter and Rose Maddox sang about the joys of being a single girl and the dreariness of wedlock. ("Single girl, single girl, she goes to the store and buys/Married girl, married girl, she rocks the cradle and cries.")
After Wells, country guys sang about drinking, and Loretta Lynn responded with "Don't Come Home a Drinkin' With Lovin' On Your Mind." Country guys sang about ramblin', and Dolly Parton penned "To Daddy," a song that picks up where Carter and Maddox left off. Earlier songs presented domestic travails as humorously cheerless; Parton's song takes it to the next level with its bleak series of tableaux, ending with a bittersweet escape. "She said the kids are older now/they don't need me very much/and I've gone in search of love I need so badly . . . She never meant to come back home/if she did, she never did say so to Daddy." For once it's the woman who gets to take off for the hills, leaving that old boring spouse behind.
Country's long history of feminist critique, though, is also an indication of its long history of sexism. When Maddie & Tae sing "We used to get a little respect/Now we're lucky if we even get to climb up in your truck/ keep my mouth shut and ride along," they're referencing a past in which there were more female country hitmakers, from Carter to Wells to Lynn to Parton to Shania Twain. It's undoubtedly true that radio demographics have shifted against women on the country dial. But that doesn't exactly mean that things in the past were ideal. These days, women in country songs mostly sit there and look pretty. But in the past, women in country songs tended to sit there and get murdered.
There are a few country murder ballads in which women do the killing (like Jean Shepard's "Colour Song"). But for the most part, the country tradition is built on the corpses of women, from the Monroe Brothers murdering their love on the banks of the Ohio to Willie Nelson's red-headed stranger killing a woman for trying to steal his horse, to Johnny Cash's execution of Delia ("it's not an anti-women song, it's just an anti-Delia song" he quips, none too convincingly).
For decades, men in country have shown that they're tough bad-asses by fantasizing about domestic violence. Alt-country band Hurray for the Riff Raff acidly called out the trope this year on their excellent song "The Body Electric." "Said your gonna shoot me down, put my body in the river/While the whole world sings, sings it like a song/The whole world sings like there's nothing going wrong."
Some performers, like Porter Wagoner (Dolly Parton's longtime duet partner) even made a career out of murder ballads; albums like Cold Hard Facts of Life were often one bleak bloody fantasy after another. Some woman cheats, and then gets hers, some woman cheats and then gets hers, over and over again. "Who taught who the cold hard facts of life?" he intones with flat righteousness after describing their screams. Say what you will about Florida Georgia Line, but in comparison to Wagoner, they seem like a catch.
(This trope, too, has been subverted by female performers in what could be read as a feminist or proto-feminist response. See: Martina McBride's "Independence Day" and The Dixie Chicks' gleeful "Goodbye Earl," both murderous reactions to domestic violence in the hands of men.)
I saw a number of commenters on social media respond to "Girl In a Country Song" by quipping that they'd rather be a girl in a country song than a girl in a hip-hop song. Hip-hop can of course be quite sexist—and has been criticized for being so for decades. Country is a whiter, older, more conservative genre, and so tends to be seen as less disruptive or dangerous; it's more often criticized for being boring or slick than for being sexual or violent. Maddie & Tae's hit is an entry in country's longstanding feminist tradition, but it's also a reminder that country's sexism is just as old, and considerably more prevalent.
Being a girl in a country has long been a dicey proposition—though less so when women have done the singing.