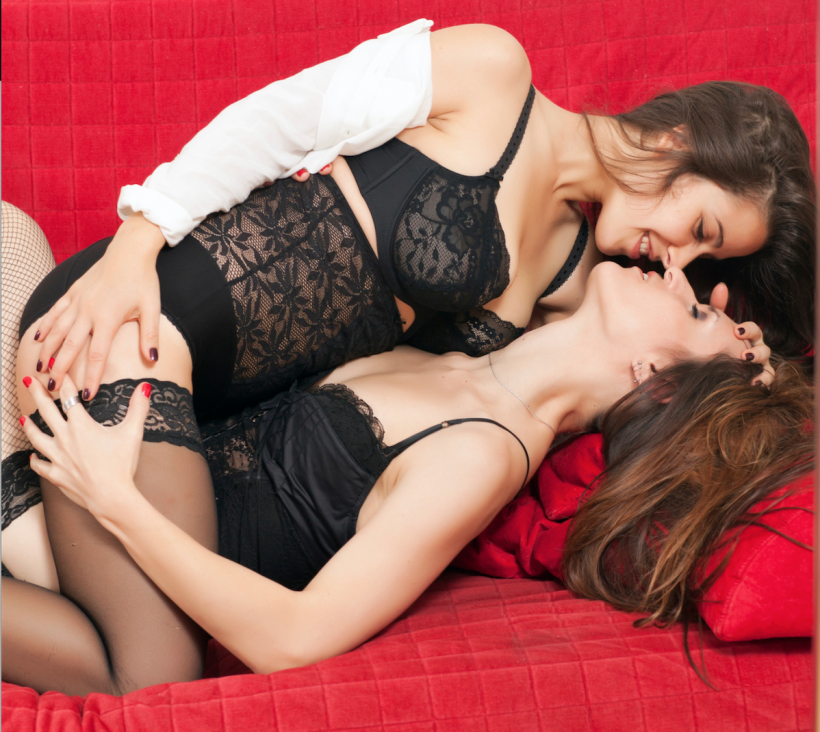 Credit: ThinkStock
I'm a straight woman who gets aroused—wet, writhing, panting, aroused—by the sight of two women gently disrobing and fervidly fondling one another. And if you think this means I might not actually be straight, trust me: I've considered this as well.
And to be fair, I'm not straight. Or you know, not straight straight. I haven't planted my flag on the hetero end of the Kinsey scale and made my permanent home there.
Like so many other women, while studying abroad in college, I did the whole "I'm so cool and sexually explorative" thing and French kissed a girl following an all-night bender. And maybe it was all the one-pound tequila shots coursing through my veins, but feeling her soft, gently chapped lips on mine, and her warm tongue slide along the inside of my mouth was intoxicating. As I cupped her face with one hand and gently stroked her hair with the other, I felt at once out of my body and more wholly in it than I ever had. It was strange, but arousing—strangely arousing.
When I returned from England, my furtive exploration continued when I fell in lust with the instructor of my female sexuality class (I went to UC Berkeley, what can I say?), who looked like Natalie Portman and taught me how to masturbate. I fantasized about making out with her—often, of course, amid a messy pile of papers on the classroom desk—many nights before falling into a blissful slumber. Once, I missed a boozy co-op party several women from the class attended, where I later learned she had made out with a different student. I harbored profound resentment and sadness over this for weeks. What if I had gone? Could that have been me?
In the ensuing years, my latent bisexual tendencies—if that's what you can call them—have become less pronounced. But still, they linger. After the recent Super Bowl, an evening in the proverbial Internet rabbit hole led me first to photos of Tom Brady, but then to his wife, where I eventually landed at the rather embarrassing Google search term "Gisele Bundchen boobs." As I took in images of Gisele in a lacy black Victoria's Secret bra, mounting a log in a dripping-wet white swimsuit, and braless in a white tee and undies, I felt a familiar tingle between my thighs.
It's a tingle I felt again just typing those words.
And yet . . . I've never dated a woman, and I've never had sex with a woman, and I honestly don't feel compelled to do either. Whenever I fantasize about actually being with a woman, I stop short of the climax. The anticipation builds with the foreplay—the wet kissing and clumsy hair-stroking; the hand slipping under a shirt; the mouth slowly heading down to where the hand was moments before—but when I think about slipping off a woman's undies and going down on her, or using a finger to penetrate, the tingle dulls to nothing.
At the end of the day, I still want to climax with a man inside me.
For someone like me—someone who is turned on by woman-on-woman foreplay but not ultimately sexually fulfilled by it—lesbian porn is a wet dream come true. I can get excited by the images of girl-on-girl action, and then, at the moment of near-climactic anticipation, hit the pause button and feel a man fill me.
Last Friday night, my male partner and I watched an adult film set at a couple's retreat where all the couples were lesbian, and all the guidance counselors were women whose "therapy" consisted of getting it on with their patients. The film worked as planned; as two beautiful women—a sporty brunette and a stylish black woman—began kissing, then sliding their hands along one another's thighs, then licking each other's erect nipples, I felt my body relax and convulse in a tantalizing cycle of sexual anticipation.
When one of the women reached for the panties of the other, I clumsily hit "pause," then stumbled into the bedroom with my man, where I whispered in his ear about everything I would do to a woman before we both had one of the best orgasms of our life.
As someone with an almost-obsessive desire to self-analyze, I've often tried to make sense of this pseudo-bisexual desire that feels somehow stunted. Am I only turned on by women because of how deeply I've internalized the objectification of the female body? Or am I genuinely bisexual, but some sort of social conditioning has hindered my ability to finish the fantasy?
But of late, I've tried to stop analyzing, and just given in. As that female sexuality class taught me long ago—when such insight felt revolutionary—sexuality is fluid. And if my sexuality flows from lesbian porn to a man inside me, and that gives me an orgasm that makes me curl up in a ball to stop the shaking, well . . . who am I to argue with that?
Have a secret confession you'd like to share? Email ravishly@ravishly.com. And read more confessions here.