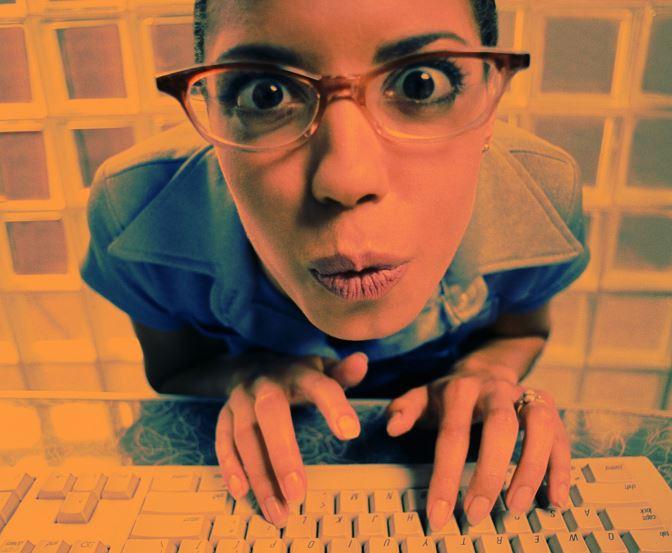 Credit: Thinkstock
Identity theft has been a thing for as long as there's been identity to thieve. The latest trend in pilfering? Personal online content and images.
I've been working SO hard on this pose. I can't believe after 3 months of trying I finally nailed it! #yoga #yogabadass #yoga4lyfe #flyingcrow
Oh wait. That's not me.
I can't do any crow, much less the flying one. The only thing of mine flying in that pose would be my face—and it'd be flying into the floor.
This photo is actually of my daughter, Kelsey, @averageyogibear on Instagram, who is anything but average (it's okay, she said I could use the picture).
Instagram user abbycakes2113, though, would like you to believe it's her. Let me explain: Yesterday, in a karmic twist of fate, abbyTHIEF (that's what we're calling her now) followed my sister Raegan, aka Kelsey's aunt. And boy, was Raegan surprised to see Kelsey's face as abbyTHIEF's profile picture.
A very small amount of research revealed that abbyTHIEF had posted some 75 of Kelsey's photos, claiming they were her own. SEVENTY-FIVE.
In the captions of these photos, she described her hard-earned skills. How long it took her to perfect each pose. How difficult they were. How proud she was.
Which got us all wondering: What in the hell is going on?
**
Identity theft has been a thing for as long as there has been identity to thieve, I suppose. Some 16 million people, or 5% of Americans, fall prey to this sort of morally bankrupt behavior every year. Credit card theft rose a staggering 50% between 2005 and 2010. Social security numbers are pilfered, false accounts are created, debt is incurred. Much of the time, victims of this theft don't even know until it's too late—and the process to undo the damage takes far longer than the damage itself. We've been well conditioned to be careful where we share personal details such as social security numbers and drivers license numbers.
But what about content? What about artistic license?
With the advent of the Internets, blogging, social media, etc. a whole new and equally morally bankrupt type of theft has sprung up. Everything from content to ideas to photos to personality are now being pilfered. There are people who have had photos of their babies and children lifted to promote a website or sell a product . . . or even just to pretend they belong to someone else.
Deplorable, right?
I have a popular blog post in which I provide a tutorial for making a teething necklace. The teething necklace is simple enough. I didn't invent wooden beads, and I didn't weave my own cotton or anything (tutorial on that later). But I did create the pattern and provide step-by-step instruction. If you search Pinterest, my teething necklace appears in the first few results. Now, I had no earthly idea that it was this popular. I very rarely even go on Pinterest. Someone mentioned it to me one day and I thought, Oh hey that's cool. Whatever. I'm going to bake a cake now.
Two weeks ago, I updated my blog (before my Rachael Ray appearance, because they wanted to link to it on their site and oops I haven't blogged a word in 3 years). I did a quick post, updated my bio (apparently the last time I blogged I had four kids instead of five), and changed my photo. I reinstalled analytics because I wanted to see how much traffic the RR appearance provoked (which was a fair amount).
But you know what gets far more traffic? That damned teething necklace. I mean really, the thing took me like a half hour to make. It's fabric and beads for crap sake.
Apparently there are a LOT of babies teething in North America, and apparently Western Europe as well (Denmark specifically, says hitsnifter. What's up Danish friends! I like your breakfast foods).
Anyway, all this "research" I was doing yielded interesting results. First: There are a lot of people linking to my teething post in their own posts, which is swell. Thanks for sharing and crediting. As you should do. Second: There are more than a few people posting the same exact instructions and calling it their teething necklace. Um.
Now, it's just fabric and beads. It's no hill to die on. So whatever, carry on thieves. But you know you stole my idea and you're taking that to the grave.
**
If you're worried about having shit stolen, here are some ways to prevent/track it:
• Install a blog analytic (such as Google Analytics or hitsnifter). Watch where your trackbacks are coming from.
• Watermark your photos. My daughter has her photos watermarked with @averageyogibear; AbbyTHIEF simply cropped her watermark out. This is more difficult to do if your watermark is dark in color or large. There are a number of apps and programs for this purpose; Google will provide some options.
• While you're on Google, Google yourself or your content in quotations. And/or, do an image search for your photos.
• Put a "do not steal this shit because it belongs to me" disclaimer on your site. This may not stop them, but at least they'll know you're watching.
• There is a whole ton of great information here. Now that wonderful author can trackback to this site and know I'm not a dirty rotten stealer. Like some people.
It took a lot of restraint for me to not use some very colorful language with abbyTHIEF. There's really no faster way to make a mother go mother bear than to hurt her child. My daughter's work, her life, is her yoga. It's not a simple pattern; it's something she works on and strives to improve every day.
Abby, I don't like you very much at all, whoever you are. And in case your mother never told you, stealing is wrong and you shouldn't do it.