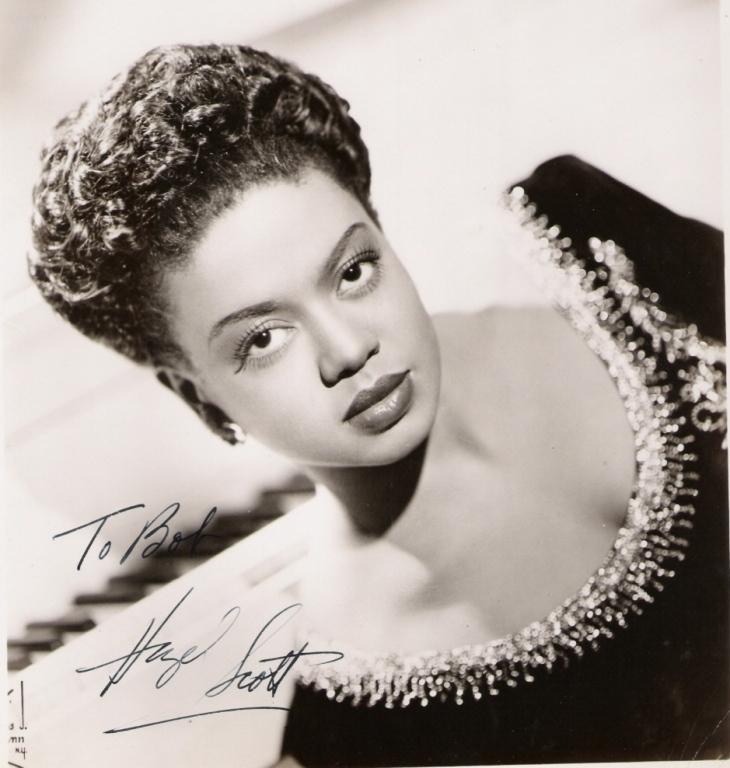 Hazel Scott
Billie Holiday, Ella Fitzgerald, Edith Piaf: they're all still practically household names. These three women are, after all these years, still recognizable pop culture icons, still showing up as background music in film and television to show sophistication, or heartbreak, or sophisticated heartbreak (or even heartbroken sophistication).
But Billie, Ella, and Edith weren't the only heartbroken sophisticates singing back in the' 30s, '40s, and '50s. They were joined by fleets of torch-singing talent, most of who, like most old pop culture, are now only of interest to music nerds and largely forgotten to the general public. Here's a list of some great voices left even lonelier than the icons of lonely.
Mildred Bailey
One of the great jazz singers of the '30s, Bailey performed with the Paul Whiteman orchestra and is supposed to have introduced Bing Crosby to recordings by many of the great black jazz performers, including Louis Armstrong. Crosby may have learned from her vocals as well: you can hear affinities in her easy, intimate delivery, making use of microphone amplification so she can do subtle line readings, rather than projecting to the back seats a la Ma Rainey.
Helen Humes
Helen Humes was a versatile performer—steeped in the blues, she became one of Count Basie's most recognizable big band vocalists. "Today I Sing the Blues" is a small band setting of a torchy blues song or a bluesy torch song, depending on how you want to look at it. Either way, it's a slow burn: she turns "my lonely room/I didn't know why" into a bleak little phrase hanging out there all by itself—sadness waiting for a reason. 
Sarah Vaughan
It's a bit of a stretch to include Sarah Vaughan in a list of unappreciated torch singers. She's still well-known, and generally ranked just below Holiday and Fitzgerald in the popular consciousness. She shouldn't be ranked below anyone though, damnit—she's one of the most spectacular American singers ever to pick up a microphone. "Black Coffee" is a typically dazzling performance, utilizing Vaughan's low range to devastating effect, especially with those final moans.
Hazel Scott
Scott was best known as a fleet-fingered classical pianist, but she also played and sang jazz. Her version of "A Foggy Day" has a shoulder-shrugging swing, with the singer swooping down for the occasional husky low note. Scott was a sensation throughout the '30s and '40s, and had her own television show in the '50s—an unprecedented feat for a black woman. But during the McCarthy era she had to leave the country, and as a result she's largely forgotten now.
Anita O'Day
One of the most iconic band vocalists of the '40s, O'Day performed with Gene Krupa and Stan Kenton, among others. She's probably better known for her amazing sense of swing on up-tempo numbers, but as "Don't Explain" shows, she could slow down for torch songs, too. The couplet "You know that I love you/and what love will do" captures her trademark staccato phrasing; a series of jabs to the heart.
June Christy
Christy replaced Anita O'Day in Stan Kenton's orchestra in the mid-1940s and was one of the best-known cool jazz vocalists of her time. "Somethin' Cool" is her most famous recording; a hip mini-story of sophisticated decadence and decline. The effervescent orchestra (led by Pete Rugolo) and her long-held notes pump up past glories in contrast to the shabby present—she almost out-Sinatras Sinatra.
Kay Starr
Starr was a very popular singer in the '40s and '50s, with an immaculate sense of rhythm and soul. Lester Young was a fan, and Billie Holiday called her "the only white woman who could sing the blues"—a bit of a misnomer, since Starr was more Native American than white European. Starr sang just about everything, including some fine country performances, but as "So Tired" demonstrates, she knew her way around a torch song best.
Julie London
London's vocal abilities were more limited than those of most of the folks on this list, but her sultry delivery was perfect for songs of seductive heartbreak. She's best known for the quietly bitter "Cry Me a River" from 1955, but her whole catalog is filled with gems—including "It Never Entered My Mind" from the same year. 
Jeri Southern
One of Miles Davis' favorite singers, Southern had a sweet, almost childlike delivery, which gave an even more devastating edge to her songs of heartbreak. Like Julie London, she worked best in a small-band setting at slow tempos—though where London retains a cult following, Southern is almost completely forgotten.
Chris Connor
Another cool jazz singer, Connor recorded a slew of great records in the '50s and '60s, and her Gershwin songbook from 1957 may be her best work. In "Misty," she captures resignation, longing, self-deprecation, and nostalgia in that pause before each disavowing "but not for me."
Carmen McRae
McRae got her start in the '40s, but continued recording for a half a century (the track above is from the early 1970s). The end of "I Fall in Love Too Easily", in which she sings "I fall in love" and then pauses before ending with an exhausted "too fast," is as world-weary as Billie Holiday at her most knowing— though McRae had a stronger, more conventional voice than her friend and inspiration.