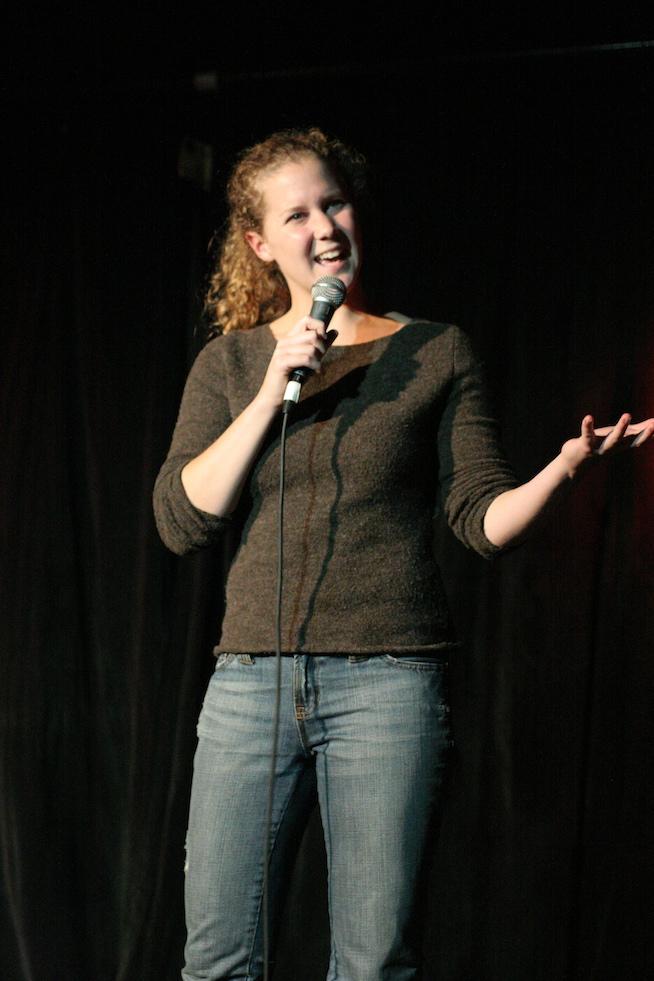 I immediately developed a hot-and-heavy girlcrush on the wild, wacky, brash, candid, feminist, rubber-faced comedian—and you should too.
I might not have known of the awesomeness that is Amy Schumer if my 15-year-old son hadn't turned me onto her hilarious Comedy Central show Inside Amy Schumer, now in its fourth season. Think blonde, millennial Lucille Ball armed with a contraceptive patch and a strap-on.
I immediately developed a hot-and-heavy girl crush on the wild, wacky, brash, candid, feminist, rubber-faced comedian — and you should too. Here's why:
Amy Schumer is unapologetic about her sexuality.
Schumer likes it, wants it, and gets it (see below), and she isn't afraid to joke about it. She's a carnal cheerleader who had the boobs to tell an Entertainment Weekly reporter, "I completely love sex and I don't feel shy about feeling entitled to an orgasm if I'm having sex with somebody."
Amy Schumer hates the double standard as much as you do.
All too often, she's pigeon-holed as a "sex comic" by the male media. She caught Today's Matt Lauer off guard when she quipped, "Honestly, when people say I'm dirty and I talk about sex a lot, I don't feel like I talk about it any more than is normal. I think because I am a woman people notice it more. I'll get up and in a 15-minute set, have one joke about sex, but they're still like, 'Oh, the sex comic.' But then a guy will come up and literally take his dick out onstage, and they're like, 'He's a thinker; let's give him a show.'"
Amy Schumer is unapologetic about her weight.
"I'm probably like160 pounds right now and I can catch a dick whenever I want," she said during her acceptance speech for her 2015 Glamour "Trailblazer" award. Schumer's declaration of loving the skin she's in has made headlines. Her healthy attitude about weight is so damn refreshing!
Amy Schumer is pee-your-panties funny.
Nothing is sacred for Schumer. She even goofs on women's mags for pushing ads for products that "give your pussy that new car smell" or suggest that you "hang a pinecone from your clit." Her ingenious sketch parodying 12 Angry Men, shot in noir-ish black-and-white, is one of the funniest things on TV…ever. In it, Paul Giamatti, Jeff Goldblum and Co. argue about whether Schumer is hot enough for TV and wield dildos like swords. Brilliant!
Amy Schumer is smart.
Incredibly witty, she routinely holds up a mirror to society's idiosyncrasies. Who else would dare tackle the Bill Cosby scandal in a comedy skit and get across more in a four-minute spot than someone else could barely touch upon in a rabid four-hour diatribe? Schumer's crooked lawyer character bribes the jury with Jell-O Pudding Pops, chocolate cake and brightly-colored sweaters. Genius!
Amy Schumer is confident.
She dares to be and doesn't back down. At the 2014 Gloria Awards and Gala, she said, "I am a woman with thoughts and questions and shit to say. I say if I'm beautiful. I say if I'm strong. You will not determine my story — I will. I will speak and share and fuck and love, and I will never apologize to the frightened millions who resent that they never had it in them to do it. I stand here and I am amazing, for you. Not because of you. I am not who I sleep with. I am not my weight. I am not my mother. I am myself."
See? Amy Schumer kicks ass on all fronts. I, for one, can't wait to see what she does in her first movie, Trainwreck, (which she wrote and stars in), about "a modern chick who just does what she wants." Hmmm…kinda like Amy Schumer.
In a realm where BMI isn't an issue, Amy Schumer has given women permission to be hilarious, irreverent, intelligent, and horny. And for that, we should all love her to pieces.