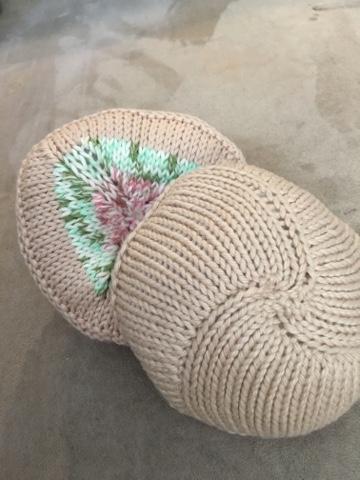 The thought that a complete stranger would crochet something to make me feel beautiful — whole, like a woman again — moved me to tears.
Three years ago, I was diagnosed with Stage 1 breast cancer.
Now, your doctor can prepare you for what to expect after a mastectomy. Your infusion team can prepare you for chemo. But nothing prepares you for the reconstruction surgery failing. Or the horrific infection which turns your nipple-less, swollen incision into a Franken-boob. I could have tried reconstruction again, but I didn't have the heart. What if it failed a second time and left a gaping hole in my chest?
I didn't expect how much I'd miss Lefty.
Now with a flat tire on one side, I never realized how I depended on her — i.e. for leverage, like when I unconsciously wedged her against the laundry basket. I never thought I'd have to pack a spare boob, or a swim boob when I went on vacation.
Although I was lucky, my health insurance paid the $200 plus for my "prosthesis" (Shit, I wear a prosthesis!) and for my special bras with the nifty slot to slip in said prosthesis, Robo-Lefty wasn't what you'd call comfy. Made of silicone, it was heavy, cumbersome and pressed on the jagged scar that etched across half of my rib cage.
In fact, my "natural" breastform felt so unnatural that I usually went without it at home. I began to take sadistic glee in the shocked looks it got from the UPS guy when I had to answer the door unexpectedly, sans fake breast.
Then my friend Chiara, who has a bitching blog called Beauty Through The Beast (about fighting breast cancer with style in mind), told me about a free, prosthetic alternative called Awesome Breastforms. It sounded too good to be true: comfortable, attractive bra inserts for breast cancer survivors like me. I got on the computer, checked out their website, and immediately put in an order.
I'd almost forgotten about my mail-order breast until a small, nondescript package arrived from an unknown address out west. My first thought: Merry Christmas, here's some anthrax for ya.
But instead, it was my truly Awesome Breastform.
As I opened the box from Mary Jane S. in Montana, I felt special, cherished. The second I slipped it into my cup, I felt even more cradled, comforted, and cared for. The thought that a complete stranger would crochet something to make me feel beautiful — whole, like a woman again — moved me to tears.
Besides my knit breastform (I picked the "wild & crazy" pattern), the package included extra stuffing and washing instructions on a handwritten note from Mary Jane, thanking me for allowing her to share Awesome Breastforms with me. "Made for you with love" was her signoff.
I was floored. And I swear, I could feel the love in every stitch.
I reached out to Laurel Cole-Fisher, Awesome Breastform's Administrative Director. Believe it or not, only a few years ago, Laurel was a newbie knitter, struggling to master socks. She graduated to making Awesome Breastforms when the group was created as an online community in 2015.
 "We love giving women new curves!" said Laurel. "We've been making beautiful breastforms for more than 18 months now and recently went over 4,800 orders. We've sent our forms to women in 38 countries and have volunteers in more than ten countries."
Laurel encouraged me to order a spare ABF for when the other one was being cleaned (they're machine washable), and a swim boob, which they recently started crafting.
It's all pretty unbelievable for a charitable organization which began as a Facebook group less than two years ago and is mostly known through word of mouth. ABF gals must purchase only approved yarn and filling, use approved patterns, and foot the bill for postage and packaging on their own. One, Velvet Wood, blogs about her experiences and has even mentored others in the group.  
Ordering an Awesome Breastform is via a simple online form. The inserts come in a variety of warm skin tones, adjustable sizes, and patterns, with or without funky rosette nipples. Plus the back is slightly concave to keep the form away from sensitive scar tissue. And they're free — absolutely free — to any woman who's had explant surgery, a lumpectomy or mastectomy, or who has had developmental complications.
Recently, a Portland news station got wind of the group and gathered a handful of crafters (who'd never met each other) for a TV spot. Commented Pam Anderson, who lost her mom to breast cancer over a slow, painful 15 years, "I couldn't think of a better way to give back and honor my mother than to give to other women in need."
Awesome Breastform's credo is "We give women new curves." But for me, it was my curves and so much more.
I love my Awesome Breastform so much that a few days ago, I found myself surreptitiously taking it out at a dinner party and passing it around to my galpals. Instead of being freaked out (hey, I choose my friends wisely!), they were intrigued at how light, natural, and pretty it is. That's when I decided I had to share the Awesomeness with the world. i.e. Ravishly readers. (Thanks, Rav, for letting me do so.)
PS, Awesome Breastforms are truly awesome. Pass it on!