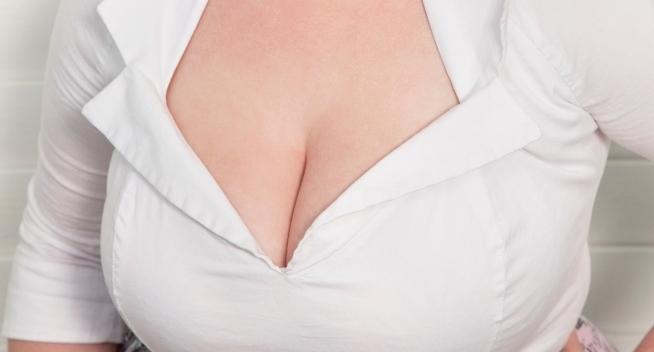 Adhering to a dress code can be a bit tricky when you've got a large bosom to contend with.
Dear Winona,
I have big boobs. I love them (nothing but boob pride here!), but I struggle with finding work outfits that don't seem too sultry or inappropriate when you factor in my cleavage. I don't gravitate toward modest dressing in general, but I do want to be professional.
Any tips?
-Too Much Cleavage
Dear TMC,
I have big boobs too, so I feel your pain. While ample cleavage comes in handy for filling out sundresses and storing cracker crumbs for later, it presents a professional dressing challenge that's annoying and a little unfair. Here's what I mean: If I put on the exact same blouse as a friend with smaller boobs, it will probably be seen as more "risque" and perhaps inappropriate on me.
Adhering to a dress code can be a bit tricky when you've got a large bosom to contend with. I should know because I did it wrong for years. YEARS. I'd think a neckline was totally work-appropriate, but failed to take into account how it looked from different angles — it might have been fine from straight-on but a view from slightly above gave a direct line of sight to my lacy bra (especially problematic since I'm short, so 99% of people are looking at me from slightly above). I've also made all the other classic mistakes: not checking to make sure a sweater wasn't see-through, overestimating the strength of a crucial button, and so on and so forth.
Here are a few tips for all my fellow big-boobed ladies who are trying desperately to look polished and professional, and who want to avoid an awkward meeting with HR:
Layer.
Invest in a few camisoles that provide full coverage and can easily be worn under blouses and even dresses. The neckline on this camisole should lay flush with your chest, just below the collarbone, so if you lean forward there shouldn't be a gap that provides a clear shot of your bra. Fabric should be thin with quite a bit of stretch. I like this style because of the relatively high neckline and lace detail. You can also check out these clip-in faux camis, for "the layered look without the bulk!" I haven't tried them myself, but I have a few friends who swear by them.
Make small alterations that go a long way.
Clothes are cut and styled to fit the most common body shapes, which means if your boobs are larger than average, you might want (or need) to make some minor alterations to get the best fit, or to adhere to the level of modesty your office requires. Things like sewing a wrap top shut an inch higher, or adding a strip of Velcro between two buttons that tend to gap, will make a world of difference.  This can also make a huge difference in terms of your professional appearance in general: flawless fit and tailoring go a long way toward creating the polished image you're going for.
Find a modest neckline shape that flatters.
Crew neck tops make my torso appear to have the general shape of a refrigerator. If you're into that shape, that's great, but it's not my favorite look for myself. In my everyday life, I always prefer V-necks, sweetheart necklines, or low scoop necks. These necklines flatter my bust and body type but, unfortunately, show a bit too much skin for a conservative office environment. Luckily, there is a middle ground between deep necklines and the dreaded throat-strangling crew neck: Look for your favorite off-duty neckline shapes in more modest versions for work (a shallow V-neck instead of a deep V-neck, for example). They'll be flattering, you'll already know how to create outfits around them, and best of all, they won't get you called into the HR director's office.