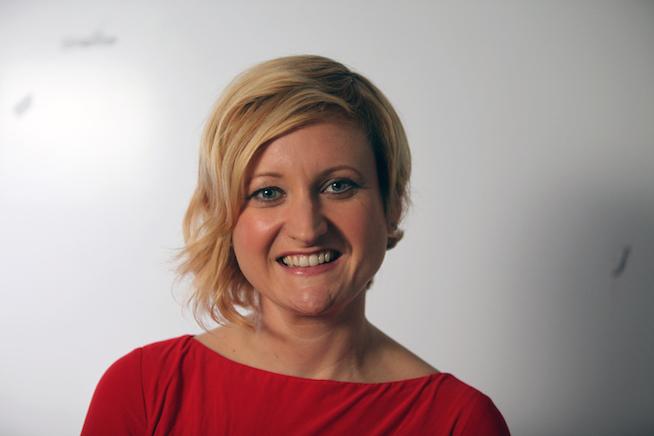 Emily May
"Our culture is sexist, racist, and homophobic," May offered. "Street harassment will be with us a long as there are streets." She added drily, "It's as old as the hills."
Most women over 15 years old probably have a personal story about street harassment — from an unwanted stare, to an unsolicited comment about their body, to a wandering hand on a crowded subway car. I know that I have plenty . . . including the man who pulled up alongside me in his car and then vigorously pointed to his penis. Too young or too stupid to be afraid, I threw a rock at his back fender. I was halfway through being 14.
At that time, there was no Hollaback! — the decade-old organization that has given a voice to scores of women who are abused daily, in different forms and variations, around the globe.
I was excited about the opportunity to sit down with one of the co-founders of the organization, Emily May, who currently serves as Executive Director. May had been part of a panel at #BlogHer15: Experts Among Us, which took on the question of how to deal with online targeting, trolling, and bullying. 
Discussing what it means to be a woman in the public online sphere, May pulled in many of the parallels from street harassment. "Our culture is sexist, racist, and homophobic," May offered. "Street harassment will be with us a long as there are streets." She added drily, "It's as old as the hills."
For May, it's about changing the culture. "Online harassment sits on a spectrum of violence," she said. May pointed out, "People who fight back have less trauma."
The upside of the Internet, social media, and digital photography is that victims can now record actions of offenders and share them with a community of supportive allies. May emphasized the importance of bystander intervention. "If you see someone getting hurt, you get involved." It's a key piece of the Hollaback! philosophy. May suggested using Twitter as one way to help report incidents of harmful behavior.
In the Hollaback! belief system, the power of the "collective" group is an integral part of the picture. So is the issue of how street harassment impacts different populations in specific ways. May underscored the concerns facing "women of color, queer, and trans people." (Check out the recent documentary, Out in the Night, which captures the story of four African-American lesbians who are sexually targeted — and then are charged with assault.) "Harassment is about silencing people, and you don't have an option not to be on the street," May said flatly. 
Beyond a platform for people to share their stories and show their support, Hollaback! teamed up with the Worker Institute at Cornell University to compile extensive research on street harassment (2014). Dr. Beth Livingston was the creator of the study. The findings were released in two sections. The first part was culled from United States data, the second part looked at a "cross-cultural" reading of data in forty-two countries around the world. With the second part released in May of 2015, the study currently stands as the most extensive amount of material compiled to date.
It is mind-boggling to read through the results from disparate countries. Perhaps one of the most discouraging figures was the number of girls who had experienced their first act of harassment at the age of 10. In America, out of a 4,872 sample size, that grouping was 11.6 percent. 
May told me that she believes that street harassment should be addressed specifically in each country, as it "operates differently" in various nations. However, there are commonalities, and these are the emotional reactions to being targeted — anxiety, fear, anger, depression, and lowered self-esteem.
May and Hollaback! have given women a tool for self-empowerment whether sexual street harassment happens on a college campus, on the way to a job, in a city or the suburbs, in Manhattan or in Mumbai. If there isn't a Hollaback! in your city, you can start one! Hollaback! offers leadership training for a "hyper-local, hyper-personal response to a global issue." 
For on-the-go accessibility, check out the Hollaback! iPhone and Droid Apps, available in nine languages.