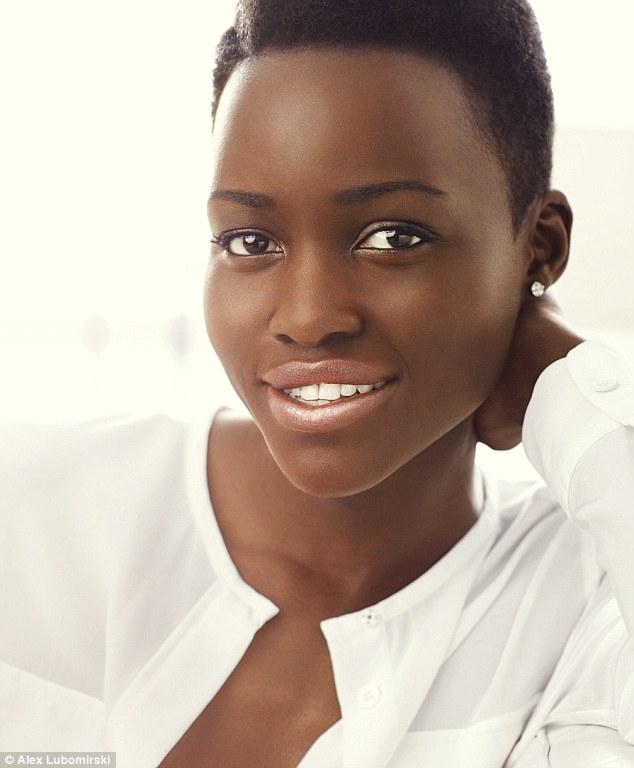 There's no doubt that Lupita has captured our imagination the world over—Oh, Lupita! International sweetheart, Oscar winner and knockout beauty, let us count the ways. You're poised and polished. You're sophisticated, college-educated and have a smile so hot it could fry an egg. You're a champion of inner and outer beauty and generally on the short list to be our BFF.
It's no surprise that companies have caught wind of Lupita's charm and are keen to capitalize on it—the Mexico-born, Kenyan actress has already signed with Miu Miu for a campaign to launch this September and now Lancôme has signed Lupita as their newest—and first black!—beauty ambassader-ess.
Her stunning appearance is undeniable. But in the midst of all the online articles swirling around her new It-Girl status and desirability as a model for a bevy of campaigns, it's too easy to be drawn into the false notion that her main allure is her blackness.
The implied concept that has been revealed—the suggestion that has furrowed my brow and creased my frown—is that Lupita is "challenging" the idea of what's beautiful by simply being a dark-skinned stunner. While it's undeniable we need more black women (especially those of a high caliber-quality that Lupita exudes) to represent dark skinned beauty—and the pantheon of beautiful women across the nations... it's offensive to chalk up her ineffable charm to her skin color; it's what she offers as in her entirety—elegance, charm, wit, confidence and yes, her brown beauty.
Just for the record, Lupita is not only a movie star and model, but a graduate—with a Master's degree—from the Yale School of Drama, and is a director, producer and writer in her own right. (She's got a fascinating documentary In My Genes, which explores the lives of albino Kenyans and what is to be a white native in Africa.)
Listen. Lupita's success is no a small feat to be over-looked—after all white women still dominate the beauty/fashion sphere—but its far more important that she's all these other things as well.
I am truly honored to join the Maison Lancôme, a brand with such a prestigious history that I have always loved. I am particularly proud to represent its unique vision for women and the idea that beauty should not be dictated, but should instead be an expression of a woman's freedom to be herself. —Lupita Nyong'o in a statement about her new campaign.
Well said. As always.
Image courtesy of Alexi Lubomirski for Lancôme