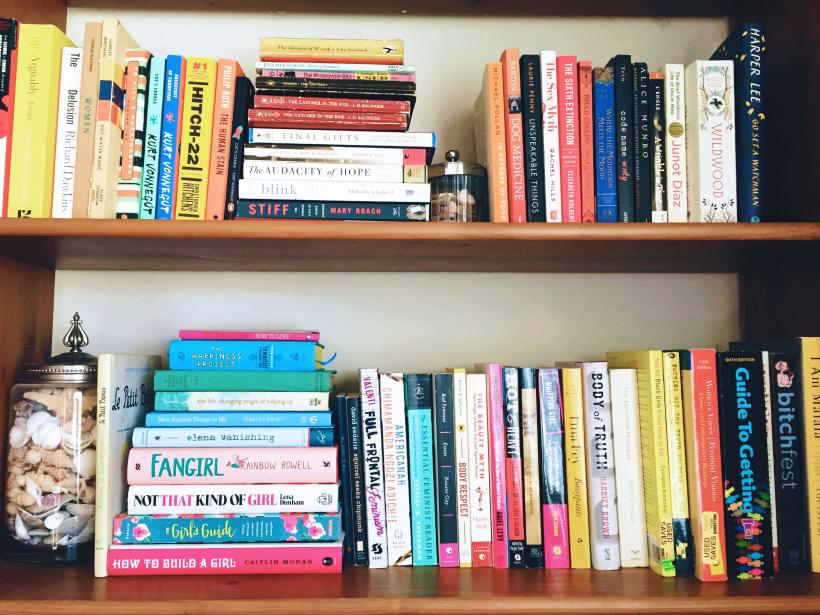 Books!
This month, members of Let's Read About Feminism read Men Explain Things to Me by Rebecca Solnit, a slim yet powerful collection of essays centered on ways in which female voices are silenced. Patriarchy recognizes the power of narrative and uses it to tell us all sorts of lies about a woman's worth, including the idea that, by default, what a man says should always be taken seriously, but what a woman says needs to be verified by a man before it can be believed. Solnit illustrates the myriad ways this takes place:
"Silence, like Dante's hell, has concentric circles. First come the repressions, confusion, and shame that make it difficult to impossible to speak, along with the fear of being punished or ostracized for doing so. […] Surrounding this circle are the forces who attempt to silence someone who speaks up anyway, whether by humiliating or bullying or outright violence, including violence unto death. […] Finally, in the outermost ring, when the story has been told and the speaker has not been silenced directly, tale and teller are discredited."
She says that the goal of feminism, at its heart, "has been the necessity of making women credible and audible." Our voices ARE powerful enough. When we come together to speak out against injustice, we alter the dominant, patriarchal narrative. When we call out injustices by their names — rape culture, domestic violence, sexual entitlement — we give these words, and the power of them, warning that they will no longer be accepted or expected as facts of life for women, but challenged. We do not accept the status quo.
We challenge patriarchal narratives by speaking of our lived experiences in our own words. WE know that intimate partner violence is the fault of the abuser, not the survivor. WE know that no one ever "asks for" sexual assault. WE know that street harassment is not a compliment. And WE will say so. This spirit of resistance is what Solnit is talking about in my favorite quote in the book, from the essay "Grandmother Spider."
"Every woman who appears wrestles with the faces that would have her disappear. She struggles with the forces that would tell her story for her, or write her out of the story… The ability to tell your own story, in words or images, is already a victory, already a revolt."
The language we use is as powerful a tool as the ability to voice it. What we have to say is important, and it is also important that we say it. This is what I'd like our discussion of Men Explain Things to Me to be about; talking about our experiences with erasure and struggling to be seen, heard, and believed; what resistance has taught us; and how we can inspire resistance and revolutionary action in others. 
Leave your thoughts in comments and join our discussion of Men Explain Things to Me in our Facebook group and on Tumblr!
Our previous book club discussions: