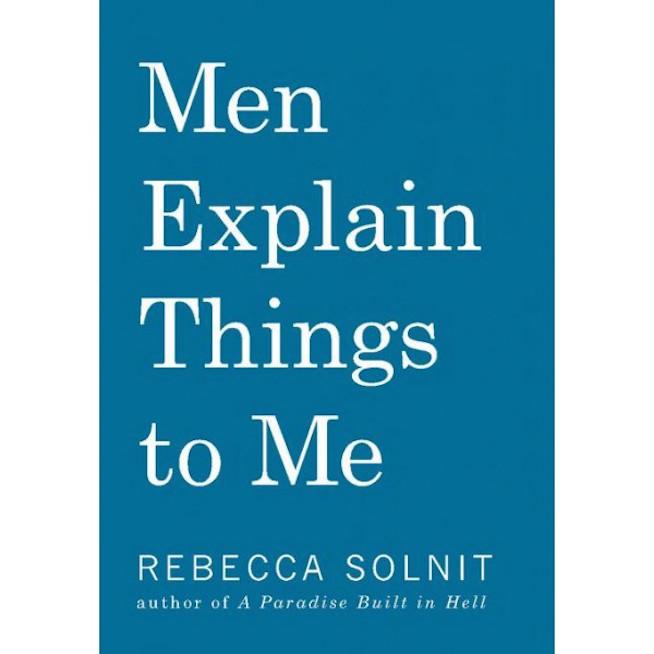 Image: Spotlink Digital
And the winner is…
Men Explain Things to Me, by Rebecca Solnit!
This is book three of our online, feminist book club, Let's Read About Feminism. Check out our previous winners here:
Book Club Discussion: Bad Feminist, by Roxane Gay
Book Club Discussion: Everyday Sexism, by Laura Bates
This month's voting had our closest results yet, but Men Explain Things to Me seized the victory with just under 30% of the vote. Third time's the charm for this Haymarket title, as it came in second place during our first two rounds of voting. In second place (for a second time) this month, is Feminist Theory: From Margin to Center by bell hooks, which will be included in next month's voting!
In 2008, Solnit wrote an essay called "Men Explain Things to Me," in which she coined the term "mansplaining," which was included in the New York Times' 2010 "Words of the Year" list. The second edition of her book (of the same title), released just last month, includes this essay and eight others (two essays were added for the new edition!).
"Solnit tackles big themes of gender and power in these accessible essays. Honest and full of wit, this is an integral read that furthers the conversation on feminism and contemporary society." (San Francisco Chronicle Top Shelf)
"A necessary read in these fraught times. Starting with the title essay, which went viral and inspired the ever-useful term "mansplaining," Solnit writes powerfully about the ways in which power is wielded in today's society, and brings awareness to the staggering inequalities that we wrestle with on a daily basis." (FlavorWire)
We will be discussing Men Explain Things to Me on Friday, October 30!
This month, we will be giving away TWO FREE COPIES of Men Explain Things to Me! If you would like to enter your name for one, please send an e-mail to LRAFBC@gmail.com (Let's Read About Feminism Book Club). Winners will be selected at random and contacted by e-mail on October 4th, so entries must be submitted before then!
As this is a way to provide books to those who would otherwise be unable to buy them or access them from a library, please only submit your name if this is your only option for acquiring the book. We want to make sure that they go to those most in need.