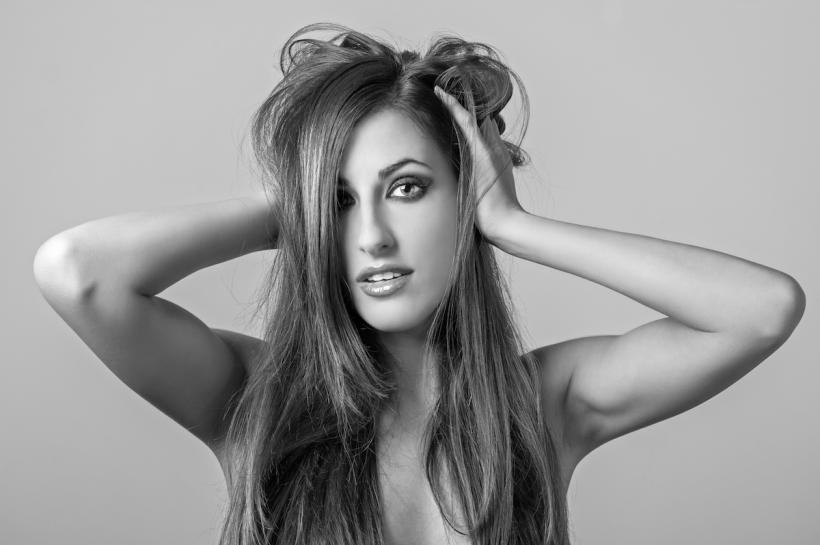 Dry shampoo is an endless source of styling magic. (Image credit: Thinkstock)
Oh yes — you read correctly. That favorite product that you turn towards to get that good second day hair can actually be used as a styling tool all in itself. In fact, dry shampoo just might be the only thing that you need to have in your bathroom from here on out, because it truly does hold all those magical powers you have been giving it credit for. 
First things first, what exactly is dry shampoo?
For all those newbies, dry shampoo is simply a powdered form of shampoo (no water necessary!) that is similar in consistency to baby powder. If you run of time for a good scrub down, simply sprinkle some onto your head (near your scalp) and it helps to cleanse as well as pull up any extra oil that may have formed since your last washing. Yes, it's as awesome as it sounds.
Even the celebs hair stylists make sure to use it on their clients. Anthony Pazos, stylist to Queen Beyonce herself shared with me, "dry Shampoo has been a long time secret that celebrity hairstylists have been using on set for years. Dry shampoo acts as an absorbing agent when your hair becomes oily, it's great to make your blowout last that extra day. If you've been busy, dry shampoo is also a time saver if you have to run out the door but don't have time to wash your hair. Dry shampoo is the greatest refresher for lazy days." 
Here are some awesome and super easy ways to use dry shampoo as an everyday styling tool:
Use it for volume.
Heading out the door for drinks with your friends? Give your part a quick spray with your dry shampoo and it will give your whole head of hair an instant volumized look by lifting your tresses quickly and easily. 
Use it to create beach waves.
Dry shampoo can be used on freshly washed and dried hair by sprinkling all over, giving a little scrunch and applying a few squirts of finishing spray for instant beach waves. 
For hair that appears perfectly flawless.
Use dry shampoo on wet hair! I know it sounds absolutely nuts since it was created for the exact opposite, but if you sprinkle the magic powder on wet hair, it acts like hair mouse. But even better, when blown dry it gives the illusion that there hasn't been any product used on the hair for a completely natural (yet totally gorgeous!) look!
Use it to keep curls from clumping together.
There is nothing worse than spending time curling your hair for a fancy occasion and then your tresses clumping together from harsh hair spray. Coat your freshly-curled hair in dry shampoo, and it will instantly soak in the oils to leave you with natural looking curls that don't intertwine with one another. 
Use it to lock in your hair teasing.
If you have super thin hair (like me), you find yourself teasing your hair all the time to give the illusion that you have as much volume as possible. But unfortunately, that teasing can fall quickly if not locked in properly. Spray your dry shampoo on the area you are teasing first, and it will be locked until your next wash!
Use it to add grip to bobby pins.
Planning on doing an updo for a fancy night out, or do you just use them in everyday styling? Adding dry shampoo to the area you are using bobby pins will help to hold them in place and keep your style from coming loose. 
Now you can enter back into the world a master of all things dry shampoo — don't forget to have fun with it!