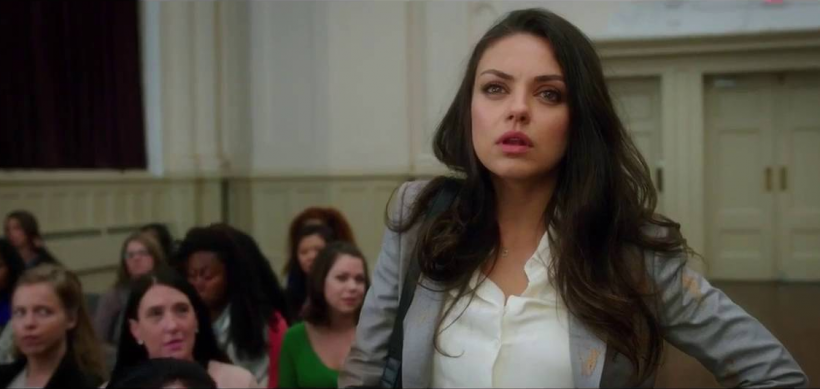 "Bad Moms is adorably predictable: Mila Kunis plays Amy Mitchell, a stereotypical do-it-all mom who bows and scrapes to Christina Applegate, who kills it as Gwendolyn, the Head Bitch in Charge of the PTA." Image: Youtube
I went to the premiere of Bad Moms last week. I might have peed my pants during the movie and it took about two days until my face stopped hurting. I don't remember the last time I laughed so hard.
(Okay, fine. There's no "might have." I did pee my pants. So what?)
Bad Moms is adorably predictable: Mila Kunis plays Amy Mitchell, a stereotypical do-it-all mom who bows and scrapes to Christina Applegate, who kills it as Gwendolyn, the Head Bitch in Charge of the PTA.
Then, Amy's life implodes. The movie is about her tipping point and her resolve to stop putting herself last, which results in hilarious and hedonistic shenanigans with her two new besties as she battles the HBIC for supreme rule of the PTA.
Bad Moms peaks with Amy's passionate vote-for-me speech in front of a packed audience of PTA moms. She proudly and loudly declares herself a "bad mom" and with a sweeping gesture, pronounces the rapt audience bad moms as well:
"We're all bad moms!"
She assures them that it's okay — great, even — to be a bad mom. Everyone shares stories about their bad parenting, then they cheer and vote for Amy and she's the new HBIC. Because of course.
There's hugging and laughing and crying.  Amy and Gwendolyn have a moment where Gwendolyn reveals that she's a bad mom, too and they end up becoming besties.
All the bad moms live happily ever after, and in celebration of this awesome movie that I'd totally see again, moms on the Internet are talking about what shitty moms we are.
"Because we're all bad moms!"
I call bullshit.
Don't get me wrong. I definitely have my days where I question my parental fitness, but I'm not going to hop on the bad mom bandwagon just because it's the latest cute and self-depreciating thing to do. I have bad mom moments. I have bad mom days. I'm pretty sure I've had entire bad mom weeks.
But none of those things make me a bad mom.
Cases in point:
I haven't cooked dinner in over a week, unless you count that one night where we had frozen pizza. My kids have survived on cheese crackers, yogurt pops, and Lunchables.
When I hugged my kid last night, I noticed his head smelled like chlorine from the pool, and I realized that I have no idea how long it's been since he had an actual bath.
My kids regularly hear me say "fuck." I've actually the word "fuck" at them. LEGO + bare feet = mom coming temporarily unhinged.
When one of my kids colored his face with a permanent marker, I made him sit still for a picture and then uploaded it to Instagram before I yelled at him.
When my son used my razor (that I'd left on the edge of the tub) to "shave like daddy" and cut his lip, I freaked out because his face was going to be messed up for our family pictures the next day. Once I was sure he was okay and not bleeding to death, of course.
I convinced my oldest to ride Space Mountain with me at Disneyland by lying and telling her it didn't go upside down. It's an indoor roller coaster so it was easy to pull the wool over her nine-year-old eyes. She's in her twenties now and I think she's still mad about that. Oh well. 
I use threats to make my kids behave. Sometimes it's the "wait until Daddy gets home" card, which I admit is pure lazy on my part, but the "the Grinch will come steal all your Christmas presents if you don't clean up this crap right now" goes down as one of my all-time lowest parenting moments. However, I've never seen a mess disappear so quickly.
I lie to my kids about a plethora of things: those stupid rides outside the grocery store that jiggle and bounce your kids to annoying music for approximately 14 seconds (when they actually work?): always broken. Always. I lie and tell them my special dark chocolate is spicy hot pepper chocolate that would singe their mouths.
When my husband is out of town, I put my youngest two kids to bed an hour early. "Gosh 8 o'clock sure got here fast!" I'll exclaim when they look at me with that "something's not quite right" expression. When they learn to tell time, I'll just turn the clocks back. I have my priorities straight: my priorities are binge-watching Netflix and drinking red wine, blissfully alone.
I take the biggest corner piece of cake with the most frosting. Every time.
None of these things make me a bad mom.
If I wanted to be cliché, I'd say, "I know I'll never be mother of the year, but I'm doing all right" — but there is no mother of the year award in existence. Even if there were, I don't need a trophy to tell me I'm doing okay.
All moms struggle. All moms stumble. All moms have those moments when they worry their kids will be scarred for life. Balancing motherhood with self-care and the pressure to be Pinterest-perfect is hard, and letting loose and putting my needs first once in a while doesn't make me a bad mom.
Hop on the Internet and you'll read stories about children who are abused or neglected at the hands of their parents. Stories of girls molested by their father or stepfather while their mothers could have saved them and didn't. Heartbreaking accounts of children who are found hungry and neglected, sitting in their own feces.
When you frame things like this, feeding my kids processed food and swearing don't meet the "bad mom" threshold. Not even close.
You might be reading this and rolling your eyes because I'm getting wrapped up in semantics. I know a movie titled Sort of Okay Moms That Let Loose Occasionally and Have Dirty Houses probably isn't a sexy movie title. I get it. I'm not knocking the movie one bit.
But think twice on what a bad mom really is before you label yourself a bad mom. Think twice before you raise your hand and climb aboard the bad mom bus.
I'm not a perfect mom and I don't really even try to be. But, who gives a shit about perfection? I am a damn good mom and I'm owning that. Maybe you should, too.