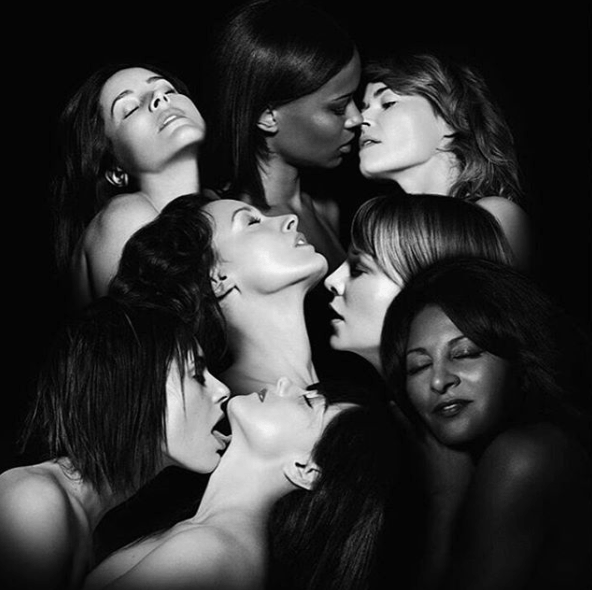 Image: Instagram/ sharicyta
I was thirteen in 2004 when The L Word launched their first pilot episode on Showtime. I would sneak into the family television room and sit closely, and intimately, with seven of my closest friends. Their names were Jenny, Bette, Tina, Alice, Shane, Kit, and Dana. There would be additional favorites throughout the years — they would come and go — my feelings for each of them would shift and stabilize. They would make me cry with soft puddles on my cheeks. They would cause me confusion.
I was still a queer femme teenager figuring out sexuality in a heteronormative reality. 
The show centers around a lesbian, queer, and trans group of friends living in Los Angeles. Many people often refer to it as the gay Sex And The City. However, the differences are vast. White-washed and straight television shows like Friends, Seinfeld, and Will & Grace bored me. How could I, POCs, and the majority of the LGBTQ community possibly relate to such a glorified lifestyle? Yes, The L Word series is set in LA, but somehow — between the cameos of Tegan and Sara and cliche coffee shops — the raw honesty of the show crept through. The pilot episode aired in 2004 and lesbian characters were still majorly absent from mainstream television. And when they were present, they were cast alongside a flood of heterosexuals. When Ilene Chaiken decided to create the series, she created the first show on television to focus on queer women. There wasn't just one token lesbian; there were six major lesbian and bisexual characters careening towards us with wit, drama, and intensity.
I was curious about what it meant to be femme and queer and what it specifically meant to me; however, that vocabulary wasn't familiar to me at the time. I was just beginning to stir the pot of feminism. I was raised by the Internet, which tossed me into a world of blogs, music, and friends who were engaging with activism, non-binary subjects, and sexual empowerment. In my conservative, religious home in the South, The L Word, alongside the world wide web, was my oasis. Every week, I drank from the fountain of queerness and sexuality.
Volume down low, remote controller gripped tightly, I watched The L Word as an act of rebellion.
Tuning in for an hour or so made my body twist and tingle — my queer senses were awakening.
As a young femme, The L Word validated my feminine appearance in ways that other mainstream icons did not. Each character offered a new perspective. They came in different shapes, sizes, and styles. More importantly, they were all of us. The show featured characters who were different from anyone I'd seen before representing queer women on TV. Carmen, who was introduced later in the series, and Bette served as my future role models. Their dynamic and enigmatic confidence translated through their feminine but powerful demeanors. Shane, before the days of Piper and Alex, was a whirlwind of emotions. My queer heart was, and still is, throbbing for her. 
At first glance, I initially tuned into the show for the sex scenes. But while I was waiting for the sexiest scenes I've ever watched on television, I was catapulted into issues that pertained to same-sex adoption, trans identity, and everyday relationship dramas that fleshed out over six seasons. If I had been a bit older, in college or beyond, I might have been brought together by fellow queer individuals. The archetypes in the show would have served as a model for who I was in the real world. But I watched The L Word alone. I wasn't a queer femme in the real world. I had my own personal "don't ask, don't tell" experience as I sat in the dark on the floor, face close to the television's light. The L Word brought lesbian, trans, and bisexual individuals together. Talking about it and obsessing over it was something that 20 somethings were doing in 2004. As a 13-year-old, I was still traversing halls lined with lockers.
Shows like Orange is the New Black and Transparent have popped up post-L Word, but they lack the impact that The L Word had on the mid 2000s. The normalcy of the characters in the series (and the success of many relationships) is something that the former series' do not offer. The L Word ranged from simple topics like a career, marriage, children, to more complex subjects like coming out, transitioning, and age — all wrapped up in the saga of the lesbian drama. Kayla Kumari Upadhyaya writes on the A.V. Club that the show had "television's first deaf lesbian, its first regularly occurring transgender character, and its first interracial lesbian couple." I aspired to be with someone like Shane, to try and forgive an individual like Jenny, and to cry with someone like Alice. 
The show's pivotal characters made me feel less alone; my solitude wasn't closing in on me anymore.
As a 27-year-old, I can confidently say that I am unapologetically queer because of how The L Word defined and rooted my sexuality. For 70 episodes, the series revolutionized mainstream TV. I've felt somewhat empty ever since the last episode — the void inside my television has never been filled.
Much to my and everyone else's surprise, Chaiken broke the news this summer that the series will be getting a reboot. New characters, alongside cameos from Bette, Alice, and Shane are to be expected. Since 2009, the number of queer characters in television has spiked dramatically. But shows featuring lesbians are still lackluster on screen. The reboot will illustrate lesbians beyond the bars of a prison cell, featuring characters who are real individuals in the real world. 
Overall, The L Word was sexy. It was problematic, it was radical, and it molded me. It was my bible. I'm still looking for my Shane and Carmen moments in every potential partner I experience. The L Word created a sanctuary for me as a young queer femme who was still navigating my space and my community. I was finally visible. 
---
You Might Also Like: