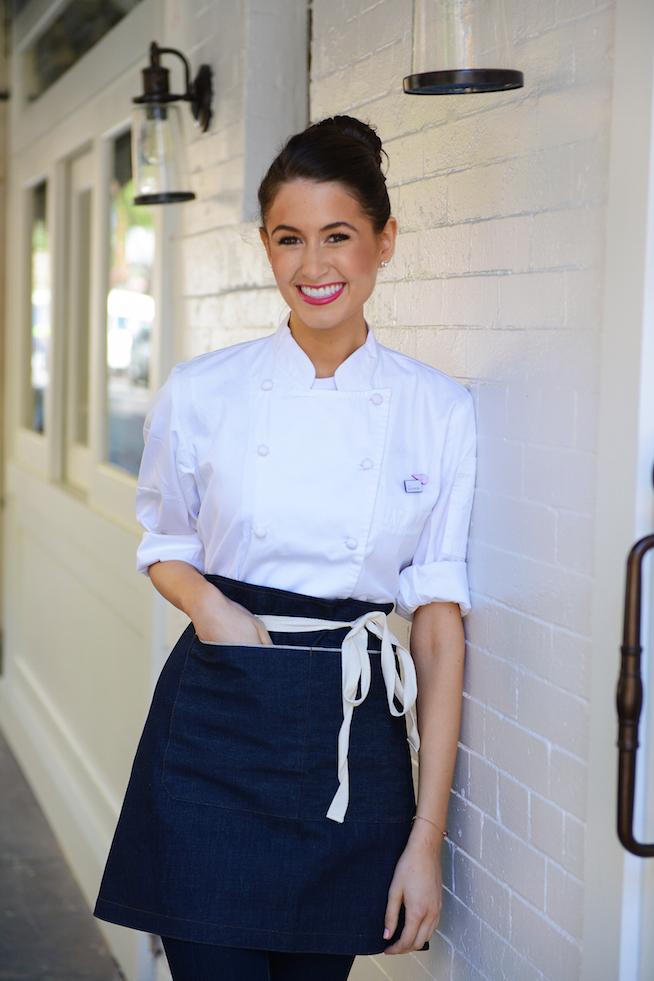 Chloe Coscarelli took the culinary scene by storm back in 2010 when she took home first place in the Food Network's Cupcake Wars, making her the first vegan ever to win on a Food Network competition. Since then, the vegan chef has been spreading her joy of vegan cooking — and her infectious positive attitude — with the release of three (!) vegan cookbooks: Chloe's Kitchen, Chloe's Vegan Desserts, and Chloe's Vegan Italian Kitchen. Now with the recent launch of her very own restaurant, by Chloe, in New York City's West Village, Chloe's approachable take on veganism has officially hit the masses.
We caught up with the very busy lady (seriously, the lady is Busy with a capital "B") to chat about the perks of being her own boss, the joy of running her own restaurant and the secret recipe to her success.
What motivated you to become vegan?
I went vegan at a pretty young age. I have always really loved animals and just learning about the food industry and factory farming and such, I was like, "I don't really want to eat animals anymore," and one thing led to another. I loved what I was trying and it just stuck with me.
Your big break came from your win on Cupcake Wars. What was your mind process when you submitted to the show? Did you want to spread the vegan message, or was it to get your name out there? Or both?
I thought so many times, "I have shown people that vegan is gorgeous and exciting and just as good, if not better, than the real thing." To have the opportunity to prove that to the mainstream was really exciting to me.
At the time, you were considered the underdog. You were young, less experienced, and you were serving vegan cupcakes (which was unheard of at the time). How did you rise to the challenge?
I think it's really important to believe in yourself and if you think that there is something you can do, then not to worry about other people's opinions of you or thinking that you are not good enough or less than other competitors. I think that cooking with vegan ingredients was something that, at one time, was thought of as a disadvantage, and I am just trying to prove to everyone that vegan food really is delicious and not a disadvantage at all. If anything, it can be more exciting and more delicious.
Since then you keep rising to the challenge. You have written three cookbooks and have now opened a restaurant. Was this all part of a master plan?
I guess I never really knew exactly what my career was going to be and where it was going to lead. I just knew after graduating from college that I loved to eat and I loved cooking vegan. I went to culinary school after that, and I remember my mom saying to me, "Well, if it doesn't lead to anything, at least it will be a great experience and you've learned some good life skills at culinary school." So I guess I've been taken by surprise in terms of the turn that my career has taken and how consuming and insane it's become [laughs] but it's definitely what I have dreamed of. I am so grateful for the opportunity and outlet to show people what I'm doing.
What has been your biggest hurdle as an entrepreneur?
I think it's really hard to take time for yourself. It's like having a kid, having a baby. Everything comes before your own needs, so it's really hard for me to pull away. If you're making your own schedule and hours, why would you schedule a break for yourself? So that's been challenging. Something I'm working on. I'm managing to sleep a few hours each night.
What do you love most about being your own boss?
It's definitely great doing work that is meaningful to you. So I think even though I am so busy and it's so crazy and I am really tired certain days because I have no energy left, I think of how lucky I am to be able to go into my own restaurant everyday. My workplace is a joy to be in, I love it so much. It's so fulfilling and it's so exciting to see the results of your hard work and to share it with so many people. That never really gets old.
You've recently opened your new restaurant in New York. Was that always one of your goals?
It's definitely something I've wanted, so to have it be real and challenging, is exciting. I think having my own vegan restaurant is what makes it all worthwhile because, at the end of the day, I can come by and see all these people enjoying my food and telling me how delicious it is. Our clientele is so broad. It's not just vegans at all. It's mostly people who aren't vegan. So that's exciting to be able to share that special message with so many different people.  
You're a busy lady. Can you share with us what a typical day is like for you?
I wake up pretty early. A different time everyday, but it's early. I wish I could say that I start off the day with all these personal activities, like working out, but I head straight to the restaurant as soon as I get up. As soon as I get in, I basically taste each dessert item to make sure the quality is correct . . . then I head into the kitchen and I will work on making sure the pastries are all set and then overseeing everything that goes out. We usually have really busy lunch and dinner hours and so I am working with the staff, seeing if anyone has any questions, and making sure that everything is how I want it to be. I have put a lot of hard work into this restaurant, so I want it to run smoothly. Then usually I go home late at night, when we close. If I am lucky then I'll be able to sneak in a yoga class. Then I do it all over again. So far it's been great, I don't mind.
How do you stay sane and positive amidst all the craziness around you?
As busy and crazy as it is, it's also an exciting time. So even if I find myself feeling tired and overworked, I just step into the dining room and there is so much positive energy from the customers who lift me up whenever I need it. Everyone who comes in is so nice and friendly and so happy to be there. So many customers come here for two meals each day or they come from afar, so it's very uplifting.
If you could create a recipe for success, what would it be?
I think the most important ingredient is to work hard. Hard work. That's pretty much it. I think that's the secret to everything. I've always found that the things that I work the hardest on turn out the most how I want them to be, whether it's a concept, a recipe, or a personal goal. Yeah, hard work. [laughs]