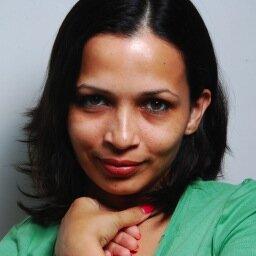 So are you all set to lose those five pounds for New Year's Eve? And working towards dropping ten inches for your bestie's wedding? By all means, drop that weight, but be afraid—very, very afraid—of India's top dietician and weight loss expert Rujuta Diwekar. Rujuta is going to lambast you because she feels that such short-term goals and targets display a gross disrespect for one's body—and she's about real health.
Rujuta is the Mumbai-based celebrity nutritionist who was voted one of the 50 most powerful people in India by People magazine in 2012 and was recently credited with helping to sculpt India's top star Kareena Kapoor's incredible body. Her books such as Don't Lose your Mind, Lose Your Weight and Don't Lose Out, Work Out! have been bestsellers, helping millions across the globe lose weight and stay fit. Rujuta's advice for good health is rich in ancestral wisdom and her mantra is "back to basics."
She spoke with us about what it is that makes her famous, her approach to fitness, and how's working to help people unlearn many unhealthy fitness lessons.
What makes you the most successful nutritionist and health advisor in India and among the 50 most powerful women in the country?
One of the reasons I am considered a celebrity and top nutritionist is because celebs are my clients and I live in Mumbai where the Bollywood action happens. It is the city of glamor and there is good mileage for what we do here, especially if it involves the stars.
Tell us about a bit about what you were like before you became the woman behind the beauty of India's most glamourous actress Kareena.
I studied in a local school next to where I lived in Mumbai, the commercial capital of India. At school, I was an outdoorsy girl who was into athletics three hours a day. Even in college, I did aerobics and was a part-time fitness instructor. I've always enjoyed exploring the health aspects of food and the body and so it was not out of the way for me to choose to specialize in sports medicine and nutrition. In the late 1990s when I started my career, several new entrants into the movie industry were sporting fit and trim bodies. I started working with them
and I am happy that I got to work with some of the most beautiful people in India who also know how to love and respect their bodies. My clients like
Kareena
or her sister
Karisma Kapoor
, both stars in their own right, have adopted a healthy lifestyle—and not because they want to lose weight for a specific song, presentation or college reunion.
"Weight loss" is the most Googled term in the world. Do you think people across the world are overdoing it and are obsessed with their weight?
Today people think five times before they eat something. In the olden days, people used to relish their food. What do you think brought in this ugly change? While it is good to work towards staying fit, this new obsession for having ridiculous timelines such as "I want to lose x lbs for Christmas" is a not a healthy strategy. We have to live with our bodies and one cannot afford to have such a casual approach towards to them. We need to respect our bodies, work on them and invest in them. I think people got caught in some wrong fads, which steered them away from real wellness.
What do you think made you the top weight loss experts? Why do you think so many Indians connect with your advice in such a big way?
What I say is not really different from what our moms and grandmoms have said. I am basically taking people back to their roots with my advice. I am lucky to have beautiful brand ambassadors spreading the message of a healthy life and that made it easier to convey my thoughts—that element of glamor was missing from my grandma's advice.
What do you think contributed to your meteoric rise in the fitness industry?
I have been working since 1999 and that was the time when the media in India opened up with lifestyle supplements, health advice columns, weight loss sections and glamor news channels etc. So the focus fell on those like me catering to this segment. I guess the right exposure helped. The biggest contributor to my success is really the generous love I have received from my fans. There is no alternative or measure for it.
Where do you personally derive your knowledge from?
Someone in my family is always giving me advice like "Don't have a long gap between meals," or "Don't watch TV and eat," and I wanted to pass this scientifically–backed and commonsense knowledge to my fans and clients. Relaying this relevant knowledge is half the job. I also manage to put ancient wisdom in today's perspective.
Why do you think there are myths such as "don't eat rice if you want to lose weight" floating around these days?
I think food corporations need to do some business and telling people what they are eating currently is all wrong and giving them some stylish alternatives is a good marketing strategy. But yes it is a big myth that you put on weight if you eat rice.
When you are out traveling, how do you ensure you eat healthy food? Do you carry your own food, cook, eat locally?
I carry dry fruit or chiwda (an Indian snack made of puffed rice) with me as my emergency food. I also try local fruit or a local speciality, which I combine with my comfort food. It's important to fill your tummy with healthy food so that you dont eat junk.
Tell us a healthy day in the life of Rujuta.
I wake up by 5 AM and after exercise, meditation and reading newspapers, I travel to the office and have a local breakfast. Mumbai has lovely sandwiches and healthy bhels and I love to gorge on that. The day unfolds with work for my clients and I take a break from work for a freshly brewed self-made south Indian coffee. I have an early lunch and keep working. I return home for my dance class and then a walk. After that, I wrap up my day with an early dinner. By around 9 PM, I am fast asleep. While I do love to socialize, I do that for breakfast or lunch and rarely during dinner time.
What are your future projects?
I'm currently working on my next—fourth—book.  
You can follow along with Rujuta's work on Twitter @RujutaDiwekar, on Facebook or on her personal website.