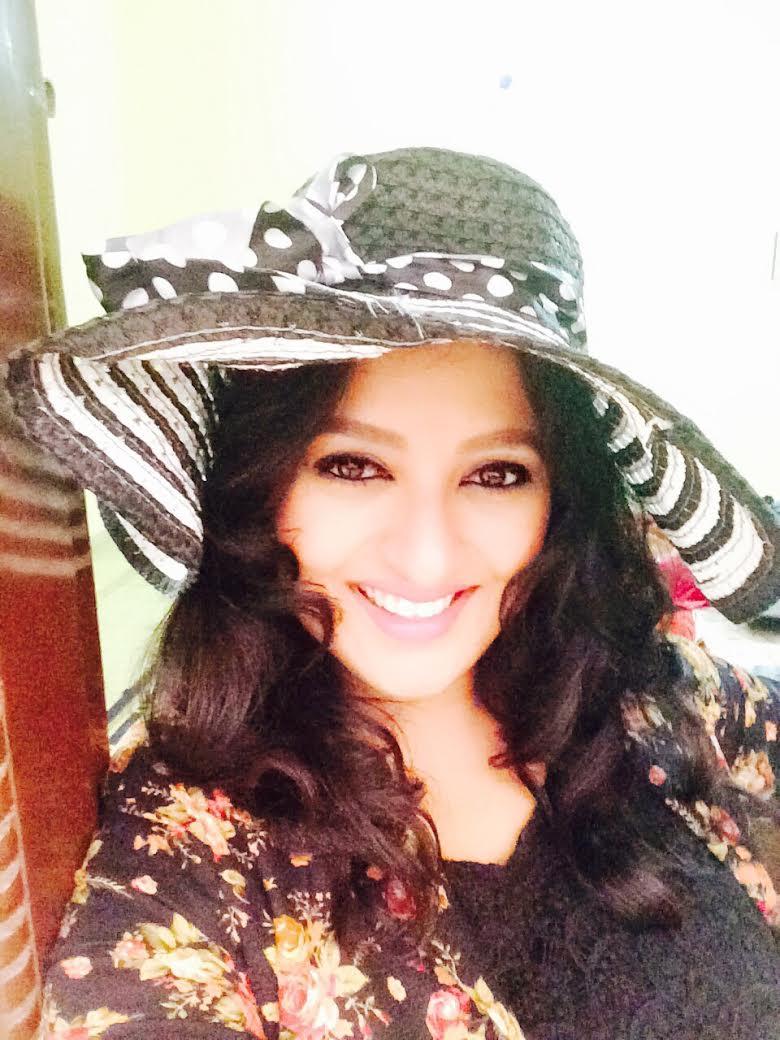 It's a pretty universally held belief that being an actor is cool. Being an actress who is instantly recognized in the movie-crazy south of India? Decidedly even more so. But being the mother of two twenty year-olds—while looking like a 30-year-old—hailing from a super-conservative Muslim family, and getting her mother-in-law to accompany her on her shoots during her debut days of modeling and acting all when working for movies was considered a taboo . . . well that's not just cool—it's one helluva achievement.
Shanoor Sana, better known by her onscreen mononym Sana, is enjoying her space and place in movies from the south as an artist today only because she took the first tentative steps with great confidence. In her own words, it is not as much about her roles in movies, but her ability to break the shackles of traditions to do movies and yet manage to stay grounded with her family. This is what has moored her in her myriad accomplishments.
Sana never imagined that her professional journey, which started as a feeble request to her husband and mother-in-law 20 years ago to allow her to shoot for a sari ad, has evolved into a war cry for her favorite political party during the national elections that took place this summer. She is currently working for a daily soap called Pratibhimbam on ETV, the magnum opus mythological film Rudramadevi, and a Tamil movie. Her filmography has Telugu (a south Indian language) blockbusters such as Ninne Pelladatha, Pandurangadu and Sriramarajyam.
She covers this sprawling evolution, her roots, and of course that awkward moment when she posed for a bathrobe ad right in front of her mom-in-law . . .
Back in the 90s—when working for movies was looked down upon—how did you, a married woman, mother of two, and the daughter-in-law of a conservative Muslim family manage to gain a foothold in showbiz?
Frankly, there is no big story. I was an active student who loved taking part in theater and who wanted to try her hand in the arts. My parents are pretty progressive in their outlook. In fact, they had an inter-religious marriage (my mom is a Muslim and dad's a Christian) in the 70s, which was a big deal in India. But even before I could have big dreams of a career, I was married off. My dad had suffered severe losses in his business and he was at an all-time low. His friends and family advised him to get me married as in India a girl child's marriage is considered a big event and ticking it off one's list is a big achievement in and of itself. So I was married off to Sadath and life was a merry ride with cooperative in-laws. I had a lovely family comprising a big, joint family, a son, a daughter and lots to do in life.
However, I always wanted to go beyond the four walls of my home and prove myself. When my children started going to school, I was checking out the local newspapers for job placements and found an ad for a sari model. I had no idea what modeling was—I thought it was another profession like teaching or banking. I never knew that modeling would put me under the spotlight and that my pictures would be on posters or newspapers. In a traditional Muslim family, being a dedicated wife, daughter-in-law or mom is core to her very being. The goodwill of the family is actually imperative. So I asked my parents-in-law to accompany me to the shoot. No one had any idea of what it was going to be. Soon after I went, they did a screen test and I was selected and given an assignment. Within a few days, I got another offer. Even before I could actually sit and plan or decide on the ground rules I would play, things started moving. Modeling gave way to roles in television and then movies.   
Did showbiz turn out to be the way you had expected it?
I think it was easy for me because I was playing character roles that didn't demand that I show skin, wear skimpy clothes or get too intimate with my co-stars on-screen. Fortunately in Indian movies, once you decide to stick to character roles (as opposed to playing the main female lead), there is plenty of work, less pressure—though a few negative aspects as well. But yes, movies can be demanding as sets don't always close at 6 pm, which is the announced pack-up time. One may have to travel out of town or country. I have a joint family so when I was out of town, I had the others in my family to babysit my children or send them to school. I am happy that despite all odds, I have worked in over 600 movies so far. I have to attribute my success to my husband, children and parents-in-law.
What is the best thing and worst th
ing about being in your position now?
The best thing is that if you are good at your craft, you get pampered. Unless you hate to put on makeup, it is like a picnic every day. In India, a politician of 30 years may not be recognized nearly as often as an actor who has done three movies. The love one gets from people, the fame, money . . . I love all of it. The worst bit is that people always expect you to look gorgeous—even if they catch you at 4 am in the airport after a 16-hour flight. Fans just don't want that star quality to ever vanish from their idols. So the worst thing is the constant pressure to keep your fans impressed and happy. And yes, even being terribly sick on a set rarely guarantees any sympathy or rest, simply because there are too many things at stake to let you take rest on a day you are expected to shoot. There have been days when I have shot with a high fever, a really bad stomach ache or a sprained leg. Another negative aspect of my life is the loads of trolls with bad comments on their fan pages in Facebook or Twitter.
Any funny rumors you had to face in your career?
That I had married my nephew! I mean I was acting in a daily soap called Chakravakam for Telugu television and the protagonist Indraneel, who plays my nephew, had married the girl who played his mother-in-law in the serial. In India, since both the relationships (aunt and mother-in-law) are addressed by the same name, websites put up my photograph with the groom's and wrote announced some spicy news. Later, I had to clarify that it was not me.
What was the most challenging assignment you've faced in your career?
When I was in the beginning of my career, I learned that an ad company wanted a model for a bath towel ad. The ad demanded that I wear nothing, just drape myself with a terry towel to look hot. The only thing that was going in my mind when I went for the audition was to just prove to myself that I can be very professional and do what my job demands of me, without having to cringe. Although my prime motive was just to prove a point to myself and many others that I did have the looks and talent to do any kind of ad—I ended up doing that ad, and in the presence of mother-in-law, too.
What roles do you think you have excelled in?
I take it as a big compliment that I often get offers to play Hindu goddesses like Shakti and Kali. Indian goddesses are gorgeous, intense and divine. In fact, after playing a role like that, if I went to villages, people would offer me prayers and holy gifts. Such is the fan following. I have played Shakti in several of my movies. Although it is a tough scene with so much make up and sometimes requires sporting eight hands too, at the end of the day, it's all worth it.
What are your plans in near future?
I am a trained teacher and I would like to open a model dream school soon.
How do you keep in touch with your fans?
I opened my Facebook page just this year and I am humbled that today I have more than 100,000 fans who are following my updates. My son who is 23 years-old and runs his own TV production house and my daughter, a fashion designer, help me keep my page updated and connect with my fans every day.
We hear that you are all set to take a plunge into politics. How are you preparing for this new role?
I had campaigned for the Telugu Desam Party in the twin south Indian states of Andhra Pradesh and Telangana in May 2014. The party chiefs said they were impressed by the way people connected with me, my ability to communicate with them, and the fact that I was a familiar face that had a good recall value. So far I have played it safe in the movies. But politics is a different ball game. I must be ready to be criticized, run down by detractors and be at the receiving end of several jibes. I am fully prepared for all eventualities, including being issued a Fatwa. But I hope that good sense and good luck will always remain on my side.