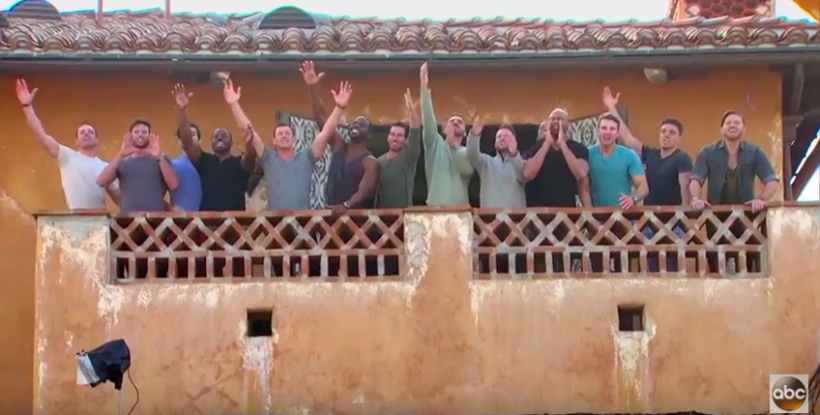 Image via YouTube (ABC)
Diversity is an undeniably popular issue at the forefront of our media landscape, so it's no surprise that ABC has chosen to get in on the action with the first black contestant on their Bachelor/Bachelorette franchise since the show's inception in 2002. This season's bachelorette, Rachel Lindsay, impressed America on the most recent season of The Bachelor. An accomplished lawyer with brains and beauty, Lindsay's bio reveals that she fears "she may have missed her chance at love."
After years of racially exclusive casting — and a running tradition of including a few token black people who almost always get eliminated by the third rose ceremony — Rachel comes as a welcome surprise. Every black girl I know (myself included) is rooting for her because that's what we do — we're here to lift up all the other black girls who are lucky enough to represent us, and do so as flawlessly as Rachel does.
But now that she's here, it seems like ABC has no idea what the heck to do with her.
There have been rumblings from fans and publications about how relatively little The Bachelorette has been promoted this season in comparison to past seasons. Fans of the show have stressed that ABC has been dropping the ball from the moment they botched the traditionally top secret ending from last season. The announcement that Rachel would be the next lucky lady came too soon, while her roster of bachelors has been wildly delayed. Finally, last night, the network did its very first Facebook Live unveiling of the gaggle of men Rachel will be choosing among, lead by the longtime host Chris Harrison who introduced the future love interests.
And let me tell you… my body was ready.
I was ready up until the point I realized that all my predictions, about just how awful this season is going to be, are actually coming true. 
I had already anticipated that the network would tokenize the star of this season — despite the fact that this cast has more black people than previous seasons. And the reporting around the show is making sure we never forget for a second just how "diverse" this cast is going to be. Try this as a drinking game: Throw one back for every time you hear the group of bachelors described as "diverse," with a bonus sip for every time Chris Henderson refers to them as "dramatic." Make sure you have a designated driver first — because if the actual show is anything like the live stream, there is absolutely no way anyone playing is making it out of watching this show sober.
Regardless of how bad this season is undoubtedly going to be, it's still a big deal, and I'll still be watching. We have never seen a cast this racially diverse, and because of this (and the promise of watching a black bachelorette as the star all season long), I'll be proceeding with caution, as I prepare to be fully invested. It's been years since I actually sat down to watch this trash — not since I myself was a black bachelorette fishing in a sea of unworthy white dudes — but I'm here to root for Rachel. I just hope this season won't end up being quite as racist as it certainly has the potential to be.
One aspect of this storyline that I'm finding problematic: I don't remember the cast of men from past seasons being such a collection of struggle.
Their careers are all over the place, which was a disappointment I didn't expect since Rachel is such an obvious catch. She's taking a sabbatical from her career as a frickin' attorney, after all. Maybe her credentials were too intimidating for the candidates who applied, but it also feels like ABC didn't want the show to be too black, so they had to scrape together the best collection of low-grade, mediocre white dudes they could find to participate in this competition. It was also recently reported that some of them (five of the white contestants) have criminal records, which wouldn't seem like an ideal match for a lawyer.
The career choices among contestants are bad. Like, really bad. Blake E. (of course there are multiple Blakes) is introduced to us as an "Aspiring Drummer." What does that even mean? Fortunately, there are a couple of lawyers sprinkled in the mix, but a lot of the contestants' occupations could be synonymous with "unemployed."
There is a temporary break from the mundane with contestants like Mohit, 26, the "product manager," who despite his dull job description, was subtly modelesque, with a name that helps separate him from the other basic "Chads." My personal favorites were Iggy, 30, the CEO from Illinois, and Diggy from Chicago, a senior inventory analyst. The latter has an honest face, unlike the rest of these smirking scrubs, so I'm rooting for him solely on this first impression.
Last but not least, there's sexy Blake K. Luckily for him, the first Blake was not even a remotely hard act to follow. Aside from also having an aesthetic that separates him from the mediocrity, his profile paints a portrait of a man who truly loves him mom *swoon*. Plus, he proves he has a sense of humor — a quality Rachel has mentioned she's especially looking for — stating that "Chipotle is my life," and quoting an old Vine meme. Having a finger on the pulse of meme culture is practically a necessary evil if you intend on actively dating anyone these days.
My guess for the top weirdos this season:
The "Tickle Monster," who Harrison gracefully explains is really a doctor, but who presents as one of those weirdos from that tickle fetish documentary on HBO that nobody likes to admit they watched. 
And Lucus, who didn't even bother to fill out a real career on the application. Apparently, he felt that just writing the word "Whaboom" would suffice in that category. Regardless of this being a nonsense word that sounds like an obscure racial epithet, The Bachelorette producers apparently looked over his application, shrugged, and said, "Eh, he'll do."
Another issue that reared its ugly head during last night's live stream: Chris consistently implied that Rachel, at the tender age of 31, may as well be put out to pasture. Career be damned, as a single woman in her thirties, she's automatically tragic. Since this was patter on a live show, his choice to frame a beautiful 31-year-old lawyer as an old maid might be chalked up to jitters. Here's hoping.
Another cringe-worthy problem that became immediately apparent last night: it seems clear that Chris Harrison is going to spend the season acting super uncomfortable around a group of black men. 
Throughout the presentation, Harrison made several remarks about bulging body parts on the black male contestants. Then when we got to "DeMario,"  Harrison snarked that he might be "too smooth." Chris is playing into the stereotype of the promiscuous black buck, a hypersexuality often associated with black men, as well as black women. Although I'd braced myself for the inevitable objectification of The Bachelorette, I was still caught off guard watching the host stumble through each brown physique that popped up in the (loudly self-proclaimed) "most diverse cast" in The Bachelor/Bachelorette history.
In the end, it's not all bad. The road to representation is bound to be bumpy — after all, this is uncharted territory. So come Monday, I will be watching and hoping that this season of The Bachelorette isn't going to be the microaggressive, messy trainwreck we all know it has the potential to be. Either way, watch the drama unfold with us on Twitter by following the hashtag #BlaecBachelorette.
SaveSave