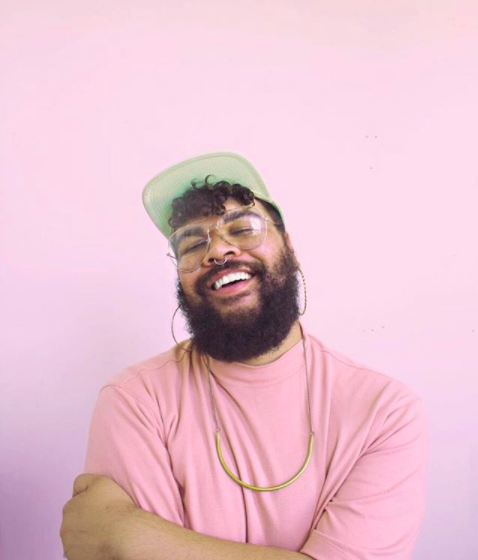 10 Instagrammers show us minimal and androgynous looks for plus-size bodies. (Image: @marquimode)
Minimalist and androgynous fashions are chic, easy to wear… and often really inaccessible to plus-size bodies. It's not that the clothing is not there, fat bodies are just told that we can't have it.
Think about it. The fashion world will always fawn over the chic, willowy ballerina with natural or no makeup and her hair in a bun. Fat women and femmes in the same outfit are told they look tired. She gets to wear a simple pair of well-fitting jeans, a well cut plain white or black t-shirt, sleek plain black purse, and stylish shoes. When plus-sized women and femmes wear that, we're usually told that we look sloppy, or we're not trying. What's worse? If a plus-sized person dares to embrace the generously overcut trend. The same chunky-knit, oversized sweater and leggings lauded as being timelessly stylish on a thin person raises the harshest of criticisms on the zatfig.
The standards just are not the same. But whose standards are we allowing ourselves to live by?
We spend so much of our lives being told to cover our bodies. Even when they are covered from head to toe, we're told to cover them in prints… and then told by others that we are taking up too much space and the prints are too loud. Curvy bodies are not allowed androgynous looks because of rigid gender roles enforced by the world around us. It's not that we don't look good in androgynous and masculine looks, it's that the looks aren't being manufactured in ways that are cut for our bodies most of the time, with exceptions of brands like DapperQ, Sharpe Suiting, Dapper Boi, and Kirrin Finch.
Why force ourselves into binaries simply because of our frames? We shouldn't have to go head first into "maximalism" if "minimalism" is our forte.
The simplicity of minimalism itself can be daunting, but when you choose quality and attention to detail, the outcome is simply perfection.
These ten plus-size Instagrammers show us that minimal is anything but boring.
1. Lydia Hudgens (@lydianhudgens)
This black-on-black suspender look is perfect for all body shapes. Lydia shows you can have curves and still create a minimal or androgynous look.
2. Marquis Neal (@marquimode)
Dig earrings? Wear them! Want to wear a jumpsuit? Find one in your size! No gender owns either and it's time we start embracing what we really want. Marquis Neal rocks an amazing jumpsuit from the Brandon Kyle Collection.
3. T$BiggieSmalls (@fatfemme)
This fat femme serves serious looks on the beach in a high-waisted bottom, sheer black kimono, and black leather cap.
4. Suma Jane Dark (@sumajanedark)
You don't have to be a woman or femme to rock leggings and a stylish sweatshirt. No matter your gender, this look works and is perfect for any cool season.
5. Margot Meanie (@margotmeanie)
Margot Meanie kills it in a surprisingly chic pair of overalls, which makes us ask the question: "When the hell did overalls become chic?" The answer may be the moment she decided to put them on.
6. Style_Expert100 (@style_expert100)
Dare to bare! This unnamed IG fashionista shows how sexy a plain black blazer and deconstructed jeans can be. Too shy? Try a t-shirt or blouse close to your skintone beneath the blazer.
7. Maggie McGills (@maggiemcgills)
Bare your midriff with this soft butch look. Perfectly paired soft neutrals of grey and olive pair perfectly with a pale washed denim shirt.
8. Darnel Ghramm (@dghramm)
Darnel Ghramm encapuslates "masculine boho minimalism" with this look. Accessorize with bracelets, a strong yet simple pair of glasses, and the perfect black hat.
9. Diana (@fatfemmefabulous)
Diana wears an incredibly simple Navabi dress which could easily be worn as a tunic. Switch it up for your style preference.
10. Ree (@meduusalamikko)
Sheer clothing doesn't need to be relegated to any gender. This stylish genderqueer Instagrammer shows off an enchanting oversized sheer top. 
---
Related: