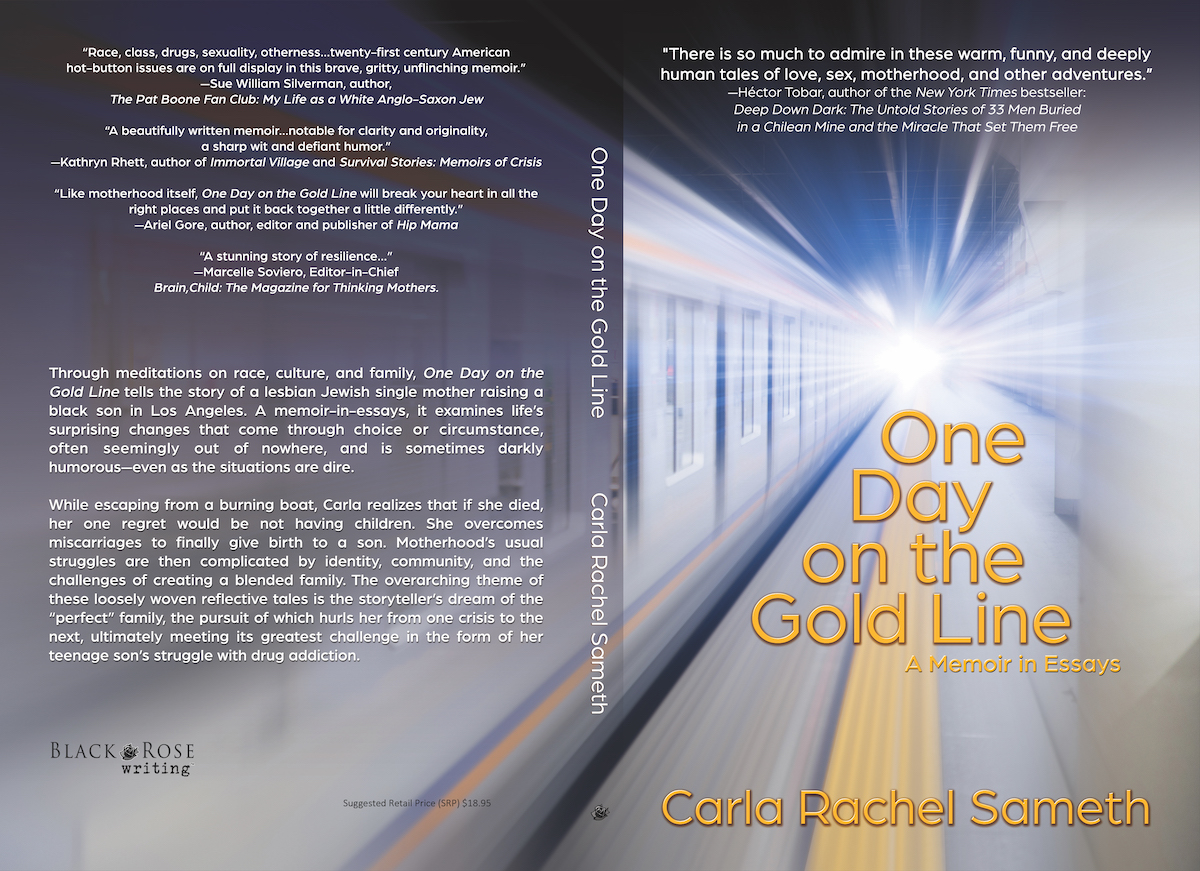 One Day on the Gold Line
I had the pleasure of chatting with author Carla Sameth about her book One Day on the Gold Line: A Memoir in Essays, which was published by Black Rose on July 18, 2019. In addition to the Q+A, Carla shared with us a Spotify Playlist she made to go along with the book! You can take a listen HERE.
About the book
Through meditations on race, culture, and family, One Day on the Gold Line tells the story of a lesbian Jewish single mother raising a black son in Los Angeles. A memoir-in-essays, it examines life's surprising changes that come through choice or circumstance, often seemingly out of nowhere, and sometimes darkly humorous—even as the situations are dire.
While escaping from a burning boat, Carla realizes that if she died, her one regret would be not having children. She overcomes miscarriages to finally give birth to a son. Motherhood's usual struggles are then complicated by identity, community, and the challenges of creating a blended family. The overarching theme of these loosely woven reflective tales is the storyteller's dream of the "perfect" family, the pursuit of which hurls her from one crisis to the next, ultimately meeting its greatest challenge in the form of her teenage son's struggle with drug addiction.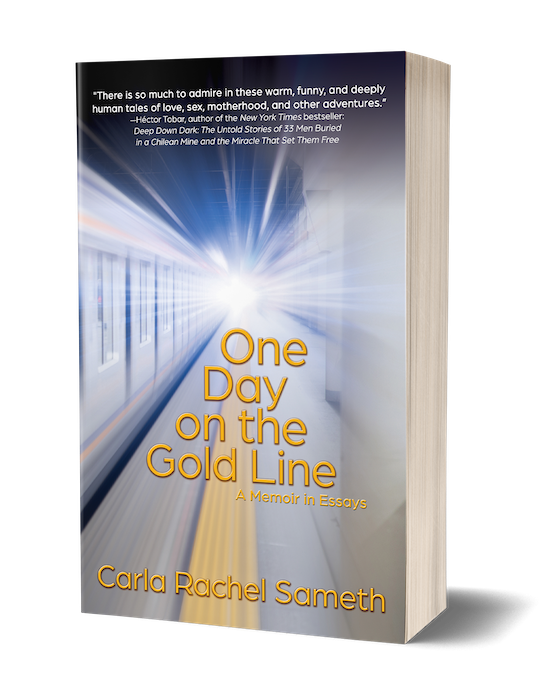 I know that something we have in common is how motherhood has shaped our storytelling. Is there anything you learned about yourself as a mother in writing One Day on the Gold Line?
Mainly it reaffirmed how much motherhood was a focus, gave me strength, and, along with writing, has been a constant in my life. Also, the other thing that was reaffirmed was the real pain that comes with motherhood: it is the most beautiful and tender and the most bloody and terrifying act we can do. Being a mother is the ultimate in showing our imperfections: the deepest desire to do things differently or improve upon what our parents did, and to create the safest, kindest, healthiest place for our children, and how very hard that can be.
As an essayist, at what point did you know that these essays were part of a larger work?
Many years ago, I wrote an essay called "Heartbeat," and an author, Joyce Maynard, suggested that I should be working on a longer work—a book-length memoir. That was daunting to me, as the single mother of a young child. She showed me an example of a memoir in essays, and that was the first time it occurred to me that I could write a book like that. Later, I had a mentor in graduate school, Kathryn Rhett, who had me pull out the different essays I'd worked on and, in some cases, published, and see how they formed a whole. They mostly did! I was surprised by the body of work I'd created—some purposely towards a memoir, including some chapter-like pieces as well as some in alternative forms—and how they worked together as a story arc.
How has the reaction to your book been, both from friends and family, as well as strangers? 
I've received so much beautiful feedback from friends, family, and strangers. I worried about how my family and close friends would receive it, if some of it would be painful or disturbing to them, but I felt an outpouring of love and support for telling my story.
From strangers, (and people I know), I've been happy to hear that they felt a sense of connection and felt less alone reading the memoir. When I've done radio interviews with stations across the country, I've been surprised to hear that hosts and guests, even in the Bible Belt, were able to relate in some way. I wasn't sure how people of different ages, young adults or older people, would feel about the book, but I was told it is a page-turner for a variety of ages. I did have one person who appears in the book (with a different name) tell me that she was upset by the portrayal of her and our relationship, but she also thought it was probably realistic.
You're a writing teacher. What's the best piece of writing advice you've been given? What's the worst? 
Best: I find this one quite useful, "Write as if no one is reading your work. Edit as if everyone will." 
Worst: "Study something practical, not creative writing." 
I've had students and published authors tell me that they were told they just shouldn't pursue writing when they were in high school. I don't think anyone should make that judgment for you, and these were people that actually wrote well, that were told this.
What are you reading now? 
Ordinary Girls: A Memoir by Jaquira Diaz. I loved hearing her read from it recently at the Tampa Bay Times Festival of Reading. I wish I didn't have to grade right now, so I could just spend the afternoon binge-reading it.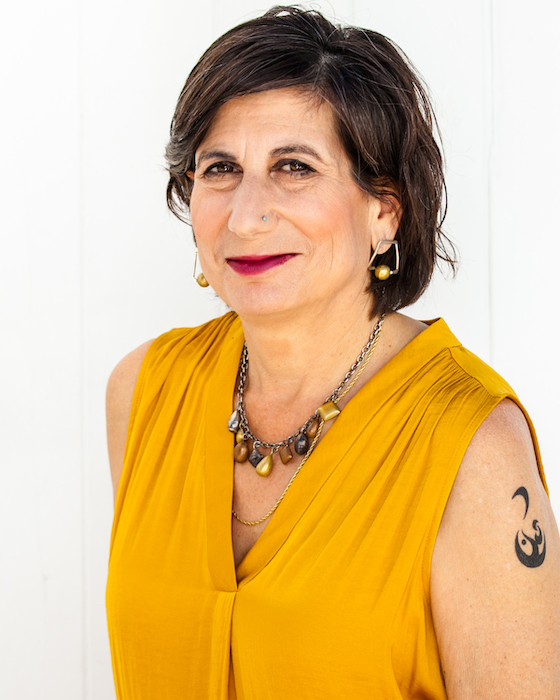 Carla Sameth is a writer living in Pasadena. Her debut memoir, One Day on the Gold Line, was published on July 18, 2019. Her work appears in a variety of literary journals and anthologies including: Collateral Journal; Pasadena Weekly; The Nervous Breakdown; Brevity Blog; Brain, Child; Narratively; Longreads; Mutha Magazine, Angels Flight Literary West; Tikkun; Entropy, and La Bloga. 
Carla was selected to be a 2019 Pride Poet with the City of West Hollywood, a PEN in the Community Teaching Artist, and a member of the Pasadena Rose Poets. She has taught creative writing to incarcerated youth through WriteGirl. She also teaches at the Los Angeles Writing Project at California State University Los Angeles (CSULA) and with Southern New Hampshire University (SNHU). Carla has an MFA in Creative Writing (Latin America) from Queens University and has attended the Vermont College of Fine Arts (VCFA) Post-Graduate Writers' Conference. She lives in Los Angeles with her wife.
---
You Might Also Like: