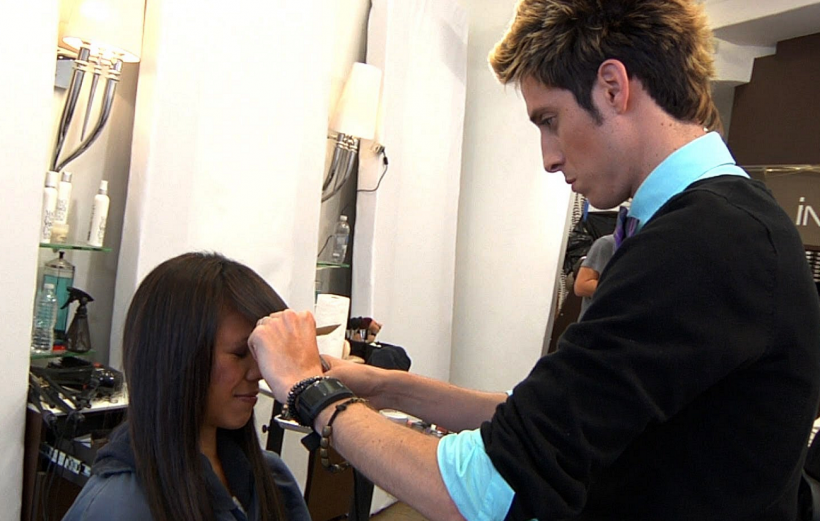 #hairgoals
You might recognize Anthony Pazos from the hit WE show LA Hair, which is currently shooting its fifth season. While he may put up with diva Kim Kimble on television, he isn't afraid to tell it like it is in real life.
But Anthony isn't just a reality star — he's a top celebrity hairstylist who has worked with Khloe Kardashian, Leighton Meester, and Ashley Greene.
I recently sat down with Anthony, and he didn't hold anything back. He revealed what really goes down behind the scenes, confirming our suspicions about how reality television is produced.
He also explains why so many celebrities appear to have red carpet hair all of the time, and what we can do to achieve our own #hairgoals.
How did you become a hairstylist?
It just happened. It was a natural talent that I had.
I have two sisters and it was my job in the morning to get them ready for school. I used to put those little twisty and butterfly barrettes in their hair, which were really in style at the time. They would get annoyed when I did their hair, but they didn't really have a choice.
But now, they can't get an appointment with me.
What do you love about what you do?
I love that I get to transform someone's psychological state just by changing their hair.
It's super gratifying when they leave here feeling like they can conquer the world.
How were you cast on LA Hair?
It kind of happened by accident. I went in to audition for another hair-based reality show called Hair Battle Spectacular. I got all the way to the end, but didn't make it. It just didn't work out.
But they liked my personality and called me back for LA Hair. But they told me the only way I could be on the show was if I was an assistant to Kim Kimble. I was OK with that, because Kim is a huge hairstylist.
What do you see as the trajectory of your career?
A lot of people tell me I should open up a bigger salon and the honest truth is that this place keeps me busy as it is.
I don't want to necessarily be responsible to manage other hairstylists and egos. I see myself branching out to hair care products and makeup as well as home-care products and candles, kind of like another type of Martha Stewart, creating brands of different things I love.
You might also see me on another reality show.
Can you spill some secrets about LA Hair?
After every fight that the cast members get into [and if you've ever watched the show, you know there are a lot of them], we all go back and apologize to one another.
So we can still be friends after, but we all know it's OK for us to go hog-wild in front of the camera because we want it to be good.
While every reality star has hinted that their show might not be so real, can you clarify for once and all what is real and what isn't?
A lot of people ask me if the show is real or fake, so what I always say is that it is contrived situations with real reactions.
For example, they will have someone meet their arch nemesis at Starbucks, but what they won't tell you what to say or how to react. That is real.
That is how the whole reality world works. You are being set up over and over again.
Here's a tip if you are ever on a reality show: Never ever tell the producers what you don't want to do or who you don't like, because that is what they will make you do over and over again.
Celebrities appear to have perfect hair all of the time, whether they are on a red carpet, out shopping or leaving Soul Cycle. What is their secret? Is it possible for the average woman to make every day a good hair day?
Celebrities spend a lot of money on their hair. They have hair color and extensions. They get hair treatments like Brazilian Blowouts. They put a lot of effort into it. More time and effort makes you look good and feel good.
It's worth it, because your hair is one of your best accessories.
While I understand that not everyone has a celeb's hair budget, everyone can put a little more effort in. For example, blonde hair tends to turn brassy. Instead of buying your regular shampoo, buy a purple shampoo.
What do you think most women are doing wrong with their hair?
Most women have unrealistic goals and do too much, killing their hair — or they don't do enough.
If you want to change your hair dramatically, you need to go all the way and see a professional. Do your research. Go to the top stylist where you live. Save your money on other things and spend it at the salon. It will be worth it.
But if you spend a lot of money and it doesn't look good, you need to get your money back.
What are your favorite products?
Hairspray is everything. If you use it at your roots, it can give your hair body. It also acts as a second layer, taking away frizz and protecting your hair from the heat. It's so versatile.
I also love sea sprays. Garnier Deconstructed Beach Chic with black fig is amazeballs! It smells so good. Daily Beauty for Wildlife Beach Spray is another one I really like. It smells like coconut.
If there is one thing every woman, no matter what kind of hair she hair has, should be doing, what is it?
Sleep with a silk pillowcase like Branche Beauty Sleep.
Silk is made of the same amino acids as your hair, so it takes away frizz and is also good for your skin. Cotton fibers are rough and can rat up your hair.
Follow Anthony on Twitter and Instagram.
Header image: Youtube/screenshot.