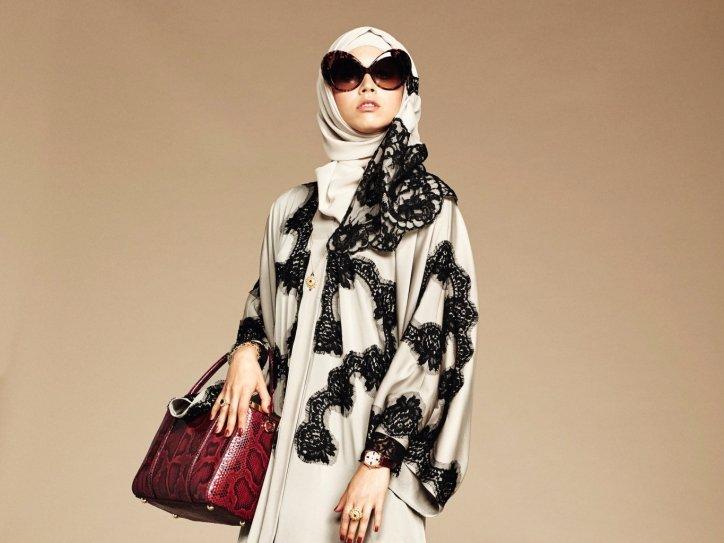 From the Dolce & Gabbana hijab and abaya collection
Nothing unites women quite the way clothing does.
A few weeks ago, I was in a department store bathroom when I found myself in a predicament most women have faced: My period came earlier than expected and I didn't have a tampon or maxipad on me.
Luckily, another woman in the bathroom had one on her and she generously gave it to me. She happened to be Muslim — she was wearing a hijab and abaya. After I thanked her, we started chatting and she told me she liked the jumpsuit I was wearing. I wanted to tell her that I thought her hijab was beautiful, but I thought I would start crying. I also thought it might be inappropriate to get into this conversation in a bathroom while my husband was waiting for me. But this is what I really wanted to say:
Whether it's from a random friend of a friend on Facebook, a person quoted in the news, or a politician on television, the general American sentiment towards Islam is horrifying. In the same context, I'm pretty sure if you switched out "Jew" for "Muslim," this is what people were hearing in 1930s Germany. It's hard to listen to people spew hate. Sometimes, it even brings me to tears. Are these people uneducated, ignorant, or simply wrong?
Unfortunately, I know the answer is often all of the above. Perhaps I feel so strongly because I grew up around Muslim people. My very Jewish father had Muslim friends, and I went to a tiny all-girls school on the upper east side of Manhattan with several Muslim students. While you would probably think the school was as diverse as white bread and a glass of milk, with 12 grades and approximately 500 girls, several is a larger number than you might realize. These girls were mostly daughters of diplomats and did not wear any religious clothing. They wore the uniform and abided by the dress code, just like everyone else. Not one girl was singled out for her religion.
In high school, we learned about the Koran, Torah, Bible, and other religious texts. The teacher explained that Abraham of the Old Testament and Ibrahim of the Koran were the same person. Contrary to what many believe, Christians, Jews, and Muslims are biblically connected. Whenever I see a woman wearing a hijab, niqab, burka, or abaya, I can't help but think about how it must feel to be so intensely scrutinized for the things you wear. I can't imagine what it must be like to go to work or shop at a grocery store, knowing people will judge you because you choose faith over conventional fashion, and faith above all else.
While politics and news coverage are never going to change American attitudes toward Islam, the fashion world and blogosphere are beginning to make people think differently. Nothing unites women quite the way clothing does. If you've ever told a complete stranger in a dressing room she rocks that dress she is slightly unsure of, you know exactly what I mean. In recent years, modest clothing has become way more fashionable, even making headlines.
In 2013, Mimu Maxi, a modest clothing line started by two Orthodox Jewish sisters-in-law, Mimi and Mushky, featured a woman wearing a hijab modeling their famous skirt leggings on their Instagram. Not all reactions to this post were positive. However, Mimi and Mushky stood with their decision and continue to bring style to women of all religions and culture. On a recent Instagam post, the designers said, "We are proud that our business is building bridges, serving as a neutral territory for two religions so seemingly 'at odds,' to create some positivity, some light… The Muslim women we have met through our business have moved us with their kindness, warmth, support — and yes, their beliefs." While Mimu Maxi is a very small brand, mainstream labels are beginning to jump on the bandwagon.
Dolce & Gabbana recently debuted a very fashionable line of hijabs and abayas. Every piece is jaw-dropping gorgeous. The collection debuted on Style Arabia and the story was picked up a huge list of major news outlets from Time to Vogue and even Vice. Suddenly, it's become about more than fashion.
Last summer, American-as-apple-pie brands Tommy Hilfiger and DKNY launched Ramadan collections. As did Oscar de la Renta, Monique Lhuillier, and even the affordable Mango and Zara. Some of the lines are limited edition or only available in certain locations, but the very fact that these designers are choosing to make clothing for Islamic women, has an impact. While it taps into a big market that is projected to spend $484 billion on clothing and footwear by 2019, it also takes a stand against hate.
Muslim women are also becoming important players in the blogosphere. With universal appeal, it is best to describe most of these women as bloggers who just happen to be Muslim. One of the most popular of these bloggers is Dina Torkia. She is a fashion and lifestyle vlogger boasting nearly 900k Instagram followers. She also designs head scarves as well as clothing; Torkia even had a limited-edition collaboration with Liberty of London, a brand that once collaborated with Target. Amena Amenakin is another Islamic vlogger worth noting. Her beauty tutorials cross all cultural barriers. She also designs a chic clothing and head covering line called Pearl Daisy.
So, while I missed out on telling the woman who so generously gave me a maxi pad in the bathroom at Bloomingdales how beautiful I thought she was, I'm now hopeful that one day the whole world will tell her.