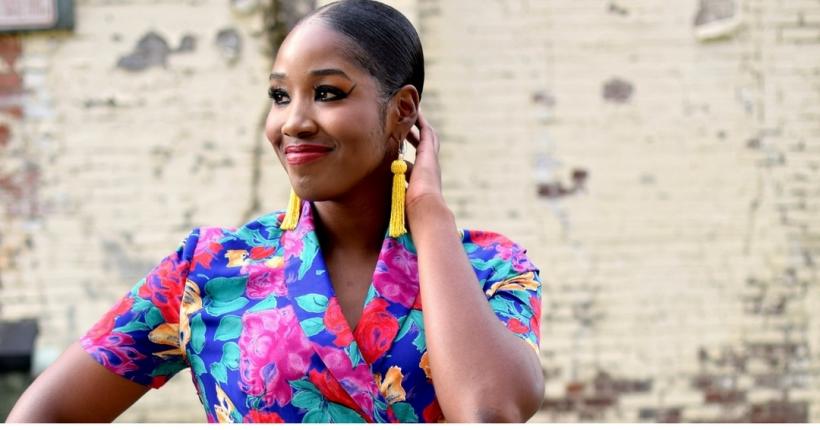 Mya Price of More Than Your Average (Photo by Sarah Caton)
Big babes all over the world, we must rethink how we shop. While finances may be tight this tax season and throughout the year, there are things that we can do to reduce our impact on the world around us and look fabulously stylish while we do.
It's time to get yourself to a thrift store!
While it may not seem particularly groundbreaking, reviving throwback trends can be soothing to the soul. Think of it this way: we didn't get to see happy, empowered plus-size bodies in these styles during their heyday. Think of all of the big-bodied flower children who didn't get to wear what they wanted because of sizeism and fatphobia. While we still very frequently fight these problems today, we're leaps and bounds ahead of where we once were. Let's celebrate that by righting the wrongs of fashion's past. 
With the 90s revival going strong, there are plenty of options out there. If you want to go deeper, rock the 90s-does-70s throwback-on-throwback trends that are easily mixable — instead of Love Bugs, think Volkswagen Beetle 2.0.  
By rocking genuine revival style and shopping vintage, we are recycling in a super chic way. A recent study shows that each year Americans throw away approximately 81 pounds of clothing.That builds up to a staggering 26 BILLION pounds of textiles that end up in the landfill, which could have been recycled. Even fabrics from yoga pants and other stretch materials are being found in the livers of fish, polluting our oceans past the point of return. 
Thrift stores not your style? Organize a clothing swap between you and ten babes approximately your size. Make it a potluck and have everyone bring a bag of clothes to sift through. Build community while building your wardrobe and memories that you'll take with you. Do it indoors or set up several blankets on the lawn to lay everything out by size and "type": pants on one blanket, tops on another, and so forth. (Pro-tip: wear a cami and leggings to switch in and out of clothing quickly and easily in public.)
With a little bit of hunting, you can help build a wardrobe full of thoughtful pieces that you will love for many years to come. Check out these Nine Thrifty Divas to get a bit of inspiration. 
1. Laurel Dickman (@laureldickmanwrites)
Yours truly grew up thrifting, whether I liked it or not. My hatred of thrifting soon became a passion as I grew into a teen and realized that I had access to decades upon decades of fashion history and funky pieces at my fingertips. While it is trickier at a 24+, you can still find great pieces and organize your own swaps. This piece was found at a swap in SF!
2. Astra Marie (@funkychunkyy)
Long Beach fashionista Astra Marie has thrifted about 90% of her wardrobe! This babe's hashtag #thriftedandgifted is a treasure trove of fabulous ideas about how to thrift intelligently and embrace statement pieces as well as maximizing staples.
3. Jen Wilder (@unitedstatesofla)
Half of Los Angeles vintage plus boutique, Jen Wilder, shows off a fabulous boho look. Vintage shopping is great if you're into boho style. Look for embroidered details, beading, fringe, and don't be afraid to layer textures and opacities. 
4. Jacqueline Whitmore (@chubbydustbunny)
Utah-based vintage boutique owner Jacqueline Whitmore poses in a gorgeous vintage trapeze dress find from her pals at Proud Mary Fashion. Fabulous silhouettes like this can be found deep in the racks. Keep looking for your wardrobe unicorn!
5. Mya Price (@morethanyouraverage)
Mya Price is more than your average everything. This super tall fashionista styles all bodies in slick vintage styles great for every shape. 
6. Britteny Riordan (@luvsickplus)
Plus-size vintage owner Britteny shows off a fabulous pair of denim cut-offs. PRO-TIP: Thrift for the perfect pair of shorts! Grab a pair that fits great in the waist but might be good short and give them the old slice and dice. Create the perfect pair of cut-offs for the season. If you're feeling a little bare, just toss on a sheer "kimono" to add a little coverage. 
7. Jessica Rihal (@round_the_way_girl)
Thrift for breezy sundresses (as seen on Jessica) and distressed denim staples. If a jacket is the right wash and a close fit, take it home and cut the sleeves off to turn it into a great denim vest. Jessica's may not be thrifted, but they are excellent examples of great pieces to keep an eye out for when you are scouring the racks. 
8. Dreamboat Annie
One of the original owners of Portland's amazing Fat Fancy vintage clothing store, Dreamboat Annie is an awesome vintage fashionista as well as a brilliant life coach. 
9. Vintique Noir (@vintiquenoir)
The megababes at Vintij by Marqui show off gorgeous all-black looks in a curated collection called Vintique Noir. This collection is a great example of how not all retro looks have to be acid bright — there is plenty to choose from in black and neutrals. Plus, you can always dye vintage pieces to meet your needs!
---
Related: