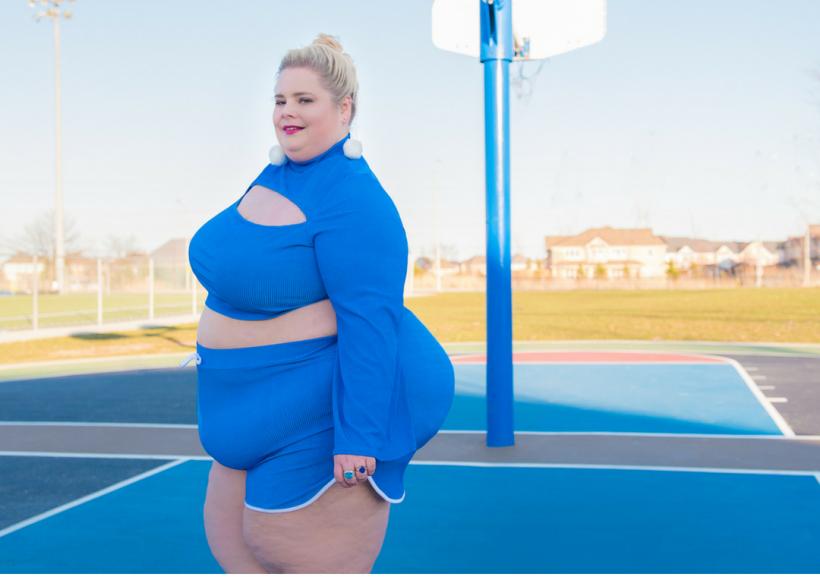 Lisa Schoenberger of Mustang Sally Two. Photo by Rebecca Northcott Photography.
Shorts are arguably the most terrifying piece of clothing in a plus-size closet that isn't shapewear or something equally restrictive.  How can something so seemingly innocuous be such a literal pain in the ass? 
We've all been there. The wrong pair gets bunched up in front, looking as though your crotch has slowly begun devouring them. If they don't get the front bunch, they ride up the rear... inching closer to oblivion. 
Too long? They may as well be capris. Too short? They become uncomfortable underwear. 
Classic and timeless linen shorts with white cotton tanks tied at the waist. Shiny metallic booty shorts with fishnets beneath them and lewd t-shirts cropped below the chest. Retro daisy dukes with hippie halters and fringe vests. Colorful retro gym shorts and tall socks to show off their shapely calves. So many of these fabulous looks have taunted me my whole life, seeming so far out of reach. 
I can think of many times that I have eyed the beautiful shorts of my thin friends, regardless of gender. As a teen growing up in the south, I spent many days sweating in the cage of my jeans as while my friends walked around bare legged and free during the oppressively hot and humid dog days of summer.  
Some of us avoid shorts because of our cellulite which we have not yet come to embrace or accept. Others of us get tired of trying to find the right pair only to walk out of the store empty-handed every time. While I was extremely self-conscious of my plus-size body, I was also deeply averse to chub rub and would not happen upon the miracle that is Body Glide until my thirties. Even if we do find the perfect pair of shorts, many of us have no idea what to do with them because it has been so long since shorts could even be considered as an option. 

Make this the summer that you say "fuck it." This is the summer that you get out there, find a pair of shorts, live your life, and look and feel fabulous. Try one that doesn't fit? Remember, it's not your body. There will be others. Get tired of searching for the one? Take a pair of pants that work for you and make your own or have a seamstress cut them to your body. You can and will have the perfect pair. 
Check out these eight fashionistas as they not only wear shorts but absolutely kill the fashion game. From old school gym shorts to cutoffs to rompers, these looks are versatile and totally ready for you to make them yours!
1. Laurel Dickman (@laureldickmanwrites)
Finally facing my fear and/or bias against shorts by rocking these old school "gym" shorts in my backyard. At 6'1'' they might be a little too short for my comfort in public, but these are definitely my trusty go-tos for around the house and yard as well as a quick pool switcheroo. 
2. Ivonne Alas (@ivonnealas_)
Makeup artist Ivonne Alas rocks the cutest cowgirl look at the Stagecoach Music Festival, California's massive outdoor country music fest. You don't have to wear daisy dukes to rock a pair of boots with shorts. These deconstructed bermuda shorts are the perfect length to protect against chub rub during a long day at a festival or any other outdoor event!
3. Hayley Herms (@hayleyhermsofficial)
How perfectly sunny is this super cute retro athletic look? We'd be smiling like that, too, if we were sitting beach side with a tropical drink! Model Hayley Herms rocks this perfectly sunny pair of shorts with matching shirt as she vacations in Hawaii. 
4. Saucye West (@saucyewest)
Plus-size model Saucye West gives the camera her smize as she smolders in this unexpected but sexy denim overall and thigh-high combo. Over the last year, several plus-size brands have released denim overalls specifically made to accomodate a multitude of shapes. 
5. J Aprileo (@comfyfat)
J chills out lakeside in a pair of super comfy shorts and classic striped tank. Nothing says comfy quite like this look. And, well, J IS the expert on ComfyFat. 
6. Jeffrey-Thomas (@fshnicn)
Proof that you don't have to wear a full-length of leg to look dapper AF. Jeffrey-Thomas shows us how to do it with the perfect colorful blazer and the right accessories. Whatever gender you may be, don't be afraid to put your spin on this look. 
7. Jagger Blaecc (@basic.blaec.girl)
Photographer Emily Bernard-Stevens captures writer and yogi Jagger Blaec as she poses in a beautiful warm orange romper at Portland's Skidmore Bluffs. Embrace your body and give yourself the freedom of a pair of shorts.
8. Kate McHugh-Westfall (@high_five)
High-waisted? Check. Simple? Check. Perfect length? Check. This perfectly classic look is anything but "basic." Cop it. Do your own take. Just live your life in the perfect pair of shorts.
---
Related: