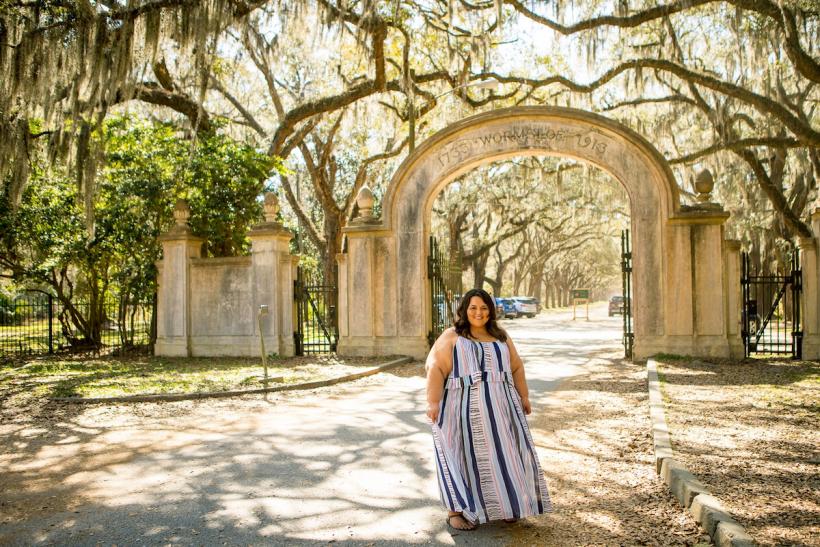 Miranda Schultz of The Plus Life Blog by Kevin Schultz of Schultz Images
Love them or hate them, we are now in wedding season. For many of us, it means we need to find the perfect wedding guest look. 
From formal to breezy sundresses, dapper to casual, every wedding has its own vibe, and your look as a guest should reflect it.  An indoor evening reception has completely different attire requirements than an outdoor reception in a picnic area or backyard. A Catholic service will typically be longer and more formal than a non-denominational service and might suggest higher necklines and lower hemlines.
"As a wedding guest, you don't want to be a spectacle," Bay Area plus-size stylist Malia Anderson tells Ravishly. "Think about your location and the wedding colors. You never want to stand out and take focus from the couple. When they look at wedding photos, they want to see you, not SEE you."
A couple of great things to remember when picking out your look? When in doubt, keep it timeless. Wearing black is much more acceptable at weddings these days, which means that the Little Black Dress is now an option. If you want to play it safe so that you don't offend stiff relatives who may have not evolved with the times, replace the LBD with a navy sheath or A-line. 
"You can be very stylish and rock your own style without being out of sync with the wedding," Anderson adds. "In the past, weddings were so stiff and buttoned up, but people tend to have more fun now."
PRO-TIP: To look like you are truly part of the celebration and in-the-know, dress within the wedding's chosen palette. You'll blend in perfectly with the celebration, the newlyweds will appreciate your consideration, and you'll look fabulous with the setting and decorations. 
Check out these six plus-size fashionistas as they rock the perfect wedding guests looks, from boho maxis to velvet suits. 
1. Tiffany (@policyandfashion)
Many brides and grooms are opting for more casual outdoor weddings. This beautiful floral maxi worn by Tiffany of Policy and Fashion is a great example of a look that would be perfect in a mellow beachside or forest wedding. 
2. Jay Miranda (@pinklip) 
Fashionista Jay Miranda rocks a beautiful blush and subtle babybump in this ruffled piece by Frankie and Dash. Soft, feminine, and a beautiful color that looks fab on almost everyone, this piece is a great option for just about anyone who loves soft looks like this. 
3. Malia Anderson (@stylebymalia)
Bay Area stylist Malia Anderson rocks one of this season's favorite jumpsuits. Using a tropical botanical print, you can channel floral without being too girly or precious. You get the "put together" look of a dress but the ease of pants, making this a fabulous alternative the usual dress. Jumpsuits are fabulous for people whose gender ID leans away from dresses, too.
4. Ana Pizarro-Pérez (@theduchessana)
Spanish blogger Ana Pizarro-Pérez shows us how perfectly crisp a black and white formal suit can look, no matter your gender representation. Perfectly dressy for anyone in any body, a classic suit is always appropriate. 
5. Shaina Tucker (@thickgrlscloset)
Shaina Tucker wears a gorgeous blouse and skirt combo. Tucker incorporates a bit of gorgeous, colorful style and heritage with this waxcloth top and vibrant clutch paired with a classic pencil skirt. This outfit is perfect for cocktails, brunch, or will work as a great wedding guest look.
6. Leanne Zimmermann (@leannezimmermann)
Australian curve blogger and professional wardrobe stylist Leanne Zimmermann shows an alternative to the suit-and-tie for an edgier but still dressy look. No matter how you ID, this look is a classic choice for all bodies.
---
Related: