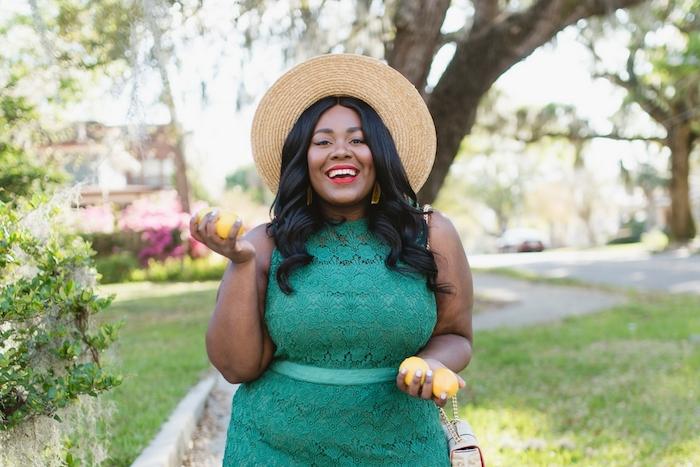 Thamarr of Musings of A Curvy Lady (@musingsofacurvylady) || Image by Lily Larson Photography
When people think of millennials and their supposedly "frivolous" ways and changes to culture, one of the first things that they make fun of is their penchant for brunch. Though if you want to get real, it's nothing new; brunch has been boujee since your rich aunt was your age. We're just doing it better.
We get it. A lot of people will pay $10 for avocado toast at the "right" spot, and that can seem really silly. That being said, it's a great way to get together with your friend group in a way that does not automatically center alcohol. Sure, there may be an option for bottomless mimosas and a bloody mary bar, but these are choices that you get to make for yourself without your social event completely centering the consumption of booze. How many nights out can you say that about?
When you're doing something in the middle of the day, it holds you to a higher standard of accountability. Quite frankly, we've got shit to do. Most of us don't have the luxury or desire to get blasted at noon, which is why a brunch date with your friends can be a better option than going out for nighttime cocktails. Plus, it's also more accessible for your friends who choose not to drink and may even be in recovery. Even moms, who are often left out of the night time fun, can often make a brunch hangout work.
Making brunch a "place to be" gives you a whole new way to show off your favorite looks. You can channel a whole new kind of glam, or a stylish casual look that might not otherwise be the right choice. When you do brunch, you often get to pull from a whole new palette of colors, as well. Pastels and other gentle tones might not work for a smoldering club-ready look, but they are right at home among bright sunshine and tabletop blooms.
Don't get too caught up in playing by the rules, though. Toss on a vampy lip to toy with expectations, or pair a sexy bit of mesh with an otherwise tame look. Make the look as unique as you!
Check out these 11 plus-size fashionistas as they show us how to do brunch.
1. Kat Eves (@styleethic)
Stylist Kat Eves shows that you don't have to save bold lips for night. Rock an unexpected color combination with a deep lip and this flowing dress. Give your feet a break from the night before and rock a great pair of tennis shows under your maxi!
2. Chenese Lewis (@cheneselewis)
Need something sunny and bold? Try a large, abstract graphic print like the one that Chenese Lewis is wearing here. So many gorgeous colors to choose from, you can pick one from the dress and play it up with different accessories and makeup.
3. Allison Teng (@curvygirlchic)
Curvy Girl Chic's Allison Teng always serves perfect springtime looks. This navy floral dress is no exception to the rule!
4. Francis Dive (@youmeandfashion)
Bay Area blogger Francis Dive looks every bit the perfect spring diva in this casual denim-and-blouse combo.
5. Jessica Hinkle (@jessicahinklestyle)
Jessica Hinkle of Proud Mary Fashion rocks a super sunny belted jacket over simple jeans and a tank. Toss on a pair of strappy sandals and oversized sunnies for a perfect brunch look.
6. Jenny Horror (@jennyhorror)
Once again, coming through with a bold lip. Paired with a classic gingham, this look turns "ladylike" and "girly" expectations on its head and makes us re-examine preconceived notions of femininity.
7. Thamarr (@musingsofacurvylady)
Thamarr wears a beautiful green lace sheath in this perfectly springy dress. Check out her shoes — the cutest peep toe heels!
8. Chaya Milchtein (@mechanicshopfemme)
Chaya shows off a bold dark floral look perfect for any occasion, but especially great for hiding any potential brunch time coffee spills, which means that these pieces will remain vibrant and viable for much longer.
9. Kate McHugh-Westfall (@high_five)
What has the ease of pants but the flow of a dress? Why, jumpsuits, of course! Play it up super feminine or make it more androgynous… whatever the mood strikes, this great black-and-white cropped jumpsuit is perfect. To make it a bit more "springy," you can toss on a bright jacket, sweater, or wrap and some vibrant accessories.
10. Adrienne Nichole (@adriennenicholexo)
The cutest sunbeam there is, Adrienne Nichole rocks this adorably retro-meets-modern dress in sunshine yellow. Take it in a million different directions by playing with accessories to shift the vibe of this great spring piece.
11. Kristen Plus (@kristenplus)
Echo Park baby Kristen rocks a cute floral jumpsuit perfect for late morning brunch or happy hour cocktails by the pool.
---
Related