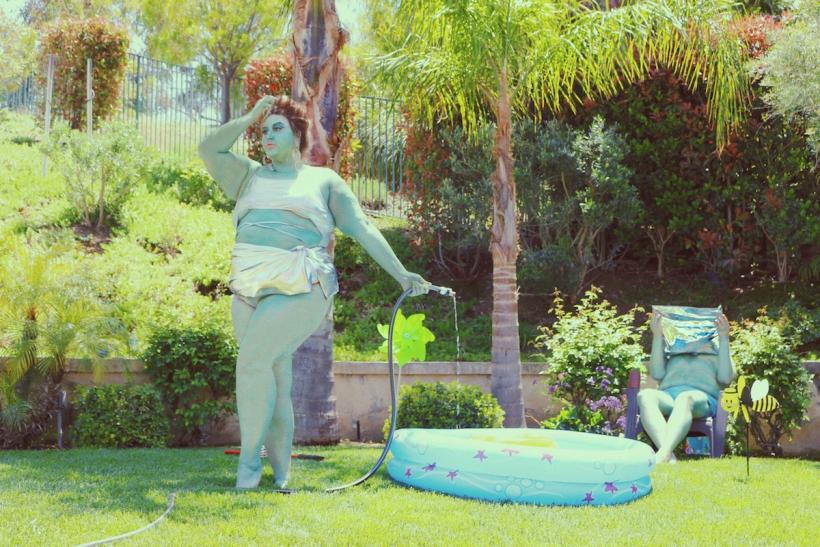 Brianna McDonnell by Photographer Logan Allison. Makeup by Michele Miguel.
It's that time again. Everyone's fretting about having a "beach body," regardless of if they actually plan on stepping foot near a beach or even just a pool. The neverending body-image anxiety is utterly exhausting, tiresome, and toxic. Self-loathing is so 1995 and starving ourselves to fit into an item of clothing is a trend that should never return.
Say it with me now:
All bodies are beach bodies.
All bodies are beach bodies.
ALL bodies ARE beach bodies.
Just put a bathing suit on that sexy MF and go to the beach!
Now that we've got that little pep talk out of the way, OH EM GEE… what to wear? Well, friends here's the fun part. Once you set the self-loathing aside and really just get into the fashion part of it, the world is your oyster.
Fat babes are no longer relegated to muumuus and skirted swimsuits. We have fatkinis (higher-cut swim bottoms with various tops), string bikinis (yesssssss, bitch!), monokinis, stylish one-piece suits that don't try to hide our bodies, and awesome gender-neutral one-piece suits and burkinis that allow people to comfortably exist no matter where they fall on the spectrum of gender or modesty.
We spend so much of our life trying to eliminate things and creating arbitrary boundaries and boxes to fit into. What if we just started saying "yes" to all of the harmless things that scare us. "Yes!" to the swimsuit that you've always wanted. "YES" to the skirt that you worry shows too much leg. "YES!" to the dress that you love, but it shows your arms.
This summer, stop making yourself uncomfortable to please people who ultimately do not care about you or truly factor into your life. Love your beach body and do what feels good.
These nine babes are already living the good life in these amazing swimsuits. Surf's up, bitches!
1. Briana Hernandez (@mamafierceblog)
LET IT BOUNCE. Petite plus-size blogger and Ravishly contributor Briana Hernandez jumps for joy in a killer monokini.
2. Simone Mariposa (@simonemariposa)
Simone Mariposa rocks a stunning bronze one-piece that serves as the perfect nude for her flawless complexion.
3. Brandon Sparklz (@brandonxsparklz)
Gorgeous Portland-based Pakistani-American makeup artist Brandon Sparklz rocks a gender-neutral one-piece on Sauvie Island.
4. Randalin (@love.randalin)
Randalin lives her life openly and honestly as she discusses living with lymphedema and the struggles that come with it.
5. Kelvin Davis (@notoriouslydapper)
Body-positive writer and always dapper Kelvin Davis celebrates his body as he dances in front of the camera.
6. Michelle Ellman (@scarrednotscared)
Body-confidence coach Michelle Ellman tells it like it is: "I don't know why your looks are meant to make me feel shame. I don't know why your stares are meant to make me hate my skin. I don't know why you hate my body so much, but I refuse to join you."
7. Camelia Sealy (@cameliasealy)
Beach queen Camelia looks like a perfect tropical flower with her gorgeous pink look. Not afraid to stand out, this perpetually pretty-in-pink bopo babe looks amazing in her vibrant two-piece look.
8. J Aprileo (@comfyfattravels)
BEEFCAKE! J Aprileo rocks an androgynous, 1920s-inspired swimsuit made for comfort for any and all genders.
9. Laurel Dickman (@laureldickmanwrites)
Because rocking a monokini down the runway is both the most exhilarating and most terrifying thing that this writer has ever done.
---
Related: