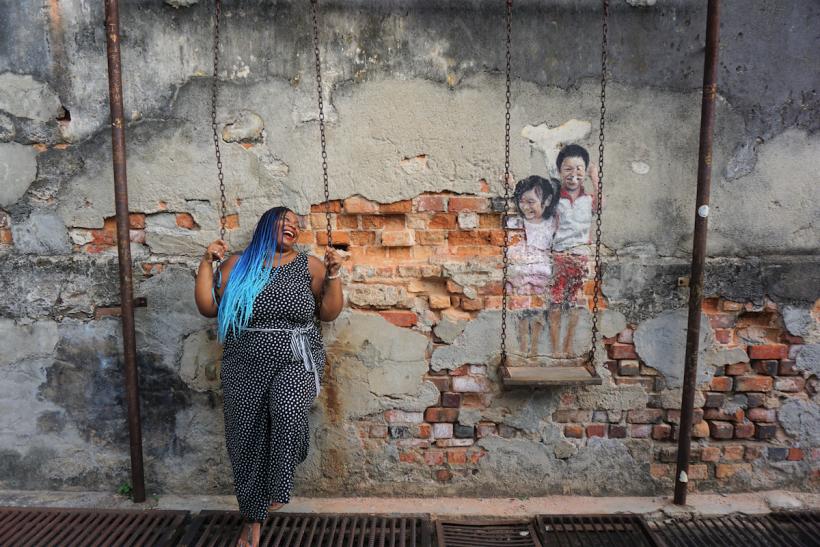 Photo courtesy of Annette Richmond
When we think of vacations, we're usually fantasizing about the feeling of wind blowing through our hair and fabulous destinations — not how to cram all of our stuff into our suitcases. For plus-size travelers, packing can be a colossal headache. 
The larger the plus-size body, the more fabric each garment takes and if your body is anything like mine, packing for a vacation can be a nightmare if it isn't well-planned. While our tiny friends may be indulgent when it comes to packing a large suitcase, many of us require that same amount of storage for far fewer items. 
As more and more airlines require customers to pay per bag, it's unfair to plus-size customers who genuinely need the extra space to pack. To get around this, we've got to be a little smarter than the average flyer and fat-hack our way to success. 
Next trip, be it vacation or work, don't stress yourself out. Check out these tips and fashionable examples to make your life a little easier and a bit more stylish.
1. Yours truly makes maxis do double-time. (@laureldickmanwrites)
If you take anything away from this article, make it be two things. First, don't become ruled by your wardrobe and remain in the "now" while vacationing. Second, make every item multitask. Nothing you pack should be only for useable for one look.
The maxi that I am wearing in this photo is a thin, fast-drying rayon blend which is easily washed in a hotel sink and hung to dry. I can easily toss a graphic tee or tank and wear as-is or tie at the waist to cinch more waist definition to this relaxed column silhouette. The other piece shown is an olive button-up tunic which is easily unbuttoned and tied for an entirely different look or worn buttoned up over leggings or cropped wide-leg pants.
This look is a perfect example because it incorporates two multitask pieces which are great on their own but even better together.
2. Chastity Garner-Valentine makes a dramatic entrance with chiffon. (@garnerstyle)
You know that beautiful, flowy sheer fabric that your favorite stylish swim coverup is made of? Well, it's likely the same fabric as one of your favorite scarves. Don't be afraid to treat it like one, too. Take the look from poolside to tableside by tucking the sleeves in and simply draping it around your neck as you would a scarf. No one can see the sleeves, and it will just look like a long, fabulous, statement piece — only you know it's doing double-time.
3. Anita Wilson keeps it classic. (@msanitawilson)
When in doubt, keep it simple. The classics are classic for a reason. Easily remixed, dressed up or down, and always appropriate, your classic Little Black Dress can make you stand out in a crowd of people always trying hard to be seen. Singer Anita Wilson rocks the perfect black pencil dress in this understated but head-turning look perfect for everyone.  
4. Charlotte Zoller extols the virtues of the jumpsuit. (@nearandchar)
Charlotte Zoller and several other women try on the same jumpsuit in this great video. Jumpsuits may seem like they aren't that versatile, but hear me out: they can be your best friend. You can slip a shirt, bodysuit, or bandeau beneath them to switch things up, toss a tee or tunic over them to pretend they're just pants or dress up/down with the right sweater or jacket, accessories, and shoes. Think of them as a maxi dress with crotch coverage.
5. Scarlett Hao shows us how necessary our fave jeans are. (@scarletthalo_)
Debating on leaving the jeans behind in lieu of more space? Don't do it. Sacrifice the space with another voluminous piece, but make sure to pack your perfect pair. Scarlett Hao shows just how key the perfect denim silhouette is in this great throwback look.
6.  Suma Jane Dark embraces the black and white minimalist options. (@sumajanedark)
You know what won't make things confusing? Keeping very simple, easily paired color options available to mix and match during your vacation. When in doubt, keep it to black, white, denim, neutrals, and maybe a couple of splashes of color or patterns. Minimalism is popular because it keeps so many people calm and directed amidst so many of life's other choices.
7. Annette Richmond keeps accessories utilitarian but stylish. (@fromannettewithlove)
Make your accessories work for you, not against you. Annette Richmond of Fat Girls Traveling and From Annette with Love recently toured Southeast Asia over the course of several months. In this epic long trip, she did not allow herself to become bogged down by things, but instead remained open to everything around her and became a master at remixing looks. This trendy fannypack (yes, fannypack) was as utilitarian as it is stylish.
8. Anindita embraces being in the now. (@theplusgirl)
Southeast Asian plus blogger Anindita emphasizes the importance of comfort in this important post where she discusses how she ditched her corset which she bought specifically for beneath this dress to enjoy brunch with friends and just embrace her body as-is.
Don't get lost in your wardrobe while traveling; live in your clothes, but don't let them dictate your experiences and being present and in the moment.
---
Related: