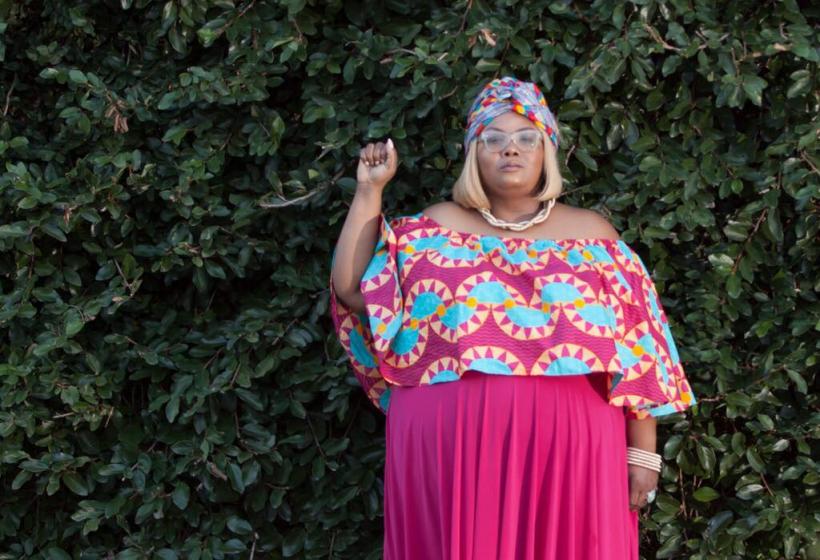 Photo from Maui Bigelow. Follow Maui on Instagram @phat_girl_fresh
Last weekend, Black Panther premiered across the nation, providing much needed Black representation across theatre screens everywhere. The beautiful ode to Black unity astonished naysayers and enthusiastic fans alike with a record-breaking premiere weekend with global ticket sales estimated to be at $520 million dollars for opening weekend between Friday and Monday, according to global media analysts at ComScore.
Anyone walking through the enthusiastic crowds at movie theaters — or even just browsing Twitter — instantly knows that it is more than a film, it is a cultural event.
As you pass through Black moviegoers in beautiful African clothing, it's important to remember that no, this is not "just like Star Wars," as some well-meaning people have tried to argue when critics have accused fans of being too "extra."
While this is a sci-fi superhero flick, a great deal of the story is rooted in actual African cultures and incorporates it within its depictions of gender equity within the peaceful, technologically advanced society of Wakanda as it delves into much deeper topics of identity, cultural dysphoria, and unity.
This is not Star Wars or Harry Potter.
"Some of us dressing up for Black Panther is cosplay. I love a good costume, but I also want people to understand that the African and African-inspired outfits and accessories many people wore for opening weekend are things we already had because they are already part of our fashion aesthetic," plus-size blogger Tigress Osborn explains to Ravishly.
"Not everyone went out and bought special outfits for Black Panther. I already had everything I wore for my 3-Day Weekend in Wakanda. I made a point of doing something with all of it this weekend because I felt moved by the collective energy of so many of us wanting to show Black Pride while supporting this movie; if you give me a theme, I will rise to the occasion," Osborn says. "But understand you can walk around Oakland any day of the year and see someone in a Kente Cloth head wrap. And you can see amazing fashion from and inspired by Africa all year round — like, did y'all see the dress Cherice Jackson put me in for #CelebrateYourBody last year? So when people say it's no different than Star Wars fans going to their movie premiere in costume, that's simultaneously true — let people have their fun — AND an oversimplification of what happened."
Black Panther has brought out some of the most outstandingly beautiful, culturally-rich fashions of any fandom to date. This week, we dedicate our style column to the beauty, creativity, and sheer brilliance of this enthusiastic fandom as they declare their style and so much more with #WakandaForever.
1. Tigress Osborn (@iofthetigress)
Bay area blogger, activist, and fashionista Tigress Osborn celebrates in this gorgeous orange and black look.
2. Maui Bigelow (@phat_girl_fresh)
Bold fashion blogger Maui embraces a vivid spring color palette with this off-the-shoulder look paired with a circle skirt right down to her beautiful metallic shoes. Check out her IG for more #WakandaForever looks.
3. Marie Legette (@thecurvyfashionista)
The Curvy Fashionista herself sports a perfectly sleek coordinated three piece look with this gorgeous subtle homage.
4. Kavah King (@gentlemenscurb)
While this look may not have been from the premier weekend, this absolutely stunning hooded dashiki is in perfect company within this roundup of gorgeous looks.
5. Brenda S (@bsenyana)
Tossing on the right statement piece changes a simple outfit into something utterly outstanding. Brenda shows us how to do this perfectly with this beautiful ankara print poncho.
6. Jayde Imani P (@jaydeimanip)
Atlanta fashion blogger Jayde Iman slays in royal blue and yellow with matching shades and lips in this unbelievably gorgeous ensemble.
7. Gavyn Taylor (@thegavyntaylor)
Curvy fashionista and YouTube personality Gavyn Taylor wears beautiful Ankara fabric in teal for a vibrant update on a simple halter dress.
8. Khalilah (@therealkhalilah)
Curve fashionista Khalilah looks like she belongs upon a throne herself in this spectacular royal blue piece.
9. Courtney Noelle (@courtneynoelleinc)
Fashion designer Courtney Noelle, best known for her outstandingly beautiful sequin and velvet evening gowns, looks incredible in a custom piece of her own design.
10. Rebecca Jeannick Ndawana (@forbiddenvanity)
Rebecca mixes styles perfectly in this showstopping look made sexy with a high slit and leather motorcycle jacket.
11. Melle Fortune Turner (@naturally_melle_marie)
Natural hair and plus-size fashion Instagrammer Melle rocks a gorgeous golden dress while sitting upon a replica of the Wakandan throne, looking like the regal fashionista that she is. 
---
Related: