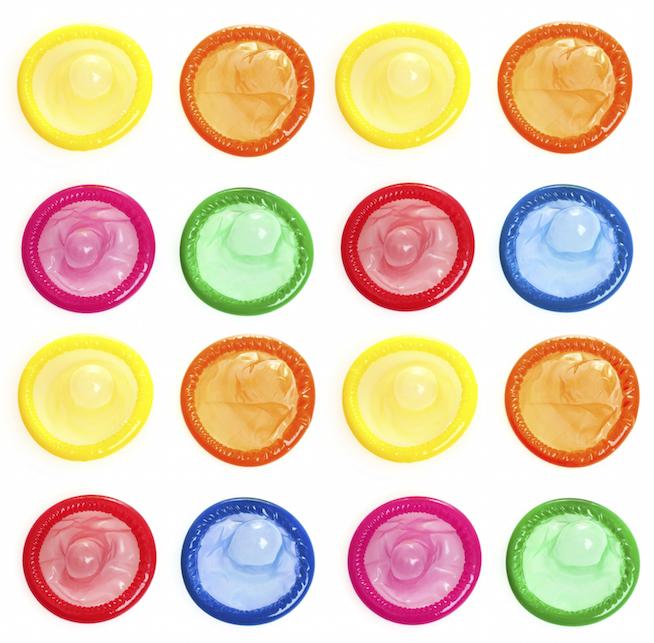 Valentine's Day may be over, but it definitely isn't the only way to celebrate love this month. Keep the love coming with some steamy, safe sex. February is National Condom Month, after all.
The Center for Disease Control (CDC) has put estimates for new occurrences of Sexually Transmitted Diseases (STDs) at 20 million annually. That's 38 per minute. Their 2015 paper, Reported Cases of STDs on the Rise in the U.S., showed diseases were on the upswing. The big three: Chlamydia, gonorrhea, and syphilis hit the age ranges of 15 to 24 the hardest. As Dr. Gail Bolan, director of CDC's Division of STD Prevention, pointed out, "Because Chlamydia and gonorrhea often have no symptoms, many infections go undiagnosed and this can lead to lifelong repercussions for a woman's reproductive health, including pelvic inflammatory disease and infertility."
The American Sexual Health Association (ASHA) believes that safe sex can be had by all. The key is awareness, a proactive attitude, and self-care. Their site hosts a series of videos from the history of the condom (use goes back to 3000 B.C. in ancient Egypt) to how to properly use one.
The condom, when used accurately, has an efficacy rate of 97 percent protection against pregnancy. New textures, aromas, and sizing options have created plenty of choices.
Top points from the ASHA included:
Discuss your desire to use a condom before any sexual contact transpires.
Don't count on your partner having a condom available. Bring your own!
Check the package for an expiration date (You do it for milk!).
Remember that with the exception of Lambskin condoms, all others protect against the transmission of HPV, herpes, syphilis, and chancroid which are spread via skin to skin transmission.
Female condoms are also available, benefiting women with the option of autonomy and control. Insertion can be up to eight hours prior to sex. Excellent for protecting against herpes and HPV, they are made of nitrile and are odorless and non-allergenic. When used properly, the female condom is 70 to 82 percent effective. A box of 3 at $5.99 is cheaper than a latte!
In late January, the dating app Tinder got on the bandwagon for safe sex. Regardless of the backstory of how and why it happened, the bottom line is that they have partnered with the cloud based platform Healthvana to direct users to a designated "Health Safety" section. This leads to the Healthvana portal, which pinpoints nearby clinics for both STD and HIV testing.
I spoke by telephone with Ramin Bastani, CEO of Healthvana. He gave me an overview of their no-cost service. "You need to meet people where they're at," he emphasized. "50 percent of all new [cases of] STDs and HIV are under 25." He noted that this demographic is "on their phones all day long." Bastani underscored that CDC stats showed that the bill was $16.9 billion per year in heath care fees for STDs alone. He spoke about the importance of a "tech approach" to "eradicate" the spread of disease, and Healthvana's role in patient empowerment and communication. Their service makes it possible for patients to get test results from a smartphone, tablet, or computer.
Using tools that Bastani said "look and feel similar" to the types of formats used online every day, the Healthvana navigation for finding a clinic is both clear and intuitive. There are drill down tags for Youth, LGBT, Women, and Free Services. It's easy to compare providers thought the use of these filters. When I did a search in my area, Planned Parenthood locations came up with the greatest number of hits (Congress, please note!).
Considering that Tinder gets 1.4 billion swipes daily in 196 countries, the call for awareness about protected sex is welcome. The over one million cases of chlamydia, syphilis, gonorrhea, and other diseases is happening to someone.
Condoms are about advocating for your health and self-protection. You can always be prepared by carrying them in your purse. (Check out the Just In Case products. I wrote about them in 2009, when they were getting their condom carrying cases launched.)
Remember, folks: it's your right to ask your lover to suit up!