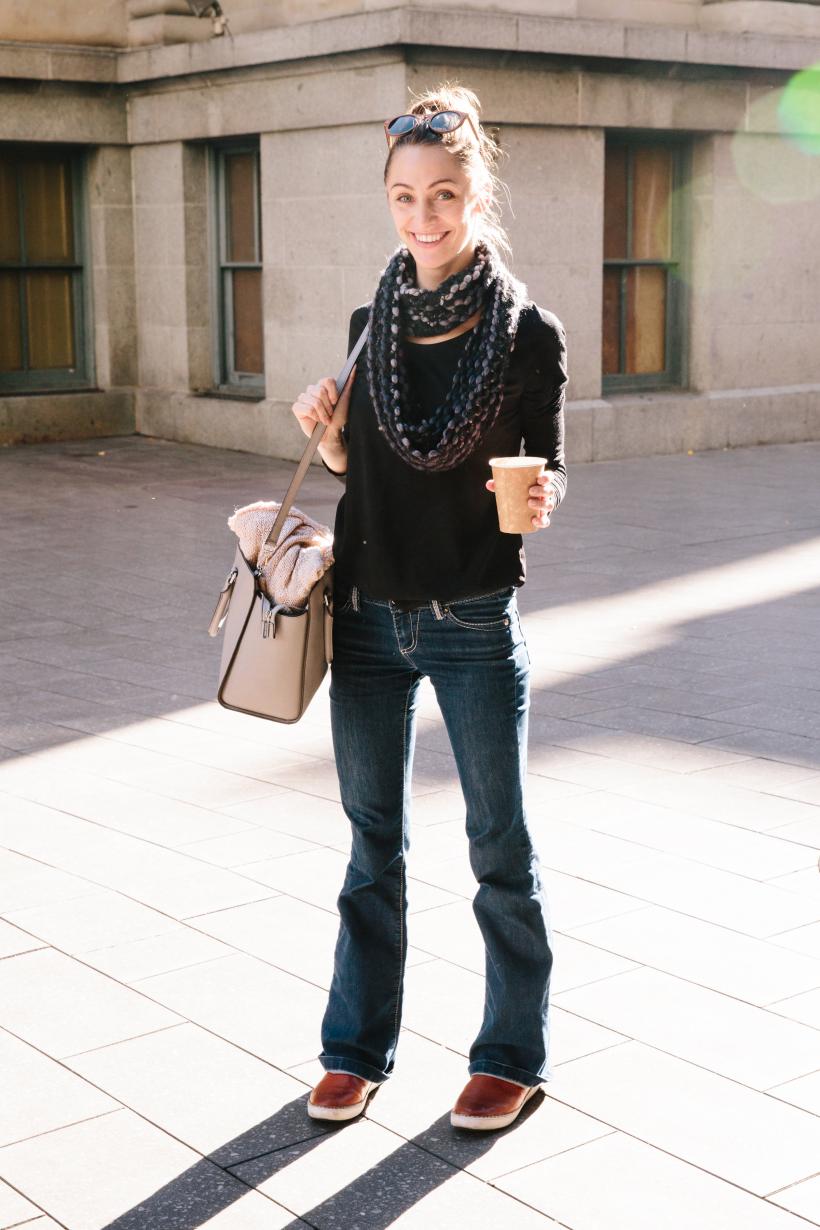 Spotted in: SOMA, SF
Occupation: Ballet Dancer
What are you up to today?
I used to live in San Francisco, and now I live in Denver, Colorado. So I'm visiting from out of town. I went to school here for ballet, I got my BFA in dance around the corner here at Alonzo King LINES Ballet. So I just took ballet class today with my favorite teacher from school, and now I'm waiting for a friend and we're going to go to Marin and eat at Sol Food.

Ahh that's a great place!
I've missed it! I haven't been back for a year and a half.

What do you usually order?
Ok, the thing to get is called the Bistec Sandwich. It's a pressed sandwich with ciabatta bread and slices of steak and avocado, and then the Sol Food spicy vinegar sauce. With some plantains. It's to die for—it's so good.

How long are you visiting in town for?
I go back to Denver on Wednesday evening and I've been here since Friday, so it's been a nice little five day situation.

What have you covered in the Bay Area so far?
Oh my gosh, I'm with a friend that has never been here so I took her to the Embarcadero and we went to the Good Food Awards. Every year they vote all over the country on the best foods. The best charcuterie, jams, cheeses, and then all of the winners get award called the Good Food Award. And then they have this little marketplace where you pay $5 and you can try all of the ones that won.

Whoa I'll have to check that out!
You have to go, it's really cool. So, I took her to Embarcadero, I took her to the Presidio, we walked through Chinatown, what else did we do? I'm staying on Divisadero and McAllister so we're kind of up on that side of town. We went to the beach for a little bit. So yeah, I've kind of been all over. Went out in the Mission, like you do. Ate some German food.

Where do you like to eat German food?
My favorite restaurant—there's two sister restaurants. One is called Walzwerk, and the sister restaurant is called Schmidt's. So we went to Schmidt's. My mom was born in Germany, so I love some good German food.

So how did you start doing ballet?
I started when I was four. My parents put me in it, and I just never stopped! I stopped for a little bit when I went to college. I got into Loyola Marymount in Los Angeles for business. I went there for a year and a half and then I was like, no—I want to dance. So I transferred up here. I had gone to school for a year and a half, so they let me transfer as a junior. I did two years there and then I got a job in Denver.

So now you're back near family?
Yeah, I'm an hour from my parents, which is really nice.

Where are some of your favorite venues for seeing the arts?
Well we're right next to one—Yerba Buena which is right around the corner is an amazing venue to go see the arts. But San Francisco has a lot of cool events. Right here in this courtyard in Mint Plaza, they'll sometimes have a little dance performance. I love that. I love going to see little performances that happen—what we call site-specific.

What are your favorite dance companies to watch?
Alonzo King LINES Ballet is one of my favorites to watch. There's also ODC—they're beautiful.

If you weren't dancing what would you be doing you think?
Oh my gosh, that's a great question. I want to write, and I want to work in food.

How did you realize you were interested in those things?
I used to date this lovely man who went to culinary school and he taught me so much about food and took me to a ton of amazing restaurants—I just totally fell in love. I grew up having a garden and my brother is a farmer and a rancher, and so it's kind of been around me my whole life. So, living with him and getting to see it, I totally fell in love with it.

So ideally you'd like to work with food or write about food?
I don't know . . . we'll see what happens! Yeah, I don't think I want to go to culinary school, but maybe I could write about it.

I just wanted to ask about what you're wearing today because you look very put-together but casual!
Thank you! I brought a weekender bag, it's only for 1- 3 days so I didn't bring too many things.

I like the boots that you're wearing.
These are awesome—they're actually Uggs! They're leather Uggs and they're so comfortable! And, guilty as charged, I bought them at TJ Maxx for like 80 bucks! It was a great find.

These jeans are really cute, too!
These jeans are Serfontaine and yeah, I've had them for like six years and they just keep on rollin'. I bought these at Von Maur, which is like Macy's of the Midwest.

And I noticed your sunglasses!
My sunglasses are from Shwood, which is out of Portland. They're made of wood—handmade in Oregon.