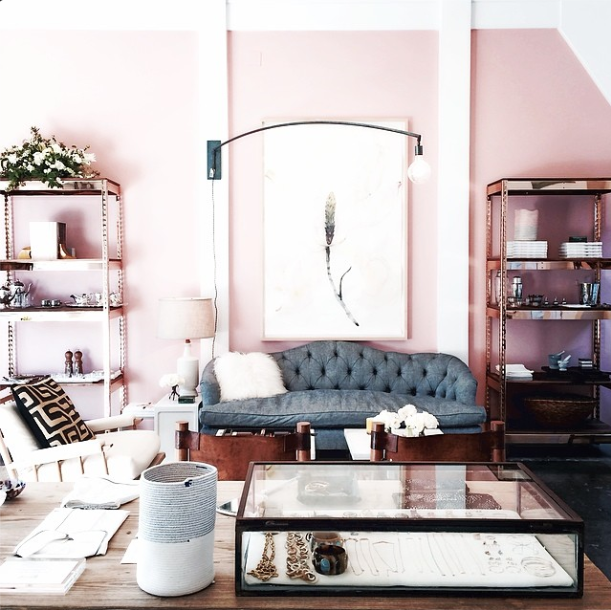 My name is Allyson Rees and I'm a massive Gwyneth Paltrow fan. I know it's become popular to hate on GP, but I'm not afraid to admit it: I think she's great. I love that she promotes drinking cold-pressed juice everyday and that she knows how to rock a white blazer. I love that she's best friends with Jay-Z and makes a killer turkey burger. I love that she's "little miss perfect" and is not afraid to own it/rub it in everyone's faces.
Needless to say, I went to L.A.'s Goop pop-up last week. Located for one week only at the uber-posh Brentwood Country Mart, this event is the epitome of all things Gwyneth—her lifestyle blog, her books, her style, her pretension. It was all there . . . and it was so, so pretty you guys!
The space was painted the most delicious shade of pink (Benjamin Moore's pink hibiscus in matte) and was decorated by local L.A. design duo Nickey Kehoe. Best yet, all the items—from the Japanese denim tufted couch to the silk puffer jacket to the tiny silver spoons—were all curated by Gwyneth and up for sale. Basically, it was my mecca.
The place was packed with hundreds of perfectly Goopy items, but here are the top 10 objects I found most tempting—exorbitant prices be damned!—and most pulled from the life of the one and only GP. (Hey . . . don't be hatin'.)
10. $125 Monogram cocktail napkins: Perfectly disheveled, vintage linen, monogrammed napkins. In ivory, because it only makes sense to place a red wine glass on an ivory linen (dry-clean only) cocktail napkin.
9. Michael Kors loafers: One of the less expensive items in the pop-up at "just" $275, Michael Kors' simple black loafers were a closet must-have. Done in buttery-soft leather, they mold to your foot and just get better over time. I actually had a dream about them this weekend.
8. $825 silver Walker & Hall Sheffield ice bucket: Just a casual $825 ice bucket for you next casual party. No big deal.
7. Jennifer Meyer and Me + Ro jewelry: One of my favorite things about Gwyneth's style is her haphazard, piled-on jewelry. To this end, the Goop pop-up had it's fair share of tiny baubles from designers Jennifer Meyer and Me + Ro, displayed perfectly in a vintage glass case. Jewelry started at $185 for a gold star stud (just the one stud, though, because Gwyneth wears one stud, obviously).
6. $265 Icelandic shearling pillow: It looked like a Portuguese water dog, but it was the softest thing I have ever felt. I imagine Gwyneth has a similar style in her home office and pets it as needed while meditating.
5. $299 Frame Denim White overalls: Yes, overalls are totally in this season, but only Gwynnie could rock them in white. They are the perfect Hamptons summer uniform for shopping at the farmers market and riding her Vespa.  
4. $650 "found" silver spoons: Yes, literal silver spoons.
3. Araks PJ set: This is totally what Gwyneth wears to bed every night and it's what I want to wear, too. Crisp, clean, white and also available for monogramming. #WWGPD
2. Luxury Yoga Gear: No Goop pop-up would be complete without luxury workout wear. This full-coverage bralet and lattice trim legging got me really motivated for a marathon Tracey Anderson sweat fest.
1. $185 Jean Shorts: What's the point of working out two hours a day if you aren't going to show off the fruits of your labor? Enter Frame Denim's Le Cut Off Short (even the name is chic). High-maintenance while masquerading as low-maintenance, these will ultimately make you feel fat and poor. And that's the power of my girl Gwynnie in a nutshell.
Image: Instagram